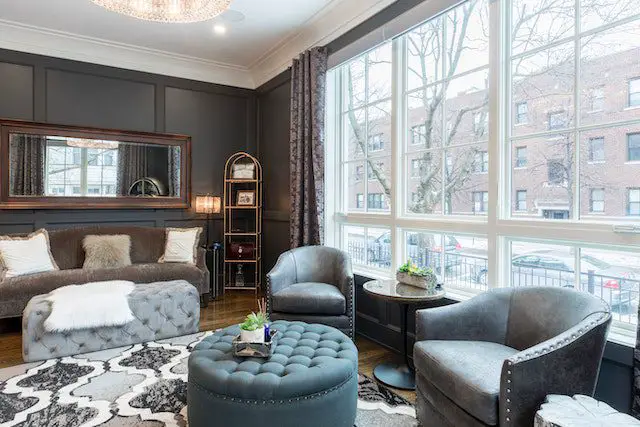 Photo Credits Alex Qian
Arranging Your Furniture Pieces for Positive Energy Flow
Feng Shui is an ancient discipline deeply ingrained in Chinese philosophy. Rooted in the belief that our surroundings directly influence our lives, it aspires to create balance and positivity by adjusting the elements around us. It aims to improve the energy flow in our homes by arranging furniture in a specific way.
It is a tool for sculpting the energy of your space, guiding it to promote tranquility, prosperity, and well-being. Key principles of furniture Feng Shui revolve around positive energy flow (Chi), the Commanding Position, and the balance of the Five Elements (earth, metal, water, wood, and fire).
The position of each piece of furniture and its relation to other elements in the room plays a role in creating a harmonious space. In the following sections, we'll discuss various methods for turning our homes into places of happiness and wellness by applying the basic principles of furniture Feng Shui.
Understanding Chi: The Vital Energy 
Often defined as life force or energy, Chi is the driving force that permeates every aspect of existence and significantly influences our lives. A balanced flow of Chi results in enhanced well-being, prosperity, and harmony. It is a technique that guides this energy through our home. Strategically arranged furniture can act as conduits, directing Chi in a positive flow.
On the other hand, improperly placed furniture leads to stagnant or negative energy, which Feng Shui practitioners associate with diverse life difficulties. Promoting a free-flowing Chi isn't a complicated task. Ensure that your furniture doesn't block doorways or windows, as these are the main entry and exit points of Chi.
Position pieces in a way that one can navigate the room effortlessly, symbolizing unobstructed energy flow. Furniture with rounded edges also promotes smoother Chi flow compared to sharp-edged ones. The ultimate goal is to create a sense of balance and tranquility.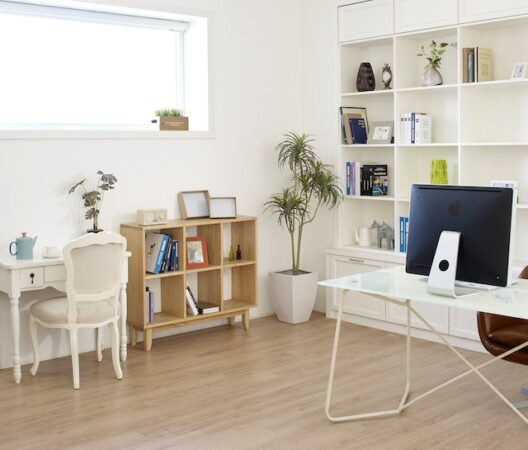 The Commanding Position
The Commanding Position concept emphasizes the strategic placement of furniture to enhance the overall harmony of a space. It refers to placing key furniture pieces in a manner that allows a clear view of the entrance to the room while avoiding direct alignment with the door. This positioning symbolizes a sense of security and control. It promotes safety and confidence as you subconsciously feel more aware and in command of your surroundings. It also allows Chi to flow freely, unimpeded by obstacles.
To incorporate the Commanding Position in your space, move your furniture in a position that allows you to have the widest possible view of the room. Place your bed, desk, or favorite sitting area diagonally across from the entrance. You can also use furniture to create a sense of support and stability, such as placing a solid piece, like a bookshelf, behind your desk.
By consciously aligning your furniture to embrace the Commanding Position, you'll witness a positive shift in the energy and ambiance of your space.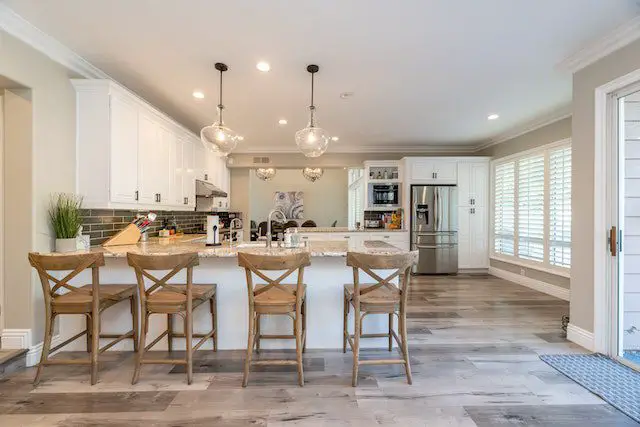 Photo by Terry Magallanes
Furniture Feng Shui for Different Rooms
Implementing Feng Shui involves a careful, tailored approach for each room type in your home. The principles remain the same, but the application varies, as each room serves a different purpose and requires a unique energy balance:
Living Room: This is the heart of your home, where people gather, socialize and relax. You should arrange furniture to foster a warm, inviting ambiance, promoting conversations and camaraderie. Choose a layout that allows free movement and open sightlines, enhancing the flow of Chi.
Bedroom: A sanctuary for rest and rejuvenation, the bedroom requires calm, serene energy. Position your bed following the Commanding Position principle for a sense of safety and tranquility. Use softer tones and textures in your furniture and decor to encourage relaxation.
Office: An environment for productivity and focus, your office's furniture Feng Shui should promote efficiency. Position your desk facing the door, symbolizing that you're ready to tackle incoming tasks. Keep your workspace clean and organized, preventing the blockage of positive energy flow.
Kitchen: As the source of nourishment, the kitchen represents health and prosperity. Arrange your furniture and appliances in a way that promotes ease and efficiency in food preparation, contributing to overall positive energy.
Understanding and applying room-specific Feng Shui can significantly enhance the function and energy of your space. It ensures that each area serves its purpose effectively, contributing to a balanced, harmonious home.
 Common Mistakes
Blocking entryways: Obstructing the entry of Chi with furniture blocks positive energy from entering your space.
Neglecting the Commanding Position: Not using this powerful position can lead to feelings of unease and lack of control in your space.
Overcrowding with furniture: Too much furniture can lead to clutter and disrupt the smooth flow of energy.
Imbalance of the Five Elements: Overemphasis or neglect of any of the five elements can result in an unbalanced energy state.
Ignoring the condition of your furniture: Broken or damaged furniture can represent and foster negative energy.
 Benefits of Avoiding These Common Mistakes
Correcting these errors can significantly boost the positive energy in your space. It enhances relaxation, promotes harmonious relationships, and fosters creativity and productivity. The key is to remain mindful of the principles of furniture Feng Shui when arranging your space, always prioritizing balance and energy flow.
Also, you need to protect your hardwood floors when moving furniture. One way is to use protective pads under heavy pieces so you don't damage your flooring while arranging. This will also preserve their beauty and integrity.
Remember that patience and consistency are crucial. It's about creating an environment that resonates with positivity, and this doesn't happen overnight. So, take your time, make mindful decisions, and gradually transform your space into an oasis of balanced energy and tranquility.
Photo by cottonbro studio
Balancing the Five Elements
The Five Elements (wood, fire, earth, metal, and water) are the foundation of Feng Shui, representing different energies and characteristics. When balanced effectively, they can bring about a harmonious and positive environment.
Overview of the Five Elements 
Wood: Symbolizes growth, vitality, and flexibility. It promotes new beginnings and creativity.
Fire: Represents passion, energy, and transformation. It fosters inspiration and enthusiasm.
Earth: Signifies stability, nourishment, and grounding. It creates a sense of security and support.
Metal: Symbolizes precision, clarity, and efficiency. It enhances focus and strength.
Water: Represents fluidity, adaptability, and intuition. It encourages reflection and relaxation.
 Role of furniture in maintaining elemental balance: Furniture acts as a medium through which the energy of each element is expressed and balanced within a space. For instance, wooden furniture embodies the wood element, while metal objects represent the metal element. You can create a harmonious and balanced environment by thoughtfully incorporating a mix of furniture representing all five elements.
Tips for Using Furniture to Balance Elements
Elemental Pairing: Pair elements that complement and support each other. For instance, place a wooden table (wood element) with metal candle holders (metal element) to balance energy.
Color Scheme: choose colors associated with each element in your furniture choices and decor to enhance their presence in the space.
Shapes and Materials: Consider the shapes and materials of your furniture items. Round and soft shapes represent the earth element, while angular and metallic objects embody the metal element.
Symmetry and Flow: Arrange furniture to promote a smooth energy flow throughout the room, avoiding clutter and obstructions.
By understanding the significance of the Five Elements and applying Feng Shui principles in your furniture arrangement, you can create a balanced and energetically harmonious space that fosters positive energy and well-being.
 The Impact of Clutter 
Clutter is a significant hindrance in the pursuit of optimal furniture Feng Shui. It blocks the free flow of energy, leading to stagnation, chaos, and negative vibes. A cluttered room disrupts the balance of the Five Elements, creating an uncomfortable and uninviting atmosphere that can affect your mood and overall well-being.
Reducing clutter, therefore, becomes essential in maintaining a Feng Shui-friendly environment. Regular decluttering exercises, where you remove unnecessary items, can free up the space, allowing Chi to circulate efficiently. Try adopting a minimalist approach, keeping only pieces you genuinely need or that bring you joy.
Storage furniture plays a vital role in maintaining a clutter-free space. Consider investing in multifunctional pieces, such as a coffee table with storage compartments or beds with built-in drawers. These clever designs allow you to keep your belongings organized, providing a neat and clean appearance to the room.
 Implementing Feng Shui is a rewarding endeavor, but it's crucial to avoid common pitfalls that can hamper your efforts to create a harmonious and positive energy space.
 Conclusion
Feng Shui offers an incredible avenue to sculpt the energy within your home, bringing harmony and positivity to your everyday living spaces. From understanding the essence of Chi, the Commanding Position, and the Five Elements to recognizing the impact of clutter and learning common mistakes to avoid, you now hold the key principles to create an environment that nurtures positivity and balance.
Venturing into furniture Feng Shui is an exciting step towards transforming your home and overall quality of life. The principles learned are not merely for aesthetic purposes. They are instrumental in promoting tranquility, prosperity, and well-being. Embrace these teachings and apply them in your space. As you put these insights into practice, you'll find your home becoming more than just a dwelling. It will be a sanctuary of harmonious and positive energy that uplifts your spirit every day.
Author's bio:
Emily Harmony has a profound passion for interior design and a deep understanding of Feng Shui principles. Emily effortlessly weaves together her expertise to guide readers toward harmonious living spaces. Through her insightful articles, Emily empowers individuals to transform their homes into havens of balance and vitality, fostering a renewed sense of well-being and positivity in every corner.
Related Articles: