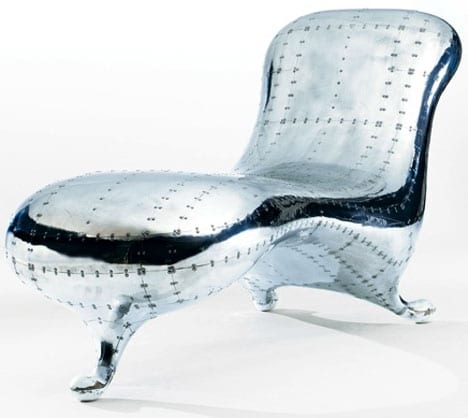 Marc Newson Designs
In June 1986, having recently graduated in sculpture, jewellery and furniture design from Sydney College of the Arts, Marc Newson accepted the opportunity to exhibit new furniture designs at Sydney's Roslyn Oxley9 Gallery.
As a child growing up in Australia, Newson had benefitted from a cosmopolitan education that included regular exposure to museum collections, art galleries, and of course to cinema, particularly the modernist space-age Ken Adam-designed interiors for the James Bond franchise, and the quasi-Utopian futurism of Kubrick's '2001'.
Lockheed Lounge Chair Newson Design
Trying to justify spending one or two thousand on that beautiful new chaise lounge you have your eye on; this will help! The Lockheed Lounge chair, reminiscent of something the aerospace industry may have produced, is a well-rounded metal structure that takes on a fresh look from all angles.
One sold at Christies for around $100,000 in the year 2000. This model was number 10 or 10. Another sold in October 2007 for 750,000. It did not quite reach its estimate on that day.
The next Lockheed lounge chair was placed at Christies in October 2017 for auction. This model, believed to be number 7 of 10, sold for a remarkable price.
Produced by Basecraft for Pod, Australia, fiberglass-reinforced polyester resin core, blind-riveted sheet aluminum, painted polyester resin impressed 'BASECRAFT SYDNEY' 34 ¾ x 66 x 25 in. (88.5 x 168 x 63.5 cm.)
Designed 1985-1988, this example was executed before 1993. This work is number seven from the edition of ten, plus four artist's proofs (black feet) and one prototype (white feet).
This work is accompanied by a certificate of authenticity, February 1993, signed and dated by the artist.
Designer Marc Newson's 1986 gift to the privileged few, ten to be exact, gives truth to the mass production theory and its effect on an item's price. This beautiful yet firm chaise lounge sold at Christies famed auction house for an astonishing $1.5 million to a well-funded admirer.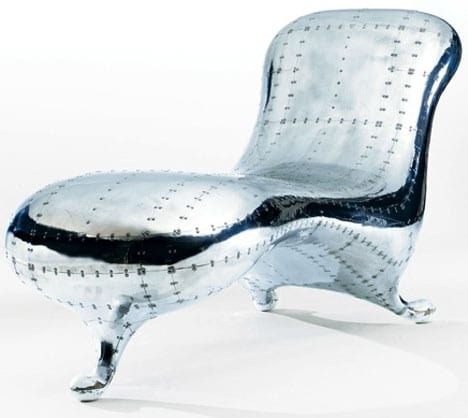 Micarta Chair Newson Design
Designer Marc Newson gives new life to a straight line by playing with the possibilities of creating a functional chair from a single, uninterrupted line molded into an innovative shape.
The Micarta Chair from Marc Newson's eponymous label is a unique, visually arresting accent piece for your home or office.  The simple design is captivating because of its unusual inspiration, paying tribute to Newson's creativity and prowess.
His ability to transform a single line into beautiful and functional furniture in such an unexpected way is sophisticated and whimsical at the same time.
The Micarta chair by Marc Newson is a conversation starter when your guests see it.  The angles and shapes are designed to be ergonomic and comfortable, with a sloped seat and flared backrest for support. The rich, bold red color is striated in different shades along the same direction as the folded line to add depth and highlight the geometric nature of the design.
Its open concept looks lightweight and defies gravity, making it entertaining to sit on the floating seat and enjoy.  Experience the creative possibilities of a single line with Marc Newson's Micarta chair, and your furniture design definition will be challenged like never before.  Does the exciting shape of the Micarta Chair capture your imagination and inspire you to rethink the possibilities within a straight line?
This material is usually used in electrical insulation or to make knife and gun handles; Micarta is a composite of linen or paper fabric in thermosetting plastic. It was invented in 1910 as a by-product of the development of Bakelite. Marc Newson discovered the sculptural qualities of Micarta by forming it into furniture.
Classic Felt Chair
You have seen the Lockheed Lounge by designer Marc Newson and the astronomical price it fetched in an auction at Christie's, $1.5 million.
Marc's other well-known creation, the Felt Chair from Cappellini (1989), has been cemented as a modern-day classic produced in various materials for a most versatile seat.
The production covers leather, felt, and fiberglass chairs in various colors with a single leg in polished aluminum. This modern chair can be used indoors or outdoors for the most stylish patio furniture on the block.
Recently, a leather prototype popped up for sale in Paris for $870K, infuriating Newson, who explained, "The Felt Chair is still in production at a modest $3684 from UnicaHome".
He added, " I feel sorry for anyone who would pay that much for a prototype, especially one I never authorized."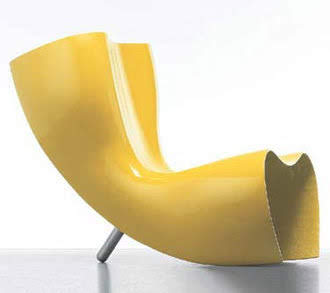 Nimrod Chair
Designer Marc Newson has a penchant for turning the simple into the extraordinary with furniture that turns traditional in its head.  Every piece challenges tradition for a unique and completely modern look. Here is the Nimrod Chair.
Basic lines take on new and unexpected life in his collections, and the Nimrod Chair is no exception to this rule. The futuristic, bold chair features a smooth, streamlined, and molded base.
The low profile form of the Nimrod Chair by Marc Newson has two slightly raised surfaces to anchor the seat and backrest cushions, each one upholstered in your choice of fabric colors.
Make a surprising statement by selecting a contrasting color for the base of the Nimrod Chair, or a soothing monochromatic color scheme. This piece of furniture may be simple in form. Still, the possibilities for the color palette provide endless ways for you to put your own custom twist on this contemporary, minimalist, piece.
The clean, basic lines and shapes in Marc Newson's designs lend themselves to accenting any room, residential or commercial. From living rooms to waiting rooms, lobbies to offices, the Nimrod contributes a bright spot of color and style that you can personalize to reflect your own brand of futuristic and contemporary furniture.
Get creative and choose a color palette that launches the décor of your room into the 21st century and beyond.  How will you make the Nimrod Chair a part of your contemporary style?