Designers Dining Tables For Future Investments
A dining table can be more than just purchase from Ikea or your local furniture store. By looking at furniture auctions, eBay or your own local internet furniture site you may be able to find a classic dining table that will hold, or even increase its value over the years you own it.
Unlike dining tables from Ikea or local furniture retails, a designer dining table comes with class and resale value when you decide for a change. If this is out of your reach then take a look at our reclaimed wood tables that are also stunning and would suit any home.
They may not be as cheap as Ikea, but with a sale, you could look at something that has increased in value after several years in your possession.
Below we have listed several dining tables from modern designers that are well worth looking for in your local auctions or even a large car boot sale. They are out there and people are looking to buy and sell in all corners of the world.
Large 84 inch Round Mahogany Dining Table
One piece 84 inch round mahogany dining table

Sits on a wide and sturdy birdcage pedestal

Pie-cut flame mahogany field with satinwood inlaid border

Can comfortably seat 10 people

Full-service delivery into your home or office
Prices pulled from the Amazon Product Advertising API on:
Product prices and availability are accurate as of the date/time indicated and are subject to change. Any price and availability information displayed on [relevant Amazon Site(s), as applicable] at the time of purchase will apply to the purchase of this product.
i4 Mariani Moore Dining Table
The Moore dining table is a Contemporary metal table with marble top, glass or wood. A collection that pays tribute to the tradition of the dining room with a table whose apparent metal structure is reminiscent of the shape of Japanese samurai swords.
The designer, Umberto Asnago, is renowned as a person who is fully capable of facing, with great professionalism, the rapid evolution that characterizes the furniture sector.
His design for i4 MARIANI, the Moore dining table collection, tries to revive the dining room and aims to reflect the personal style of the homeowner.
If you are one of those people who can't help but invite everyone in your home to celebrate just about anything, the Moore collection will certainly help you in every party you throw because having the right dining room table can set the atmosphere for every mealtime with family or with friends.
Larger rooms can hold larger pieces and still look in proportion. More pieces are available in two options, the oval piece that is 240 centimeters in length and the round one that has 140 centimeters in diameter, to meet the needs of every space.
The round or oval tops are available in marble, in black walnut wood or in the bronzed smoked glass while the base is available in white matte varnished steel, black matte or in satin bronze.
Dining furniture sets usually come with matching chairs to gain a favorable look for the environment. The seats for this dining collection are available covered in fabric or leather with frames made of poplar plywood curved in the mold and upholstered with contoured sheets of CFC‐free polyurethane foam.
Even though the name suggests some sort of technological something, the "i4 Mariani" is the Italian for "The 4 Mariani" and dates back in 1957 when the four Mariani brothers founded the company. All brothers are still active in the Company today and are dedicated as always to manufacture furniture for everyone who loves comfort combined with the finest materials and finishing.
Wood & Style Andrews Dining Table Set Distressed Chestnut Finish Decor Comfy Living Furniture Deluxe Premium Collection
- ✅ Set includes table and four chairs | Warm and inviting chestnut finish

- ✅ Built-up edges on tabletop | Self storing 18 butterfly leaf | Comfortably seats up to 8 people | Leg clearance under table: 25.5

- ✅ This elegant dining set features a unique table with solid wood octagon styled table legs | Crafted from solid Malaysian Oak and oak veneers | TABLE DIMENSIONS: Table with no leaf: 30H x 42D x 58W | Table with 18 leaf open: 30H x 42D x 76W | Table weight: 131 lbs.

- ✅ Deep seated sturdy chairs feature attractive criss-cross contoured back | Durable neutral fabric seat | Cozy padded cushions | High density polyurethane foam padding | Chairs factory tested to support up to 350 lbs. | Chair is some assembly required with a sturdy bolt together construction for easy assembly | CHAIR DIMENSIONS: Overall: 38H x 21D x 19W | Seat dimensions: 18.5H x 20D x 20W | Chair weight capacity: 360 lbs. | Chair weight: 23 lbs.

- ✅ Two year warranty against manufacturer defects | Free wood samples available
Prices pulled from the Amazon Product Advertising API on:
Product prices and availability are accurate as of the date/time indicated and are subject to change. Any price and availability information displayed on [relevant Amazon Site(s), as applicable] at the time of purchase will apply to the purchase of this product.
Jacob Strobel's YPS Extendable Dining Table for Team 7
Inspired by the alphabet, the YPS extendable dining table is a combination of high quality and style that fills dining spaces with comfort, usage, and aesthetics. Have a look at the legs and see if you can figure out the letter it's inspired from!
Jacob Strobel's creation for TEAM 7 furniture can make all of your rooms more beautiful and natural. The YPS extendable dining table edges are milled at an angle endowing it with an attractive mix of modernity and conventional craftsmanship.
It appears to be straight, yet features no right angles, making it easier for kids to avoid bumps and bruises. It can be combined with all sorts of dining chairs or benches – and even has its own optional range of dining and corner benches to complement it.
Even if walnut may be more costly than other types of wood, the decision to use it was probably made because walnut is a good investment that will last for years and still look as good as new.
It's more dense and durable, it does not scratch or stain easily. Also, its natural knots and grains hide stains and marks if you'll make them. Its solid wood construction means that even after years of wear and tear, it can be cleaned well and polished occasionally to maintain its finish.
Another wow factor in this piece of furniture is its space-saving solution. Other then the fact that it can expand with one or two table inserts, a combination of a table insert and a cutlery drawer is possible, or one or two cutlery drawers.

Being an extendable table, makes it save extra space when not used or a perfect piece for those who enjoy entertaining. It is very convenient and allows you to comfortably accommodate more diners.
Even in its extended form, what is revealed is a perfect, flowing design right down to the smallest details.
The Adler II Extensible Dining Table from Draenert
The Adler II from Draenert is a non-extensible or extensible dining table offered in more sizes. The table is constructed in either natural stone, solid or veneered wood, and its shape is either boat-shaped, rectangular, tapering organic or oval.  The most eye-catching is obviously the stone top one, and the one we'll insist on in this article.
The idea for this design was born out of the wish for an undivided main tabletop – rather the exception among dining tables.
Pulling apart the two halves of the table synchronously opens a central space. Then the central leaf can be raised with a simple rotational movement. An ingenious technique makes the extension procedure a child's play.
The regular base is an oval base of stainless steel in matt ground finish. Additionally, four other base types are offered.
Adler II looks more sophisticated than others and could enrich any interior design for a modern as well as a traditional home. Back in 1995, when Peter Draenert first introduced stone top dining tables there was no variation for the base.
Now the company tries to make their product interesting by creating more original bases or legs. The legs of the table could take various shapes! It all depends on how you would like to experiment and what look you would like to give your dining area.
A stone dining table can add a lot of brightness in the dining room and can give your house an elegant look.
When you use a stone top over the dining table, the whole room lightens up, thus generating a feeling of large space.
Not only a necessary piece of furniture, but tables are often also the most important part of a room's interior design. They are usually placed in the center of the room and can be observed from every side clearly. A good extensible dining table is always admired.
York Modern Dining Table From Belfacto
Here is another great looking modern dining room table from the folks at Belfacto of Germany. The recent winner of the Interior Innovation Award and the German Design Award keeps on coming with their series of tables that totally go against the typical four legs or center pedestal style that has been worked and reworked numerous times.
Here we see the York with an elegantly sculpted base in a variety of woods including Walnut which is our favorite, Natural Oak or Natural Cherry. The designer really managed to give the table a fine balance and it has been described as a "tug of war" as each side seems to be pulling away from the other.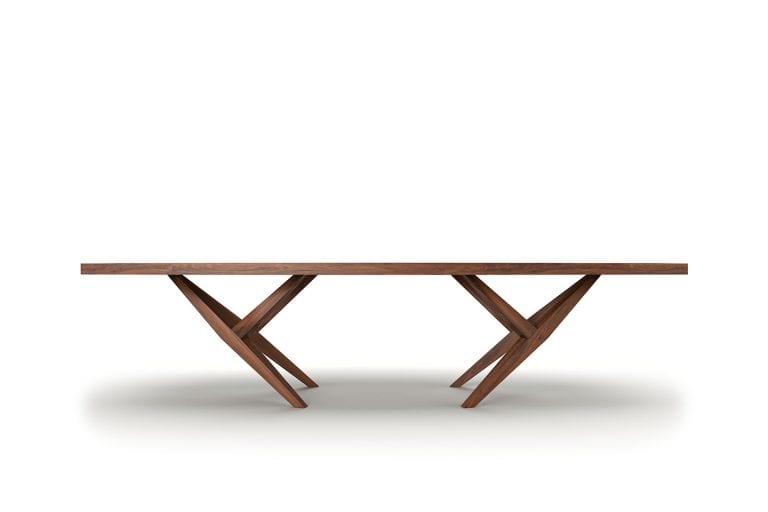 One key feature to any dining table is the usability factor and the placement of legs and support especially for the visually attractive ones can get more focused on looks than function.
Often the people at the end have a support of some sort interfering with their position but the York addresses this poor design feature that so many styles does not take into consideration.
The sizing is as follows with top shapes of balanced, convex, oval, classic also available.
Standard size:
L 300-350, B 115-120, H 75 cm
L 118-138, W 45-47, H 30 inch
Custom tables on request.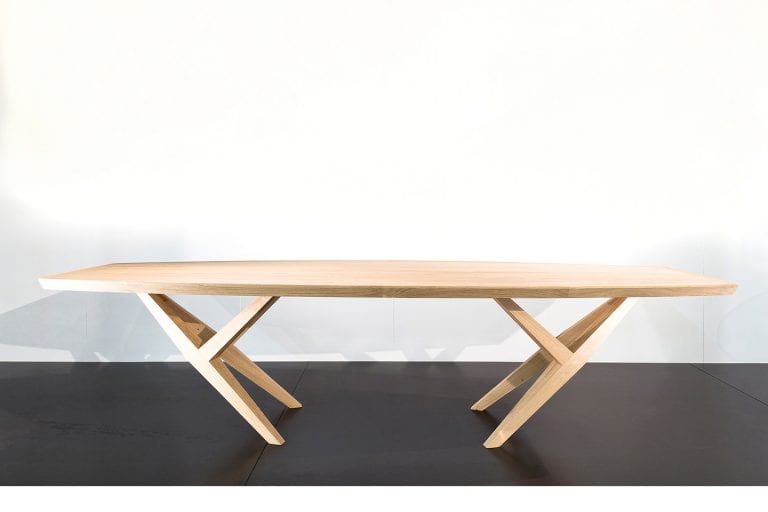 So what type of chair would you use with the York The all-natural wood construction makes us think a solid wood char with clean lines may be the best choice or even a leather chair with wood legs. Whatever you choose it has to be a design that will complement and not take away from the obvious cool factor this one has. See more awesome and unusual styles here.
Here is one style of a chair but it is not a favorite, we think you can come up with a better solution!
Chorum Large Wood Dining Table By Belfakto
The modern Dining Room has really evolved over the years and the simplicity of the furniture has transitioned with it. The Chorum modern dining tables from Blefakto are a perfect example of the less is more interior design scheme that seems to work so well with the high rise vertical housing boom and smaller dining rooms often present in today's newer homes.
The Chorum really offers two totally contrasting visuals that really work quite well together. Such an understated top with a clean linear plane that almost goes unnoticed if you see it from the profile atop theses sculpted bases that are literally the exact opposite.
It is truly the bases here that draw such interest from this design and they really catch the eye. Choose from a variety of sizes and shapes including Round, Square or the Rectangle as shown.
I think I would like a round table with glass because it would be in proportion to the size of the surface and the glass top would allow you to see the base all the time.
Standard sizes:
Rect L 280, B 120 – 160, H 75 cm
Rect L 110, W 49 – 67, H 30 inch
Round with 1 frame from Ø 49 – 67 inch
Square with 1 frame from 49 – 63 inch
Custom tables on request.
Belfakto is no stranger to cutting edge designs and you should see their entire collection that has evolved over the past 50 years into one of our favorite collection
The "dedication the wood, the passion to create something extraordinary and the pursuit of technical perfection motivate us" and we can see the love coming through in the final products. You can choose your personalized solid wood finish in extravagantly oiled or finely lacquered.
Each is available in "natural" without color, "stained" with color or with a unique "raw wood effect" or with a protected surface.
Big Will Extending Dining Table on Wheels by Magis
I know dragging open your dining table for special occasions seem like an issue that comes up so infrequently that it may not be worth worry about, but this one has super cool wheels that's makes it all better.
Magis is well known for making the best of shaped plastics and also for great looking furniture which the Big Will seems to have covered on both sides. Seriously these wheels are totally functional and allow for a smooth opening without the user having to bear the weight of the actual table which is the case if the legs move versus just the top.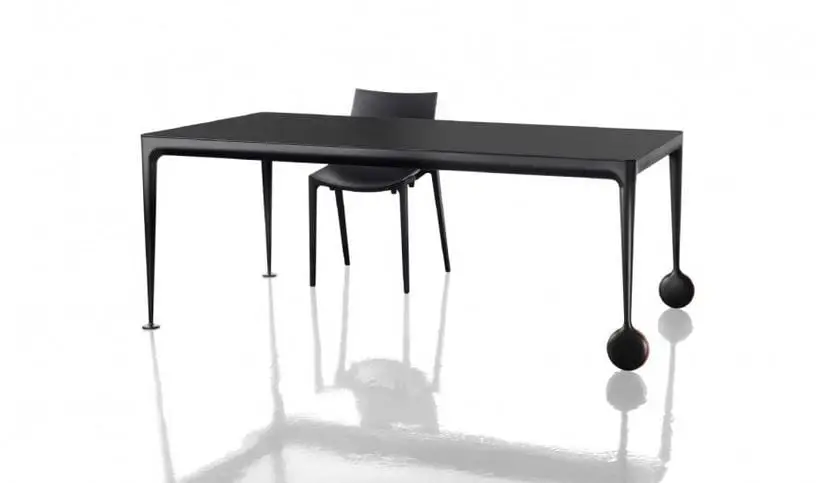 Who knows the easy opening feature may even inspire you to use your main dining table more often
In the past, we have featured the works of famed designer Philippe Starck who never seems to add interesting and different not to mention functional furniture to his already outstanding portfolio.
The table is available in a die-cast aluminum frame in all White, all Black or Polished Aluminum with White Top. It has such a seductive look in the all-Black and would fit right in with the most modern interiors not to mention some great looking bachelor pad.
Other features include crosspieces in aluminum, polished or painted table tops in tempered glass -glossy or acid etched –matt and wheels and feet in rubber. The self-contained leaf is available in painted glossy or matte finishes and is accessible on the spot without having to go find it.
The Big Will is available in a variety of lengths and widths that expand from there so it can work in a wide range of formal and casual setting where space requirement is specific. See the entire collection of awesome modern furniture and accessories here.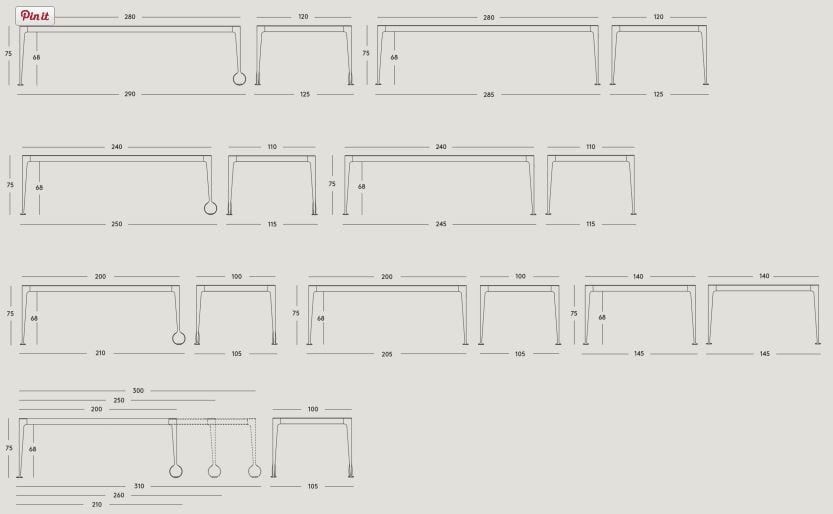 Emblem Dining Table by the Sofa and Chair Company
From the renowned furniture house, The Sofa and Chair Company we bring the posh Emblem Dining Table, a table that provides an exclusive dining experience. The piece boasts meticulous carpentry, a high precision manufacturing process, and first-grade materials. It is exemplary in all ways and will delight you from the first moment you lay your eyes on it.
The Emblem Dining Table by The Sofa and Chair Company stands on a striking steel base with a magnificent steel trunk. The base and trunk support a stainless steel top with a smoked grey glass panel.
The shiny panel adds appeal to the table making it look grand and spacious. Emblem has a sturdy framework and provides great user comfort. It has very posh and opulent aesthetics and is the perfect spot for fancy dining.
It can accommodate up to 14 people and is perfect for those who like to entertain. Get it and throw dinner parties for your family, friends, and colleagues any time of year. The table can be combined with a wide variety of dining room chairs and create an ambiance of luxury living with great finesse.
This gorgeous creation is exactly what you need to infuse a touch of timeless elegance into your dining room decor. It will make you the envy of all your dinner guests. Get it today and enjoy bonding with your family over dinner. Or invite your close friends and entertain them in style.
Bangle Dining Table by Hudson Furniture
Featuring a bronze base and a black lacquered top, the Bangle Dining Table by Hudson furniture is perfect for every modern home. Its intricate design sets it apart from other pieces.
It has a base made up of three interlocking bronze pieces and a striking wooden top. The sleek metal base merges beautifully with the top to create a minimalist look. Bangle will offer superior support to the most scrumptious food and the most elegant wine. Its sleek simple lines and luxurious finish will add unusual style to your eating experience.
The Bangle Dining Table by Hudson Furniture is inspired by the jewelry that adorns the hands of many fashionistas. It excellently blends metal and wood to create a fascinating contrast that adds visual texture and dimension.
It will make your dining room come alive simply by being. Bangle combines classic style with contemporary design in a rare and unusual way. It is perfect for large families and those who like to entertain. Its modern design and natural simplicity allow it to fit easily into any room and look right at home.
The right furnishings can transform any type of room. It can steal the show and make people take notice. If you want to dazzle in your dining room, get Bangle. It will make a great impression on all your guests and become the focal point of any conversations.
Bangle will make people want to linger on after meals. Do you love to entertain? Why not get the Bangle Dining Table and do it in style?
Related Articles: