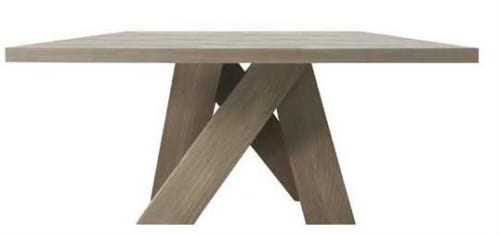 Birdman Square Dining Table
Sure, most square dining tables have four legs, but it's all about how cool the table will look. Dutch designer Frans van der Heyden used a different approach to the Metro dining table, setting it apart from what's out there.
Heyden's "Birdman" furniture line has a distinctly Asian influence that incorporates clean lines, bold shapes, and opposing angles that I find very appealing. The Birdman collection has some awesome fun and perfect designs for the modern-minded decorator.
The Metro dining table is perfect for 8 guests and comes in 150 or 160cm square x 75cm height.
Kyoto Modern Round Dining Table by Birdman
If you liked the Metro dining table from Birdman Furniture, then you will probably love the equally stylish Kyoto round dining table. Once again, the name would imply an Asian theme, and designer Frans van der Heyden delivers just that in this modern 8-person table.
The contrast of the round top and the three bent and tapered legs create a strong look from simple elements that make the best of sharp edges. Birdman Furniture offers the Kyoto 170 cm round dining table in four finishes, including light, dark, slate, and rose, for adaptation in various environments. The Birdman line includes some really cool lounge chairs, accent tables, and must-see lamps.
Related Articles: