We're an affiliate
We hope you like our recommendations! Just so you know, we may collect a share of sales or other compensation from the links on this page. Thank you for using our links, it is much appreciated.
Table of Contents
Outdoor Wicker Patio Furniture Shapes to Consider
Decorating a patio is an art form these days. There are so many options on the market. In this article, I set out to present 20 different outdoor wicker patio furniture designs for 2019.
My reasoning is the first decision to make is to determine what shape of furniture fits your lifestyle. It could be a dinette set, chaise lounge, or a sofa that may best suit your family when you think about spending time outside and enjoying life.
As I worked on this piece, the number of choices surprised me available. All the pieces shown here are from the same furniture maker which should make it easier to pick out what looks best for you.
SUNLEI 3 Pieces Patio Set Outdoor Wicker Patio Furniture Sets Modern Bistro Set Molded Rattan Chair Conversation Sets with Coffee Table (Black)
SUNLEI presents this beautiful black wicker bistro set that includes two rocking chairs with cushions and a coffee table. Outdoor living just got better. Not only does it look great but it feels great too! This patio bistro set seats two and adds ambiance when you entertain. Anti-drop four suckers design makes the tempered glass more stable.

Ergonomically Designed for Comfort - Thickly cushioned chairs for maximum comfort. Added rocking feature to rock yourself into a state of relaxation. while the thick, plush cushions provide the comfort you need after a long day on your feet.

ELEGANT GLASS TABLE TOP - Bistro set features and elegant glass top side table perfect for a couple glasses of wine or the morning coffee and newspaper. do not use bleach or solvent.Your guests can bring their drinks outside and place them on the sets coffee table.

DURABLE & Easy To Clean - Strong framing provides extra support and balance for the chairs. it can be used for a long time by a little easy maintain,you could enjoy several years. Bottom cushion has zipper for easy washing.

QUICK, EASY ASSEMBLY - Instructions and all necessary tools included for smooth assembly.approximately 15-20 minutes . If you find any damage caused in transit, please contact us to help you immediately!
Prices pulled from the Amazon Product Advertising API on:
Product prices and availability are accurate as of the date/time indicated and are subject to change. Any price and availability information displayed on [relevant Amazon Site(s), as applicable] at the time of purchase will apply to the purchase of this product.
The Fun Armchair
This armchair is a fun piece. The squared off look provides a stable base even on windy days. It features a comfortable set of arms and a deep seat cushion to provide an easy seating experience.
Prices pulled from the Amazon Product Advertising API on:
Product prices and availability are accurate as of the date/time indicated and are subject to change. Any price and availability information displayed on [relevant Amazon Site(s), as applicable] at the time of purchase will apply to the purchase of this product.
Modern Outdoor Chaise
This modern outdoor chaise features a very "minimal" look. It has a low profile as it sits close to the ground. The curvature of the chaise matches that of a natural laying down position of the spine.
Outdoor Bar Stool
An outdoor bar stool is always a classic choice. This model has a cushioned strap that goes underneath the bar stool to secure from sliding or wind. Bar stools generally promote socializing so if you imagine there to be a lot of talking among friends and family, bar stools can certainly help facilitate the conversation.
Christopher Knight Home 304797 Cony Outdoor Wicker 3 Seater Sofa, Dark Brown with Beige Cushions
Enjoy watching the birds play with this charming 3 Seater sofa. You can lounge in comfort with your significant other while relishing in the outdoors. This set features water resistant Cushions for a fearless Summer relaxation. Enjoy your patio again with this lovely sofa

Cushion material: Water resistant fabric. Composition: 100% polyester. Wicker finish: dark brown

Cushion color: Beige. Assembly required. Hand crafted details

Dimensions: 25. 50 inches deep x 76. 75 inches wide x 27. 25 inches high. Seat width: 68. 75 inches. Seat Depth: 17. 00 inches. Seat Height: 19. 25 inches
Prices pulled from the Amazon Product Advertising API on:
Product prices and availability are accurate as of the date/time indicated and are subject to change. Any price and availability information displayed on [relevant Amazon Site(s), as applicable] at the time of purchase will apply to the purchase of this product.
Outdoor Lounge Seater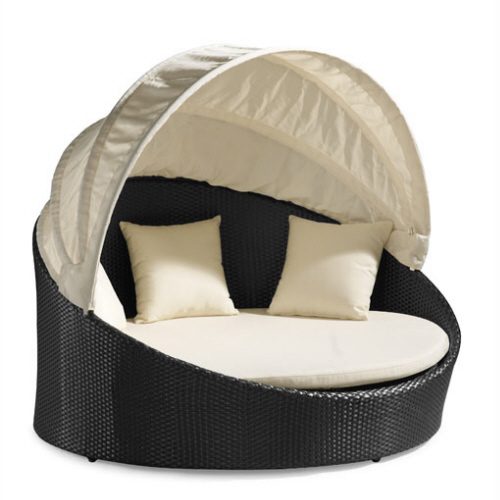 This outdoor lounge seating is one of the more eye-catching pieces. This design has gained popularity over the last few years. I like to think of it for "nesters". If you like to sink into a "nest area", either by yourself or with a partner, this is a good choice. The one drawback is if you prefer to also be more upright at times, this design is less supportive of that seating position.
Outdoor Furniture Set
An outdoor furniture set like this one is an all in one approach to providing seating needs for family and friends. This model features boxy styling in its armchairs, loveseat, and accent tables. One consideration in looking at sets is if you will need all the pieces in the set and can it fit into your patio or outdoor area. It is easy to buy too much furniture where the outdoor space becomes cramped.
Patio Furniture Set
This patio furniture set features more of an accent seating theme. There are four smaller accent chairs centered around one small table. A good feature about this set up is the smaller space requirements and the ease in which the chairs and tables can be moved around. This table would be too small for gaming such as cards, dominoes, or a board game.
Outdoor Coffee Table

This outdoor coffee table is a good fit for any type of chair where you may want to stretch your legs out onto. The table could also provide a place to place drinks or a plate of food while eating outdoors.
Large Patio Seating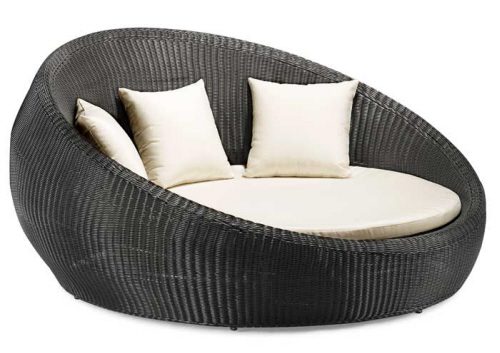 Here is the second example of patio seating shaped like a nest where 1-2 people can comfortably lounge. When I think of reading a book outdoors this piece has its appeal.
Hopefully, if you are serious about this shape you have additional room where some other pieces can be added to offer a variety of seating choices. The other drawback is if you get thirsty this one will be really hard to climb out of and make your way for another beverage!

The cube table is a great choice since it can serve as a footrest, side table, or a decorative piece. I do like the shape if you tend to have high winds in your city of residence. This table is less likely to blow over with its squat cube shape.
The patio bistro table gets its name after the shapes of bistro tables found in Paris for example. As an accent table, the bistro design has a lot of character and is more eye-catching than more square examples. The only concern would be the tendency for a table to be blown over or knocked over due to its less stable base. If you do have glass bottles or drinking glasses this could create a safety hazard.

The patio furniture table here is a bit taller than an everyday coffee table. This could be used as an accent or a taller version of a coffee table. Its overall design is very simple with four legs and one connecting piece for each set of table legs.
This outdoor love seat makes me think of a beach resort destination with top-notch accommodations and service. The attached canopy creates an allure of wealth and a stunning visual for any visitors to see. The outdoor seating can accommodate 2-3 people comfortably. The fact that you would sit more upright in this shape of furniture would be a benefit if you were trying to keep an eye on children who might be playing or swimming in a pool.

This is the sister to the cube table but in an outdoor coffee table format. The low profile table provides a great place for setting down plates, placing drinks, and resting feet. Much like the other cube, this design does well in more windy areas as its base is very stable.

This small outdoor bench features a cushion that is strapped underneath the base to ensure it stays in place. A bench such as this provides extra seating for guests or family and is a piece that moves around easily. If your family is constantly moving outdoor furniture around, this may be a good furniture shape. Also, children can sit comfortably for periods of time without back support so this may work well for them.

This is the traditional shaped outdoor armchair that is universal for many decorating environments. The chair serves as a good poolside piece to soak up the sun or supervise children.
It also works as a gaming chair or outdoor dining chair. Having the right type of backrest is important in this shape of furniture to make sure that you can sit comfortably for extended periods of time.

This outdoor loveseat goes back to the more boxy designs shown earlier. This is a wonderful piece that encourages sitting close with family or friends. If you prefer to have cushion seating this is a good choice and one that can make it more comfortable. You may also be able to lie down on this piece and rest your head on the arms while outdoors.
Here is an armless outdoor chair that provides maximum cushions and seating for a single person. The biggest drawback is not having arms. If you require an armrest to sit comfortably, this is not the right furniture shape for you.
I do think this design is a great eye-catching piece, but you must think about functionality for your family. Perhaps, this style can be supplemented by other shapes to create a variety of seating options.

No list of outdoor furniture shapes would be complete without highlighting a pool chair. This shape is another universal product that has been around for many years. Now, in the wicker variety pictured here, there is not an adjustable element to the chair. Nevertheless, this furniture shape is very comfortable when sunbathing at the pool.

This outdoor coffee table has a neat design element with the open area in the center of its shape. This is a variation of the "cube" shapes featured earlier. The open space does create a place for storage in addition to its decorative element.
Because of its more boxy shape, it would do well in windier environments. Hopefully, by looking at the 20 outdoor furniture shapes you have gotten some ideas about what may work best for your family in decorating a patio or outdoor area.
Furniture design keeps changing and its inventiveness brings new shapes onto the market every year. I am sure that I missed many more shapes that exist today, but hopefully, you got a good start by looking over these designs.
Making a great outdoor haven has its benefits as it brings friends and family together outside of the home. Picture source: Motif Modern Living.
Designer Ramon Esteves Patio Furniture
Even though most of our backyards don't look this good, our outdoor patio furniture can thank to designer Ramon Esteves. The Gandia Blasco line will add a spotless modern look to your recreational area.
Made from anodized aluminum and polyurethane for sturdy construction with removable cushions for cleaning and rainy days. The line includes chairs, lounges, tables and sectional as shown to add serious beauty to even the most basic of back yards.
I can totally see these pieces inside a home.  Imagine that a covered section of the porch that is part of the house and how great this set would look there.