Hanging by a Thread: Creative Coat Hooks That Catch The EyE
There's an old saying that goes, "Home is where you hang your hat," meaning home is where and what you make of it.  Extend that definition to include coats, too, and the sentiment stays the same.
All transcendental passages aside, though, we've rounded up a series of creative coat hooks, some wall-mounted, some freestanding; some ultramodern and sleek, some upcycled from unexpected materials like skateboard wheels, vintage video game joysticks and chair backs.
All, though, serve as conversation pieces when welcoming guests into a home and ushering them out at the end of a visit, and all get the job done, hanging everyone's coats and, ostensibly, making a house a home.
Oak Wood Wall Hooks with 5 Swivel Foldable Arms
UNIQUE SMART SWING HOOK: Wall mounted coat hooks with five foldable hook arms can be swing in different directions, each arm measures 5.5'' long and 1.4'' width, sturdy enough to hanging hats, towels, coats, robes(up to 5) as well as to fold them all nice and flat when not in use. Can save your space and make your home more neater.
NICE LOAD-BEARING CAPACITY: Holds up to 48.5lbs, our sturdy yet heavy duty coat hooks are designed to hold a good amount of weight, you can hang up your heavy winter coats, robes, kids' school backpacks, pajamas, towel, and umbrellas in the sturdy hook without any worry.
100% NATURAL SOLID WOOD: Built to last, we use selected solid Oak/Walnut body(not like other cheap pine wood or MDF) to ensure the sturdiness, sturdy bathroom hooks can resist corrosion, exceeding industry durability standards over two times. High quality material contributes to long service life.
WIDELY USE AND EASY TO INSTALL: The 11.8'' length wall coat rack is suitable for use in almost anywhere: bathroom, bedroom, office, closet, powder room, and any other places, keeps everything organized and decorative. Each coat rack comes with screws, anchors, you can install it within minutes by yourself following the instruction.
PACKAGE INCLUDING: Each wall mounted 5 hooks racks along with mounting hardware and installation instructions. Last but not least,we pride ourselves with a 100% Customer Satisfaction Guarantee. Just reach to us with any questions or concerns and we will be glad to help within 24 hours!
Bikoney Guitar Holder Wall Mount Bracket
🎸MULTIFUNCTION GUITAR HOOK: This wall guitar hanger not only shows your lovely guitar, it also provide spaces to show other guitar accessories, such as guitar pick, straps, tuner, guitar capos and so on

🎸STURDY GUITAR HANGER: Made of 100% solid wood and process with torched finish, feature a rustic style and distressed texture, it's will match various decoration styles perfectly

🎸VINTAGE GUITAR HOLDER: Guitar hooks are nice display fixture, it can display your guitar, suspends your guitar in the air as a beautiful piece of craftsmanship

🎸SAVE YOUR SPACES: It can help to hang your guitar on the wall, free up floor space keeping your room organized that you can find it quickly, it not only display your guitar but decorates your room

🎸QUALITY GUARANTEE: Screws and instruction are included. If you have any questions, please feel free to contact us, we will reply you within 24 hours.
Video Game Joystick Coat Hanger by Felipe Morales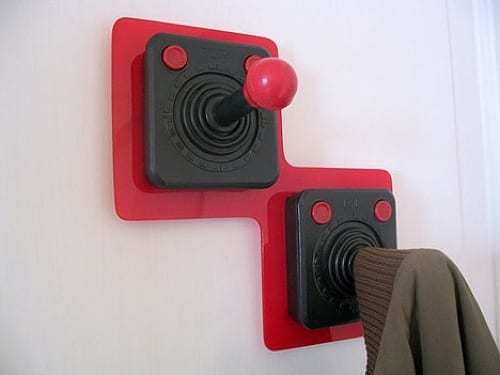 Heavy Duty Rustic Entryway Hooks
PREMIUM QUALITY AND DURABILITY – Made from superior quality steel, each wall mounted hook is sturdy enough to handle the heaviest of items. It can easily hold up to 35 lbs of weight so it's the perfect addition to your home or office.
REMOVES CLUTTER – Easily hang up anything from coats, jackets, hats, necklaces, jewellery, keys, towels, handbags and belts to keep your home organized. Ideal for entryways, hallways, foyers, bathrooms and rooms with limited storage space.
STYLISH COAT RACK – With 10 rustic style wire hooks you'll add some classic minimalist design and flair to complement any room. Decorate your entryway to impress guests or use it in the bathroom to store towels and robes.
QUICK AND EASY INSTALLATION – With 40 heavy duty screws included in each pack you can easily install and securely mount this onto any wall. These single hooks make for an easy fit compared to conventional 5 to 6 hook racks that are bulky and hard to install.
100% SATISFACTION GUARANTEED – We are sure our hooks will help you declutter the mess around your home with a strong and reliable set of hooks. We offer a 30 day Money Back Guarantee to ensure you can buy with confidence.
Abitudini Coat Hangers by Antonello Fusè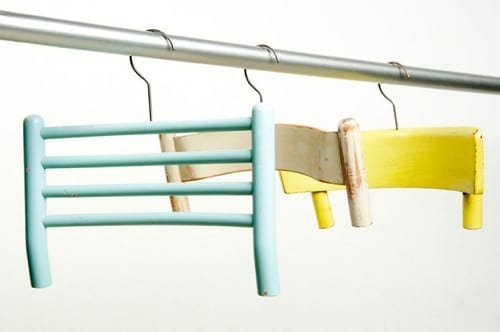 Umbra Buddy Decorative Wall Mounted Hooks
UNIQUE & FUNCTIONAL: Put the "fun" in functional with these unique wall hooks that feature Umbra's popular Buddy character "climbing the walls" in various positions; Buddy's arms, legs and head provide places to hang clothing, accessories and more
VERSATILE & DECORATIVE: Buddy wall hooks help keep things organized while adding a fun touch to your entryway, bedroom, bathroom, dorm room or office; use them as coat hooks or to hang scarfs, purses, backpacks, umbrellas, bathrobes, towels, and more
EASY TO SET UP & USE: Buddy wall hooks include everything you need to use them as wall-mounted coat hangers including step-by-step installation instructions and the necessary concealed mounting hardware; when not in use, they serve as fun wall décor
STYLISH & DURABLE: Available in 4 stylish finishes and designed to add a touch of fun to your décor, each Buddy wall hook measures 3 x 6.5 x 3 inches and is made of durable molded plastic that supports a max load of 5lbs. per hook
STYLISH & DURABLE: Available in 4 stylish finishes and designed to add a touch of fun to your décor, each Buddy wall hook measures 3 x 6.5 x 3 inches and is made of durable molded plastic that supports a max load of 5lbs. per hook
Coat Hangers by Swedese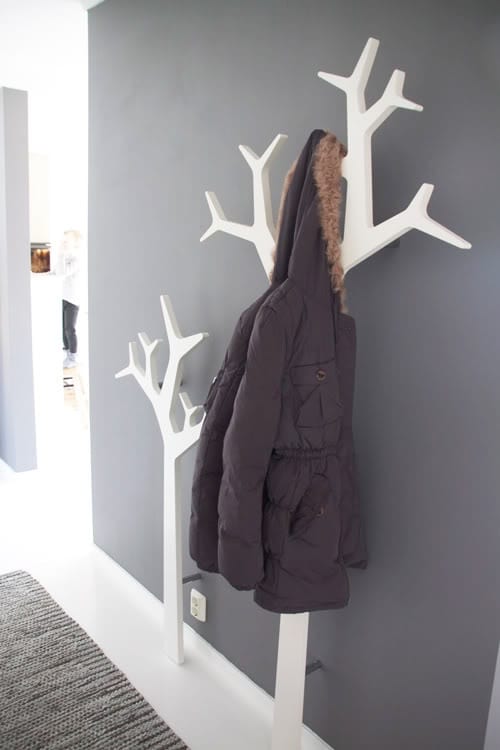 Coat Rack & Hat Rack
MODERN DESIGN – Perfect solution for organizing hats, coats, jackets, baseball caps, scarfs, and dog leashes in your entranceway, bedroom, or closet.
WALL MOUNTED – Take advantage of the wall space in your home. Make your house less cluttered and more efficient.
HIGH QUALITY – This coat rack & hat rack maintains its shape over the long haul.
BUILT TOUGH – We made this coat rack as sturdy as can be. Don't worry about it being wobbly or being unstable. Supports over 120 lbs of weight!
SIZE MATTERS – Perfection can come in all different shapes and sizes, including this coat rack/hat rack measuring @ 39″ Tall, 10.5" Wide, and 5.25″ Deep. Note: **Important to measure your space** Note-Comes with (1) coat rack
Creative Coat Hanger by Pulpo Big Drip Lifestyle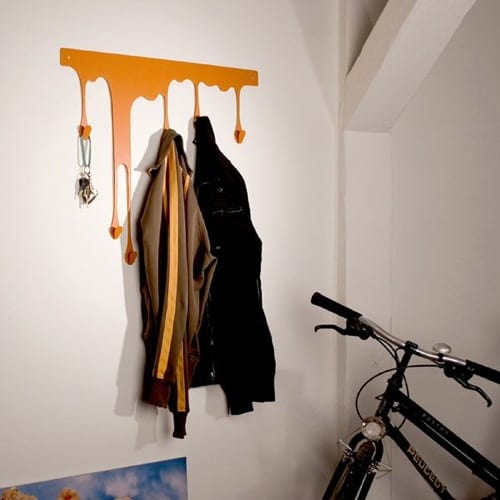 5 Flip-Down Hooks for Hanging Coats
MODERN & FUNCTIONAL: Sticks Multi Hook Coat Rack is a unique wall mountable coat rack, hat rack, and clothing rack that provides 5 flip-down coat hooks and ample hanging space for your entryway, bedroom, office or dorm room.

VERSATILE & DECORATIVE: Sticks Multi Hook helps keep your home organized while simultaneously adding a modern decorative touch. Use Sticks to hang your daily essentials like coats, hats, scarves, purses, umbrellas, bathrobes and more

UNIQUE & STRONG: Made of molded polypropylene, the sculptural design of Sticks Multi Hook garment rack looks at first glance like a modern piece of art, until you notice that some of the "sticks" flip down to become hooks for hanging (each supporting up to 5 lbs.)

EASY TO SET UP & USE: Sticks coat hooks measures 19 ½ x 7 ¼ x 1 inches and come complete with easy to follow instructions and all the necessary hardware to quickly mount it on to virtually any wall in your home, office, or dorm room

DESIGNED BY DAVID QUAN FOR UMBRA: Sticks wall coat rack comes in several different finishes to match your existing design style; it measures 19 ½ x 7 ¼ x 1 inches
Creative Coat Hangers by Jade Barnes
Wall Mounted Coat Rack 
ADDS RUSTIC CHARM TO YOUR HOME – Beautifully crafted with rustic distressed wood and antique brass hooks, this wall coat rack adds rustic charm to your home and goes great with any decor.
CREATES MORE SPACE – Organizes and maximizes your space, reducing clutter and ensuring your coats are always easily accessible.
FREE MOUNTING HARDWARE included for quick, hassle-free installation of your coat hanger wall mount. 16 x 4.5 inch. Holds up to 30 lbs.
BUILT TO LAST – With heavy duty distressed wood, strong brass hooks, and a durable design this coat rack wall mounted is built to last!
100% SATISFACTION GUARANTEE – Ilyapa stands behind all of its coat hooks wall mounted 100%. Please reach out to us with any questions or concerns, so we can help!
Hook Box by Luca Nichetto Design
SONGMICS Stylish Metal Coat Rack
Stable Structure – All the ends of the three legs are wrapped with plastic duckbilled tubes to avoid scratching any hard surfaces. All the 4 top hooks are fastened with plastic duckbilled pads to avoid damaging any clothing during use. Each leg has an engineered diameter of 22mm to ensure maximum stability without adding excess weight. As a result, this item is incredibly stable
Baked on coating – Utilizing a baked on finish, this product is 100% waterproof and rust resistant. Cleaning is simple with a wet cloth and a quick wipe
Plenty of hooks – You can hang your clothes, hats and ties on the top with 8 hooks, and bags on the 4 hooks in the middle of this item, making full use of the space in your room
Simple assembly – Easy to dismantle and assemble, it can be easily moved and placed in your house and office as you like
Simple and classic – You can put this item in your living room and bedroom etc. Because of its duckbilled design, it's more stable and beautiful
Organic Tree Creative Coat Hooks Coat Rack by Robert Bronwasser for Cascando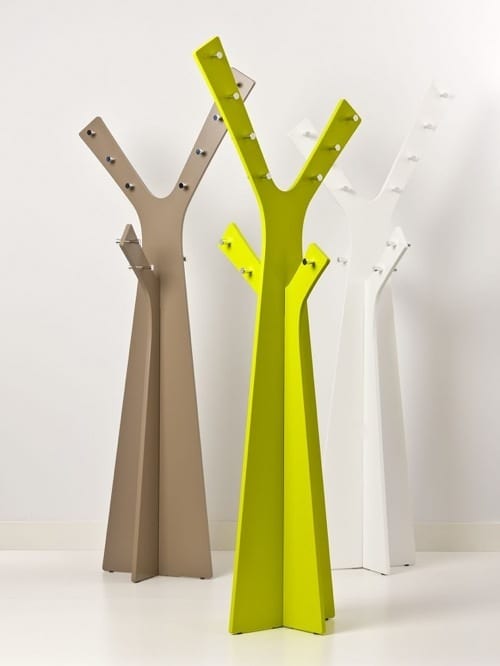 Tooarts Iron Cat Wall Hanger Hook
Multifunctional wall hanger:  A stunning set of creative coat hooks. This wall hanger is made for a wide variety of use, color: such as to hold your towels, coats, bags, keys and other small things you need to keep your room tidy and clean
Decorative: This decorative wall hook is made from good iron material, and the lovely cat adds style and good touch to your home
Solid design: This wall hook is made from cast iron, a uniquely beautiful yet heavy duty accessory did you can use in your home. It is solid and can withstand daily use for a long time
Hand painted and easy to use: This wall hanger is hand painted and has a vintage effect. It Prevents the hooks from rusting. With the screws (included), you can mount it Easily
Space saving conception: Use it in your bedroom, living room or any other space to keep thesis places neat and organized
Pipeworks Series Coat Hanger by Nick Fraser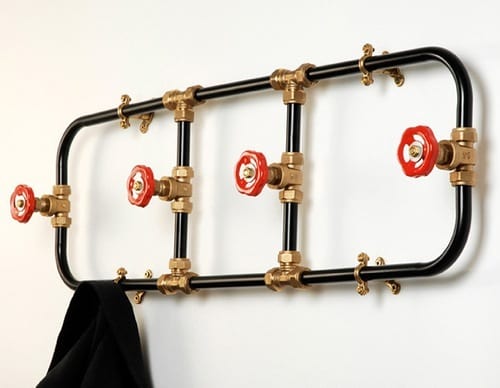 Coat Stand with 3 Shelves
TWO BIRDS WITH ONE STONE: This stylish coat rack brings a industrial touch to your entrance while at the same time creates enough storage room for jackets, coats, caps and bags
INNOVATIVE & STABLE DESIGN: With the sides tapering in slightly towards the top, the matte-black iron frame gives this coat rack more than just a unique shape; it also provides stability and firmly supports the three shelves
COATS, BAGS, AND HANGERS: Storage basket goes on the shelves, hats on the top hooks, and hangers on the hanging rods, what else? The lower hooks are perfect for kids to hang up their coats and bags from school
IN GOOD HANDS EVERYWHERE: Thanks to its space-saving design, this coat rack fits perfectly into even a small hallway while also cutting a fine figure in the corner of living room
Shovel and Pitchfork Coat Hangers by David Olschewski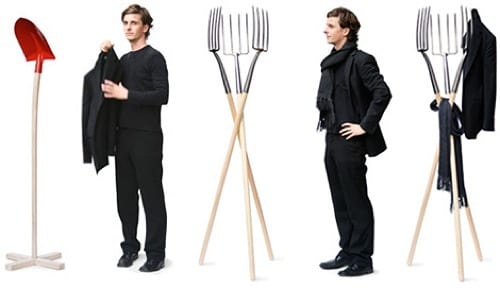 Umbra Buddy Wall Hooks
UNIQUE & FUNCTIONAL Wall Hooks: Put the "fun" in functional with these unique wall hooks that feature Umbra's popular Buddy character "climbing the walls" in various positions; Buddy's arms, legs and head provide places to hang clothing, accessories and more
VERSATILE & DECORATIVE: Buddy wall hooks help keep things organized while adding a fun touch to your entryway, bedroom, bathroom, dorm room or office; use them as coat hooks or to hang scarfs, purses, backpacks, umbrellas, bathrobes, towels, and more
EASY TO SET UP & USE: Buddy wall hooks include everything you need to use them as wall-mounted coat hangers including step-by-step installation instructions and the necessary concealed mounting hardware; when not in use, they serve as fun wall décor
STYLISH & DURABLE: Available in 4 stylish finishes and designed to add a touch of fun to your décor, each Buddy wall hook measures 3 x 6.5 x 3 inches and is made of durable molded plastic that supports a max load of 5lbs. per hook
ORIGINAL, FUN DESIGN: Designed by Alan Wisniewski for Umbra, these fun, easy to mount wall hooks are part of the best-selling Buddy Collection that also includes a clock, bottle opener, cork screw, paper towel holder, tea infuser and more
Upcycled Skatboard Wheels Coat Hanger by Skate Study House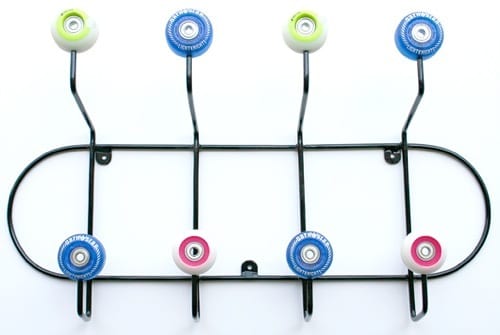 A Collection of Interesting wall hooks and coat hanger designs
Image
Title
Price
Prime
Buy
PremiumRacks Coat Rack & Hat Rack – Modern Design – Wall Mounted – Stylish – Durable

Prime

Eligible

Take a Look
Umbra Sticks Multi Rack – Modern, Unique, Space-Saving Hanger with 5 Flip-Down Hooks for Hanging Coats, Scarves, Purses and More, White

Prime

Eligible

Take a Look
Umbra Buddy Over The Door Double Hook- Over the Door Double Hook, Decorative, Increases Storage, Storage for Coats, Hats, Scarves, Towels and More, Matte White Finish

Prime

Eligible

Take a Look
Wall Hooks, Felidio Natural Wood Coat Hooks Wall Mounted (Pack of 2pcs) - Rustic Wall Coat Rack Hat Hooks Robe Hook Entryway Wall Hangers Heavy Duty Hooks for Hanging Towels (Black Walnut)

Prime

Eligible

Take a Look
HOMFA Bamboo Entryway Wall Shelf Hanging Shelf 29 in L, Wall-Mounted Coat Hook Rack with 5 Dual Metal Hooks for Hallway, Bathroom, Living Room, Bedroom, Dark Brown

Prime

Eligible

Take a Look
Coat Rack Hooks UMZi Wall Mounted Handmade Beech Wood Hook (Pack of 2)Modern Wooden Hat Rack Entryway Organizer Bathroom Hanger Rustic Towel Hangers Home and Kitchen Use Pegs(Pack of 2)(Natural Beech)

Prime

Eligible

Take a Look
JQK Black Bathroom Towel Hook, Coat Robe Clothes Hook for Bathroom Kitchen Garage Wall Mounted (2 Pack), 304 Stainless Steel Matte Black, TH100-PB-P2

Prime

Eligible

Take a Look
Umbra Buddy Wall Hooks – Decorative Wall Mounted Coat Hooks for Hanging Coats, Scarves, Bags, Purses, Backpacks, Towels and More, Set of 3, Light Multicolored

Prime

Eligible

Take a Look
HomeDo Natural Wooden Coat Hooks Wall Mounted Vintage Single Organizer Hangers, Handmade Craft Hat Rack Hat Hanger(Beech-3inch, 6Pack)

Prime

Eligible

Take a Look
Coat Hooks Wall Mounted Towel Hooks Heavy Duty Single Robe Hanger for Bathroom Kitchen Office,3 Pack Anodized Aluminum (Black)

Prime

Eligible

Take a Look
Prices and images pulled from the Amazon Product Advertising API on:
"As an Amazon affiliate, I may earn a small commission from any Amazon qualifying purchases"