Cool Office Chairs
And a few that are available in the days of 2020. Many of the cool office chairs we have here are now around 10 years old and to find one available will be almost impossible, or will cost you an arm and a leg to buy. If the link clicks then it is available. If not, try looking on ebay for one. Good luck.
For most of us, work usually means being chained to the office desk and glued to the computer monitor and lets admit it, no matter how much we want to change that, we can't! So why not make the best of this rather dreary situation and pimp up your workspace?
One great way to achieve is this to get a nice computer chair and a cool work desk. And in case you are confused where to spend that hard earned money, just look below to check out our selection of the ultimate computer and work chairs for the office.
1. Aeron Self Adjusting
If you manage to find one of these for sale I would imagine it will be for a silly sum of money. I have not seen one available anywhere.
2. Herman Miller Classic Aeron Task Chair
✖

September 17, 2023 06:42
While its iconic form has remained largely unchanged, the Aeron Chair has been remastered from the casters up. With the help of Don Chadwick, the chair's original co-designer, Herman Miller has updated Aeron to incorporate more than 20 years of research on the science of sitting, as well as advancements in materials, manufacturing, and technology.
Across Aerons 8Z Pellicle elastomeric suspension seat and backrest, eight latitudinal zones of varying tension envelop you as you sit, delivering greater comfort and ergonomic support. The new 8Z Pellicle also allows body heat to pass through to help maintain an even and comfortable skin temperature.
Sitting in one position reduces the natural pumping action of the muscles that deliver nutrients to the spine. As you sit in Aeron, however, the tilt allows the chair to move seamlessly with your body, so shifting between forward and reclining postures is smooth and balanced throughout the entire range of recline.
With chairs, one size does not fit all people. Based on an ends-to-the-middle design approach, Aeron comes in three sizes (A, B, and C) to provide an inclusive fit that delivers the same level of comfort to the largest range of anthropometric body types of any office chair.
For individuals sitting in Aeron, cross-performance design means the ergonomic chair fully accommodates the widest possible range of activities and postures people adopt while working, from intense, forward-facing focus to relaxed, contemplative recline.
3. Big & Tall Executive Computer Desk Chair
4. Racing Style Reclining Gaming Chair
Consol gaming comfort is provided by a plush removable headrest pillow and segmented padding that lead to the ultimate experience — a fully functional gaming recliner that lets you level up while laying back.
With a removable side pouch that hangs off the left arm to keep game controllers close and a cupholder built into the left arm so you dont have to pause the gaming action to refuel.
The chair and footrest are a continuous surface, no open spaces to get wires caught, but operate independently to give you total control over your gaming chair experience.
Comfortably recline up to 135-degrees and feel secure because the 360-degree swivel base provides sturdy support for both the extendable footrest and reclining back — allowing you to focus on your foes, not your balance.
RESPAWN LIMITED LIFETIME WARRANTY covers your gaming chair for users up to 275 lb and has your back so that you can crush it on the battlefield
5. The Surf

Soft Thread Leather High Back Office Chair
The chair provides superior luxury and comfort even during long, intense work hours. The premium heat pressed diamond pattern provides a sophisticated detail that provides additional comfort.
The computer chair features contoured, segmented ultra-plush padding, is covered in breathable SofThread leather for a luxurious feel, and provides all-day back support with the integrated lumbar cushion.
This executive chair features an integrated headrest and arms that are padded for all-day comfort and support with a five-star base that is molded from reinforced resin with a 360-degree swivel.
The center-tilt mechanism rotates the chair seat and back together into a comfortable reclining position while the tilt tension controls the rate and ease of recline, ensuring that you don't recline too fast.
This multi-purpose chair features a 250 lb weight capacity and is backed by the OFM Limited Lifetime Warranty. You can purchase this office chair with confidence.
6. The Daybed Gadget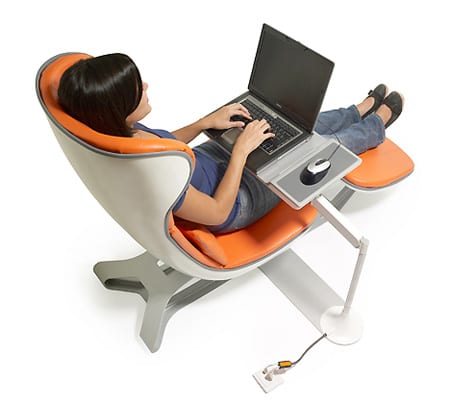 7. Serta Big and Tall Executive Office Chair with Adjustable High Back
8. BIG Man Office Chair
This office chair is perfect for the bigger men. With a 500lb capacity it should be capable of holding anyone up to this weight in comfort each and every day. Comes with a 12 month warranty just incase you have any issues with the chair.
✖

September 17, 2023 06:42
9. La Z Boy Bellamy Executive Office Chair
10. Adjustable Office Chair With Lumbar Support And Rollerblade Wheels
COMFORTABLE – Thanks to this state-of-the-art office chair's numerous adjustable features you can be assured of finding a comfortable seating position just for you. You can adjust the headrest height and angle; the lumbar support height and depth; the armrest height and distance from seat; the seat height; the backrest tilt; and the tilt tension.
11. The PCE Personal Computing Environments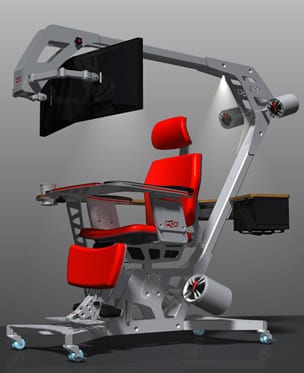 12. The Peekaboo Isolation Chamber

13. Stokke Gravity

14. The Tilt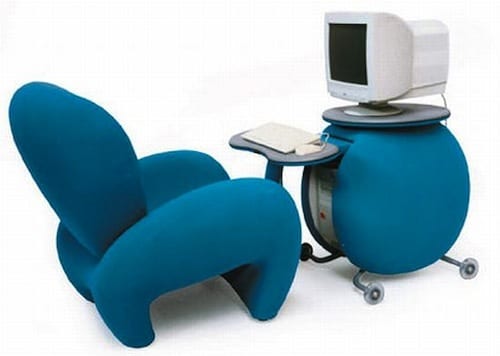 Finding the right position to get perfectly comfortable in to get some work done is harder than is not as easy as you may think. There has been a better effort to pay attention to the ergonomics that often get over looked and often looks take priority or feel.
Some of these designs are far from the market but may encourage a movement to make furniture as truly accommodating as possible despite what it looks like.