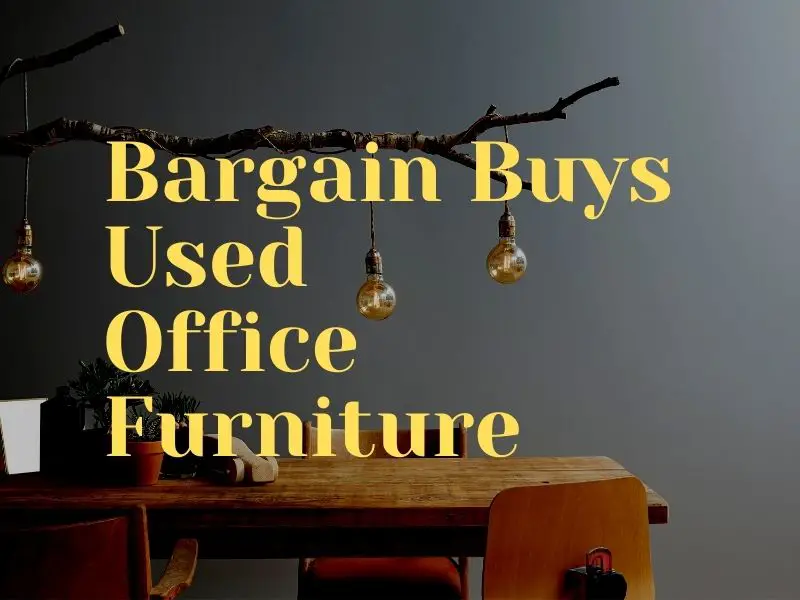 Saving Big With Used Office Furniture
Hey there? Are you thinking of making more profits from your business? Definitely yes. Well, one way of making more profit is by increasing the levels of savings you get. But how will you do that?
Well, buying used office furniture is a significant step to increasing savings. However, starting a new business or expanding the existing business is often expensive. That is why you need to consider buying the office furniture used to lower the costs. Here are the major benefits of doing that.
Increases business savings
According to research from a used office furniture company in Florida, they found that it's possible to cut even up to 50% of a furniture's selling price from buying a used item and have it for just as long. It allows you to pay much less than the original price while getting a professional look for your office.
To get the best prices, you'll have to do a bit of research. Then, you can either ask friends, family, or other colleagues for places to get the best prices, browse the web or attend showrooms. These cost savings can expand your business.
Saves the planet
Each piece of furniture you see in an office was made from some form of natural resource. For instance, most types of furniture are wooden, meaning trees are involved. Some are made from glass, showing mining of some minerals, while others are made of plastic, demonstrating excavation of oil, gas, and coal.
Buying used office furniture means that no new item will be produced, reducing the sum of used natural resources. Thus, it prevents the depletion of environmental resources. However, we all know what adverse effects this has on human living.
Also buying office furniture used reduces the energy and burning fuels in industries which leads to pollution.
The EPA estimates that 3 million tons of office furniture ends up in landfills each year. Using old furniture shows that the company is committed to reducing waste and carbon emissions because it won't need the raw materials or energy needed to make new furniture.
It's good for your health. Modern furniture is made using volatile organic compounds that are released into the atmosphere as a gas. The newer the furniture, the higher the level of pollution. Exposure to harmful substances can lead to health disorders.
If your old furniture is outdated and worn out, there is no reason to discard it completely. Chairs and couches can be refinished, wooden parts can be sanded and polished, and everything from creaky chairs to tables can be repaired.
So, when you are buying a piece of used furniture, know that you are one of the many individuals protecting this planet from the depletion of natural resources and pollution.
Gain quality items
Nobody can sell an item that has been worn out or extensively damaged. However, most of these types of furniture have lasted for some time, showing their quality nature. Used furniture can be much more durable because its quality has been tested by the previous user.
Have you ever bought a new office chair or desk, and after two months or even a month, the item performs poorly or breaks? Well, buying used furniture shows that the thing has stood the test of time.
In addition, some used pieces of furniture have been refurbished, making them look as good as new and with much more excellent quality and lower costs.
Also, since more people are adopting the trend of buying this used furniture, more and more businesses are developing each day, increasing the competition. With an increase in competition comes an increase in quality items that satisfy customers' needs to counter the competition.
There is a possibility of buying furniture that was purchased but has not been used for its intended purpose. It may be possible to buy the product in its original packaging, which guarantees its preservation.
Just make sure before buying any item you closely inspect it for any hidden damage. If you find the damage, inform the seller to repair or buy it at a much lower cost and repair it yourself.
Easily accessed
Nowadays, there are plenty of stores selling used office furniture, which means you can easily access them. However, to cut down the efforts, browse "office furniture used near me" or "used office furniture store near me" and get many places to buy them.
Also, buyers have discovered that delivery of some new items usually takes longer, extending two months. But for the used office furniture, delivery time can take about two days or fewer since the things are already complete for assembly.
There are several service providers responsible for quick delivery of used furniture like Oversea Brokers and many more. Research on these service providers to get one that works near you for fast delivery.
Access to unique items
Have you ever bought a new item, leave alone a piece of furniture and later found out that a good number of people have the same item? That is not a great feeling. Everybody wants to be unique, and that is where the used furniture comes in.
There are some types of used office furniture with a unique design that is worth buying. For instance, last month, one of my friends bought an adjustable office chair with a place to put your legs in front and swing backward when tired. The design and structure of that chair are so incredible that they inspired me to look for a similar one.
Well, as you can guess, I found nothing similar or even close to being comparable to that. And you want to know what the frustrating part is? It gave my friend a big room to brag about all the time.
It's much possible to get that unique office furniture from purchasing a secondhand item.
What kind of used furniture to buy in the office?
In the office, you can buy used furniture without fear, because even sofas and beds in apartments, hotels are often taken from the hand. Often offices require sets:
For the manager's office. This is a comfortable desk, identical chairs, wooden and/or iron cabinets, nightstands, sofa, and so on. Everything should be made in a similar style;
To furnish a common area or conference room. This is where meetings, speeches, and celebrations take place. It is necessary to install a wide round table, a drawer; the number of chairs corresponding to the number of employees;
To furnish an individual workplace. It depends on the specific work, but a table and a chair are necessary in every case. For working with computers, the preference should be given to special tables and adjustable chairs. Personal offices are equipped with small filing cabinets, partitions, and shelves.
It can be concluded that the office can be equipped with used furniture, but it is important to check its quality beforehand. You can treat the set with a special agent and rejoice at a successful purchase, made without unnecessary headaches and unintended costs.
Conclusion
Buying used office furniture is an excellent idea if you want to reduce business costs. Just make sure you pick the best quality furniture for a professional look.