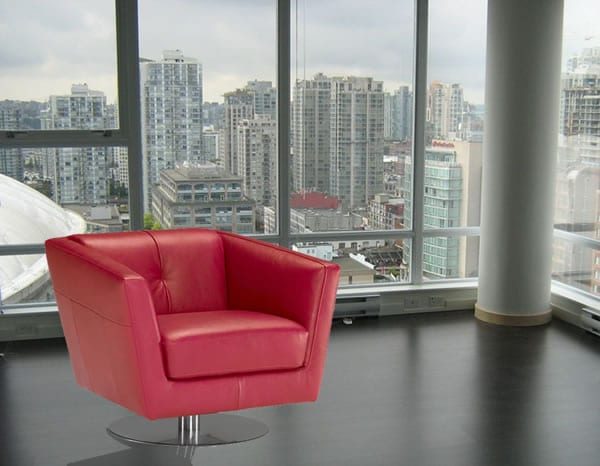 When looking for a comfortable design that will enhance a room's appeal, look no further than the accent chair model B617 by Natuzzi. Featuring a deep rich cherry red color, the chair is inviting and provides a focal point for decorating a room. Whether for a home or office, this piece will brighten up a room without overwhelming it. It swivels 360 degrees and offers spacious seating without consuming a lot of floor space. Its sturdy construction provides maximum comfort and will quickly make it the best seat in your house. You'll love sitting on the chair as you attend to different tasks in your home or office.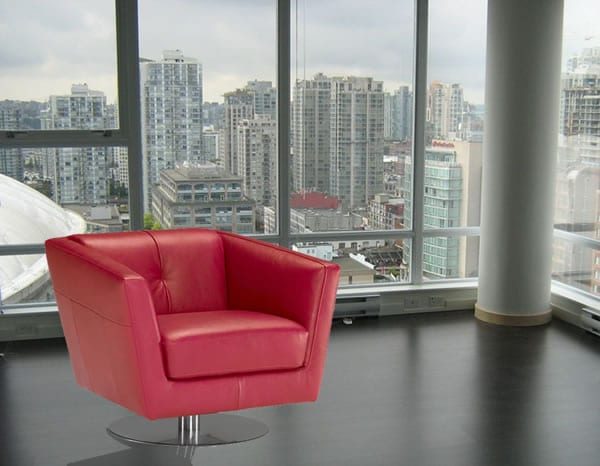 The accent chair from Natuzzi Editions has elegant curves which give a room a contemporary flair. It has a cushioned seat that provides exceptional comfort and a swivel base which gives it a chic, modern style. The extra wide metal base has a low centre of gravity giving the chair maximum stability. The B617 has soft Italian leather which is soft to touch and to sit on. It has a single tuft, which gives it a beautiful, unique look.
The chair's transitional and contemporary design gives it a distinctive style which helps you to achieve that look you've always wanted in your home. Complete a room's theme using this chair or make a statement by pairing it with its matching recliner and ottoman. A perfect match for any décor, the accent chair by Natuzzi transforms any room in a flash.
Wouldn't you love to have this gorgeous piece in your urban loft?