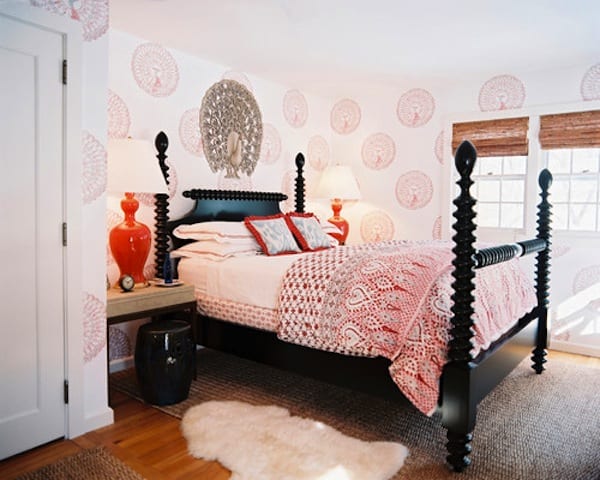 Make Your Guest Rooms Look Stunning
Once the weather becomes warmer it always seems like it's the perfect time for relatives and friends to start visiting and taking family vacations to your home! Spring and summer are the perfect times to get your guest room revamped and give it a welcoming feel.
Whether you just want to add spring color with a stunning bed linen set or you'd like to give your guest room a full makeover, here are a few ideas to get you started. After all, your guests will love the spring touches you have added to your home since the last time they visited, and you will have the refreshing feel of the room once your guests have left and given you warm compliments.
Image via: Fun House Furnishings & Design
Add refreshing colors and materials
Guest rooms are a great room to experiment with themes, colorful wallpaper, mix and matching patterns and textures of wood, metal, textiles. Be adventurous! Consider choosing a color palette that brings out your existing furniture as well as gives spring color inspiration.
Tangerine orange, grass greens, sunny yellow and colors that remind us of spring's natural hues are a great place to start. Whether you are outfitting a guest room for children or adults, infuse color in wall art, window coverings and accent rugs for seasonal changes that are no fuss.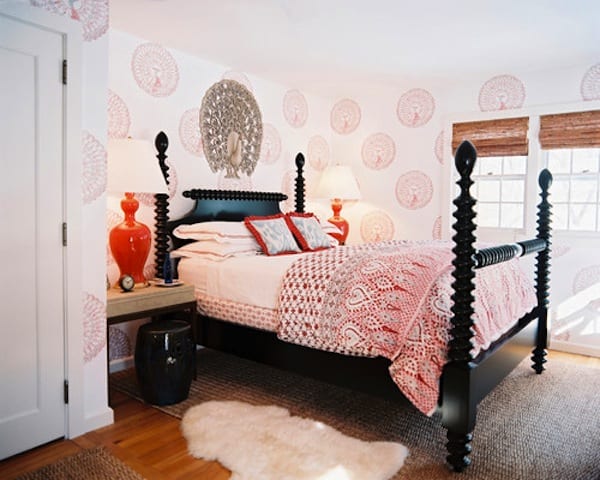 Image via: Patrick Cline
Spring freshness on a dime
While you may think that revamping your guest room has to equate to costly renovations from your pocket, think again. Here are some simple ways to bring spring freshness to your guest room: Opt for a 'Bed in a Bag' set from your favorite home decor store.
Many department stores and big box stores offer sets of bed linen that come complete with comforter, sheets, pillow shams and often decorative pillows to make a unified and affordable look for your guest room. Another option is decorate an accent wall with paint. Painting is one of the most affordable ways to bring life to any room.
Try getting creative with wall stencils, adhesive decals or even painters tape and make horizontal chevron stripes to add spring flair to your guest room.
Image via: Ron Rosenzweig
Your guest room can have all of the freshness of spring with these creative decor ideas.  Colorful walls, and even floral or coordinated patterned fabrics can make any guest room become a welcomed retreat to your traveling guest.
Instead of just passing your guest room everyday, why not perk it up with spring inspiration? Your guests will thank you for it!