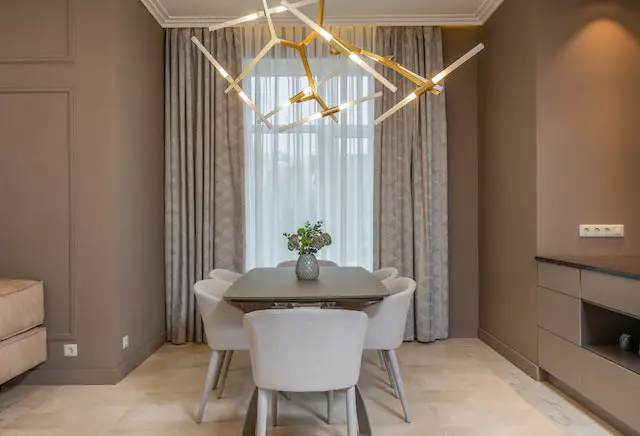 7 Ways to Add Style to Your Dining Room
The dining room is the only room in the house used as frequently as the kitchen. This room serves as a meeting spot for your family meals and a place where you can entertain or hold game evenings with your loved ones to build lasting memories. Furthermore, your children may complete their homework here, and you can use it as a temporary office. Therefore, why not give this valuable space a brand-new look, given that it serves so many diverse purposes? Here are the many ways you can add style to your dining room.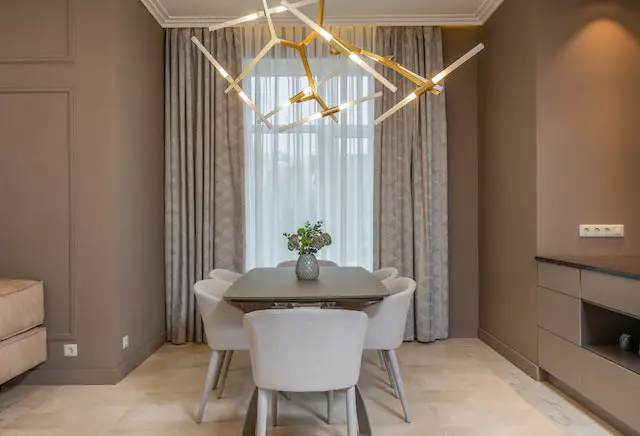 Photo by Max Vakhtbovych
1. Pick a stylish and timeless dining room furniture set
The first that will catch anyone's eye when entering your dining room is, of course, your dining room table and chairs. These are crucial for the room and will impact the overall appearance of your dining room. But how do you pick the perfect ones that will add style to your dining room?
Getting the right dining table for you
You can choose from a variety of different dining room tables. It can be pretty daunting picking the one for you. Factors like its size, shape, material, finish, and overall style are crucial and should be considered carefully. 
The size of your stylish dining room table should be proportional to the room and your family's needs. Its size will also depend on if you intend to host guests, as it will require a larger table. A good general rule of thumb is that your table should be between 36 and 42 inches away from the adjacent walls. This will guarantee there is adequate room to utilize the space comfortably.
The shape of your dining room is the next element you should consider. This shape will also determine the shape of your future dining table. Longer rooms call for longer rectangular or oval tables, while smaller ones frequently look their best with square or round tables. Although you do not need to adhere to this rule, it is an important guideline that will aid in creating a cohesive and stylish space.
The materials your dining room table can be made from are countless. Choosing a classic wooden table is not easy because there are so many types of wooden tables available, ranging from solid wood to distressed and stained wood. When choosing the material, take note of its price, required maintenance, fragility, and style.
Pairing your dining table with appropriate chairs
Photo by Pixabay
If you want to add style to your dining room without changing your table, change your dining chairs.
The number of chairs you would want should be your initial priority. Make sure each seat has 24 to 30 inches of a room by measuring the length of your table. The number of seats at a round table is determined by its diameter. A 48-inch table, for instance, is ideal for four chairs. It is essential to have enough elbow room so everyone can sit comfortably. 
The chair's appearance and the material it should be made from will mainly depend on your preference. Consider the functionality and comfort you require from your dining chairs and pick accordingly. Ensure that the texture and materials meet the desired style and complement one another. Mix and match various dining chairs to provide a unique style touch and draw attention to them. Making the end chairs distinctive from the remaining chairs is an attractive option if you desire a more minimalistic approach.
2. Understand the importance of stylish light fixtures in your dining room
Light fixtures have the power to both define and transform a space. Furthermore, lights in a dining room can be used as focal points that will ensure the room fits the style you are going for. When choosing a light, consider the height of your ceiling. This will determine where you may be able to place the light and which light fixture would fit best. To have proper access to everything on the table while also not being in the way, place your lights around 35 inches above the table.
Additionally, we recommend getting a centerpiece that can act as a staple piece to add style to the space. Since dining rooms are generally quite limited, this may be the only way to add a staple piece. And, if your table is longer, you may even get away with getting two matching pendant lights. However, ensure your light fixtures do not go over the table's edges since this may make the room look disproportionate. Lastly, put up ambient lighting if your dining room is large enough, and remember that the overall goal is to give your room a look you're going for and for them to be functional in terms of making the area bright.
3. Add style and storage space with stylish storage options
For those who lack storage in their homes, having a storage unit in their dining room may be crucial and unavoidable. In such a case, you may still add storage space while adding style. Make sure there is adequate space for everything you would like without overcrowding the room when selecting pieces that complement the design of your dining room. Choosing large cupboards with glass windows that you can use to highlight some of your drinks, dinnerware, or general décor is a terrific suggestion for enhancing your dining room's style.
On the other hand, if you do not want to acquire new pieces of furniture since you already have antique pieces you adore, you may still do so. After all, these pieces will add a unique flare to your home. However, there are things you should be aware of if you decide to move such furniture with you. Most importantly, such furniture may be fragile, so you should protect your expensive pieces. Last but not least, ensure the antique furniture you add to your home complements the aesthetic you are striving for and that it will be durable.
4. Dress up your dining room walls to add style
Dressing up the walls of your dining room is a fun project that can reap many benefits. There are different ways you may go about it. Here are a couple of ideas.
Stylish accent walls
A surefire way of adding a touch of something new is to paint one wall in your dining room a different color. This effect can even be more noticeable if you choose a bold color or hue that will bring attention to that wall. 
Unique wall-art
If you like to express yourself through different kinds of art, wall art in your dining room is for you. You may create an entire gallery wall of your favorite art pieces or family photos. This is where you may express your creativity and add a unique feel to your dining room.
Brightening large mirrors
Most people are not fortunate enough to have large dining rooms. In such cases, large mirrors are going to be more than beneficial. The primary reason is that mirrors allow light to bounce around the room, making it look larger. Furthermore, unique mirrors are a great way to add a focal point and style to your dining room.
Different window treatments
Window treatments are essential when creating a dining room, you will enjoy. To choose the best option, think about the privacy you want in that space and what window treatment fits your preference. If you, for example, have a sliding door, sliding curtains are perfect since you may move them around, clearing your way out and allowing you a better view of the outdoors. 
5. Don't forget to add an area rug to change up your dining room
Area rugs are perfect for those who want to make a room more stylish without adding too many details. Additionally, area rugs can be less or more noticeable depending on what you're going for. More neutral ones will still add style to your room while not attracting much attention, while colorful ones can draw the eye. It is important to note that the rug's appearance is not the only important thing when choosing the perfect area rug in your dining room. Most people, especially those with parents or pets, may prefer those rugs made from easy-to-clean materials such as wool or synthetics.
6. Decorate your dining room according to your preferred style
The décor in your dining room may really make or break its appeal. Because of this, you must be extremely picky about the décor items you add to the room. Furthermore, make sure you do not pick too many pieces and overload the space. We highly recommend choosing a table's centerpiece, such as a lovely vase with flowers or a fruit bowl. As for other pieces of décor, you may place them on shelves or in cupboards, making sure the table centerpiece is the star of the show.
7. Update your linens and dishware to add style to your dining room
The last tip we have for you if you want to add style to your dining room is to update your table linens and dishware. You may display them at all times on the table or keep them safe in a cupboard until you require them not to take away from your stylish furniture combo. Whatever the case, updating the dishware and linens to fit your new dining room will impress anyone who will visit.
A few ideas on a video on some of the things a dining room needs.
Conclusion
Adding style to your dining room should be quite an enjoyable experience. Deciding which table and chairs to choose, and how to decorate it should be top of your list.