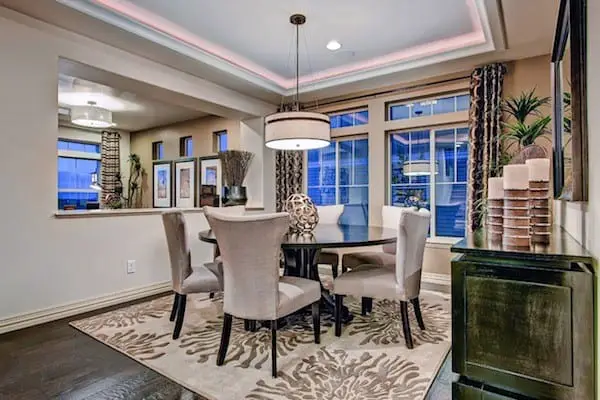 The main purpose of adding area rugs to the dining room is to complement the furniture and to add more appeal to the space. Moreover, a dining room is the hub of all the intimate family gatherings. A perfect area rug can add the much-needed warmth and interest to your dining room. After all, it is where we gather for special holiday meals as well as intimate occasions with our loved ones. When choosing an area rug it helps to choose one that compliments the colors of your room, patterns in your textiles and is sized appropriately for your dining room. Before you run out and purchase any rug, look at these tips to help you decide on the right one.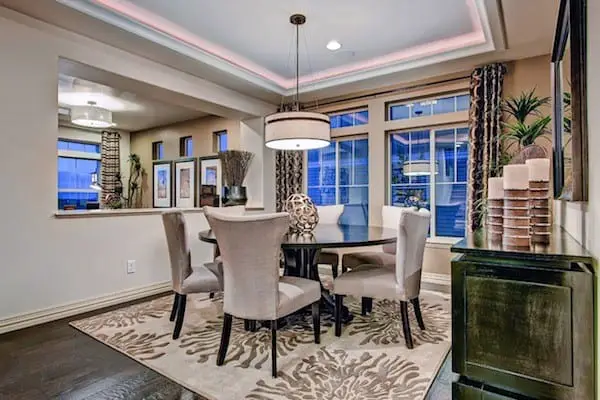 Image via: Oakwood Homes
Choosing the right patterns and colors
Area rugs with darker colors and patterns are the best option for the dining room because it tends to be a heavy traffic area. The color could either match or contrast to the room's color scheme, depending on whether you want to support or tone down the color palette. Additionally, color can be chosen based on your purpose of creating drama or adding accent to the space. Patterned and multicolored rugs will disguise spills skillfully. You can choose stripes too to create an illusion of space.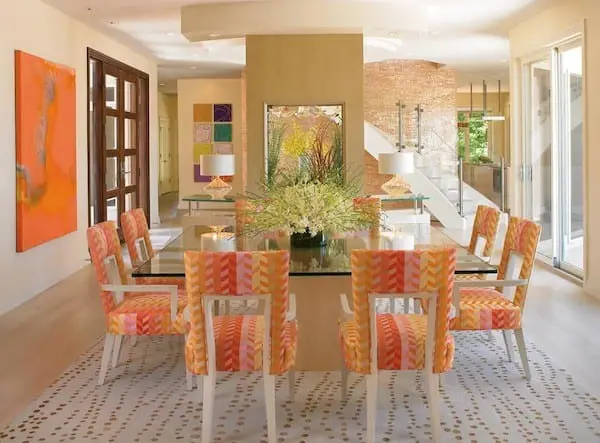 Image via: Jorge Castillo
Rug materials and size considerations
It is very important to choose the material of the dining room rug carefully because it will endure the weight of heavy furniture pieces and accidents with food and drinks can happen frequently. Moreover, dining room is a heavy traffic area. So, materials should be sturdy enough to stand up heavy use. Do not use silk or cotton rugs, as they will be easily damaged. Dining room rugs should be made of materials that can be cleaned up easily. Man-made fibers are easy to clean and maintain. Avoid sisal or jute-made rugs in the dining room, as they are tough to clean up. Size is an important factor to consider in case of choosing area rugs for any room.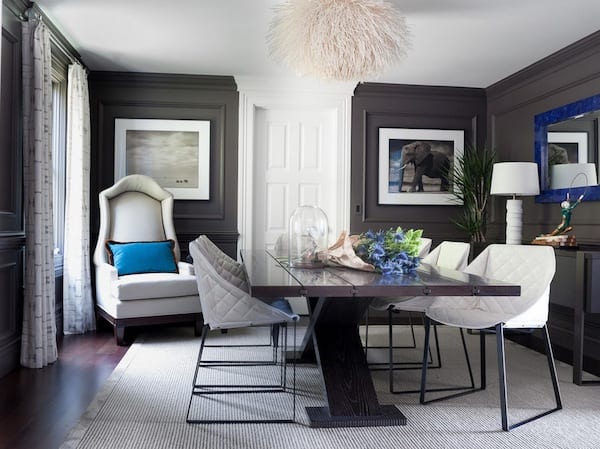 Image via: Green Couch Interior Design
The rug in the dining room should extend minimum 18 inches beyond the dining table so that it still accommodates the back legs of the chairs after pulling them away. Consider the space of the room too to see how the rug fits in. it will be better if the amounts of space on the sides remain equal.   An area rug is also effective in muffling sounds and protecting the feet from cold floors. So, add a punch to you décor and style of your dining room buy choosing the right area rug. Whether you want to add texture to your dining room, color to your interiors or break up the monotony of materials in your space, the perfect area rug will help you solve the challenge!
Related Articles: