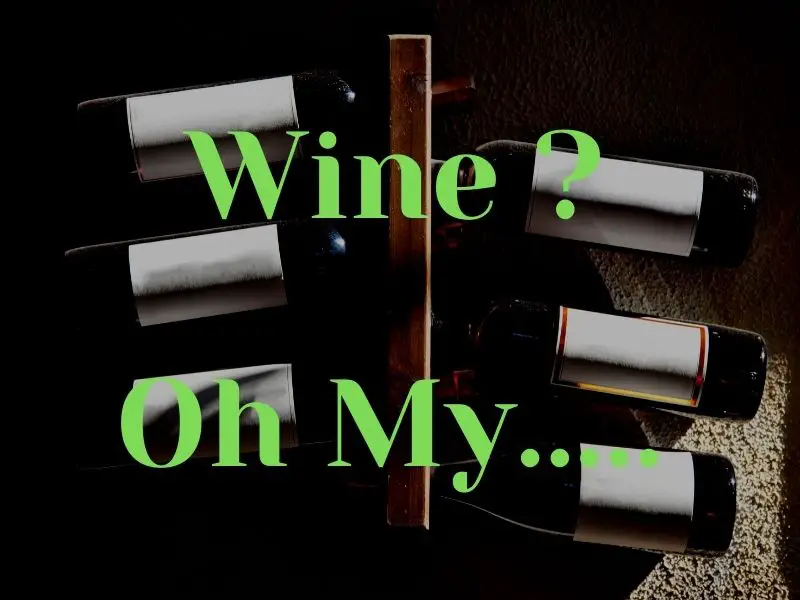 Wall Mounted and Modern Wine Racks
Few things take the edge off like a great glass of wine, particularly during a season that can, at times, leave us feeling more jittery than jolly.  The perfect bottle of vino can make a holiday celebration that much sweeter, so adequate storage is key when you're stocking up on reds and whites to last you through several evenings' worth of gatherings; that's where today's roundup of interesting modern wine racks comes in.
These pieces are simple, sensual and as pleasing to the eye as a rich Merlot is to the palate. If you are short on space or inspiration, but still need some storage space, consider one of these really cool wine rack options.
In a Hurry?
A Quick View of "THE" Most Popular Wine Racks
Image
Title
Price
Prime
Buy

Top

12 Bottle Wine Cooler Refrigerator - White Red Wine Fridge Chiller Countertop Wine Cooler - Freestanding Compact Mini Wine Fridge 12 Bottle w/Digital Control, Stainless Steel Door - NutriChef PKCWC12

Prime

Eligible

Take a Look
it's useful. Freestanding Wine Rack - Fully Assembled 23 Bottle Capacity (750 ml Standard Wine Bottle) Elegant Wine Storage and Display Rack for Home, Shop, or Restaurant

Prime

Eligible

Take a Look
Baridoo Wine Rack. Stackable Countertop Wine Bottle Stand. 12 Bottles Wine Holder Organizer for Table Top, Pantry, Cabinet, Refrigerator. Wine Bar Quality Plastic Lightweight Storage (Black).

Prime

Eligible

Take a Look
Sorbus Wine Rack Stand Bordeaux Chateau Style with Glass Table Top - Holds 18 Bottles of Your Favorite Wine - Elegant Looking French Style Wine Rack to Compliment Any Space (Wine Stand - 18 Bottles).

Prime

Eligible

Take a Look
Twine 2317 Country Farmhouse Home Decor: Shrine Freestanding Wine Bottle Rack, One Size, Black

Prime

Eligible

Take a Look
Simple Trending 3-Tier Stackable Wine Rack, Standing Bottles Holder Organizer, Wine Storage Shelf, Towel Rack for Kitchen Pantry Cabinet, Hold 12 Bottles, Bronze

Prime

Eligible

Take a Look
KINGRACK Countertop Wine Rack, Tabletop Wood Wine Holder for 6 Bottle Wine, 3-Tier Classic Design, Perfect for Home Decor, Bar, Wine Cellar, Basement, Cabinet, Pantry-Set of 1, Wood & Metal(Copper)

Prime

Eligible

Take a Look
KINGRACK Tabletop Wine Rack, 5 Bottle Wine Holder Storage Stand with Stylish Design, Perfect for Home Decor, Bar, Wine Cellar, Basement, Cabinet, Pantry-Set of 1, Wood & Metal(Copper)

Prime

Eligible

Take a Look
WILLPOWER Wine Rack Countertop, Hold 4 Bottles and 4 Glasses Wine Holder Storage Stand, Rustic Wood Wine Display Shelves for Decor Come with Wine Opener

Prime

Eligible

Take a Look
Sorbus Bamboo Wine Rack – Holds 12 Bottles of Your Favorite Wine – Sleek and Chic Looking Wine Rack (Black)

Prime

Eligible

Take a Look
Product prices and availability are accurate as of the date/time indicated and are subject to change. Any price and availability information displayed on [relevant Amazon Site(s), as applicable] at the time of purchase will apply to the purchase of this product.
Prices pulled from the Amazon Product Advertising API on:
Wine Bottle Display
If you enjoy having dinner parties or wine tasting creating the right ambience is important to the success of the event. One factor is creating a wine bottle display that can showcase the night's offerings. Not all of us can have a wine cellar or a wine room without having a huge home.
The shape of this wine bottle display is warm and invites guests to view the wines and look more closely should they take that much interest in them. At the same time holding the bottles uses a reasonable amount of space. Also, the metal blends with many appliances creating a nice tie in of colors to the kitchen which may be the main room where the guests convene.
Metal with Marble Finish Top Wine Storage
Prices pulled from the Amazon Product Advertising API on:
Product prices and availability are accurate as of the date/time indicated and are subject to change. Any price and availability information displayed on [relevant Amazon Site(s), as applicable] at the time of purchase will apply to the purchase of this product.
3 Tier Stackable Wine Rack
This wine rack organizer doesn't need assembly, just stack them up. Store 12 standard wine bottles (750ML) up to 3.5″ in diameter.
Simple pragmatism suits your space style. Perfect for bar, wine cellar, kitchen, basement, etc.
17.5″W x 6.7″D x 12.9″H, you can put in the cabinet or countertop as a storage shelf. And each rack can be used alone or stacked.
Wave design and solid construction to prevent wobbling, tilting, or falling, keep bottles stable and make the corks fully moisturized so your wine stays fresh.
Built by sturdy steel with powder static electricity spray finished.
Stackable Modular Wine Rack
Interlocking & Wave Design. Keep Wine Fresh. Each piece of wood has notches and slots which are deep so they can fit together well, make the wine display shelf more stable on the wood floor or the carpet, just sort of press the pieces together, inseparable and free from vibrations.
Versatile modular stacking style, wave shaped shelves, arc design prevent wine bottles scattered around while slight tilt helps to keep your wines fresh and in handy..
This wine bottle holder is made of high quality knots free pine wood to ensure sturdy construction and compact capacity. The thickness of this hardwood is 0.71 inch, smooth and durable material to ensure your wines' safety for long time usage.
Unfinished natural wood offers a variety options to stain, paint, varnish to match your furnishings or just leave as it is, 100% DIY and wobble-free guarantee!
Assembly is easy and straight forward, this racks snap together with no need for tools, no Nail or Screw needed. Super EASY to assemble (10 minutes or less).
There is no heavy, time consuming assembly required with these wine racks, easy to put together without any tools,all accessories are included in the package, as well as instructions. It's also convenient to disassemble it when not use or simply transport.
Classic design to accent any home, kitchen, dining room or wine cellar. It also a great gift for any special occasions or wine lovers. Wine collectors will definitely love this wine rack!
Countertop Wine Rack
HOLDS UP TO 9 BOTTLES. This modern wine rack has 7 storage slots for standard size wine bottles and an additional 2 slots on top of the rack for oversized bottles such as Champagne. The slots fit all standard wine bottles with a diameter of 3.4″ or less.
STRONG & SCRATCH RESISTANT. Made from high quality iron with a powder coating finish rather than traditional paint, this kitchen wine rack is more resistant to bends, scratches and fading than others.
We built this industrial wine rack to stand the test of time – it is one of the strongest metal wine racks around!
SLEEK MODERN WINE STAND. This simple wine rack fits in with any decor. A smooth matte black finish and minimalist geometric design make this iron wine rack a great addition to any setting whether it be rustic, modern, industrial or any other.
PROTECT YOUR WINE!. This geometric wine rack was designed specifically to hold bottles in place and prevent them slipping out and breaking. The honeycomb wine rack allows you to store your wine bottles on their side keeping the cork moist, preventing it from drying out and ruining your wine!
PERFECT SIZE WINE BOTTLE RACK. L14*D7.5*H7.5 inches with hexagon storage spaces with a diameter of 3.5 inches. The design makes this wine rack small enough to be a counter wine rack or a cabinet wine rack insert.
Wine Rack Butterfly 
Butterfly wine rack stores up to 8 bottles of your favorite wine with 360° views (Brown).
Constructed of lightweight, durable wood that holds each bottle horizontally to keep wine fresh longer until you're ready to drink.
Sleek and chic design to accent any home, kitchen, countertop, or bar table.
Great for any wine aficionado. Also makes a wonderful gift for any special occasion.
Minimal assembly required. Holds (most) standard bottles.
Measures approximately 17.25″x11.5″x4″.
Color: Dark Mahogany
Bamboo Wine Rack With Glass Holder Rack
Racks for wine glasses are suitable for any places. Books exhibition or potted plants on the two slatted shelves, and 16 glasses of bottles on the bottom section.
A stylish table rack to make decent your home kitchen, cabinet, dining room, basement, bar, which can be a complement to decorate your nest.
Solid natural bamboo construction, which can hold up to 4 bottles on each tier (up to 16 bottles total) and can prevent wobbling, tilting, falling or dying.
It not only contains 2 slatted shelves to display books, hold cups, or any flat-bottomed items, but also has a few hangers designed to suspend wine glasses under the second cabinet. And the bottom section can place wine bottles with a 4-tier storage unit side by side or separately.
Organized from top quality bamboo wood with Espresso color electrostatic spray paint finish.Easy to install, just 5 minutes, and can hold wine bottles at a large extent.
SIZE: 18.5 * 11.42 *39.37 inch(47*29*100CM).
Wall Mounted Wine Rack
Multi purpase wall mounted wine rack or wine rack made of strong metal bronze material – Perfect for master bedroom or any kind of bedroom – RUST RESISTANT
Fits any decor great as kitchen towel holder and wines, or any bedroom – vertical designed to fit in narrow places
Hanging wine rack has its stylish and modern look to fit in any room – Great gift for anyone
Metal wine rack can be directed on the door or on a wall, Mounting hardware included easy to assemble
Wall towel rack compact is great for condos Rv's and easy to travel
Wall Mounted Wine Rack With a Water Drop Design
Show off your wine collection with panache by getting the striking water drop shaped wall mounted wine rack by Cattelan Italia. The varnished steel finish creates a paradox of subtlety and drama and we love how Cattelan Italia has reconciled creative design with functionality.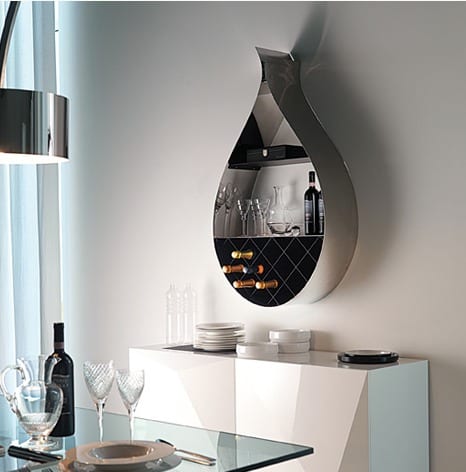 Home Lighting Made from Recycled Wine Bottles
These clever home lighting examples are the brainchild of Jerry Kott. They are constructed of recycled wine bottles. The wine bottles have been painted and then built into light fixtures. This idea is called "Re-Lights", a fitting title with the play on recycling.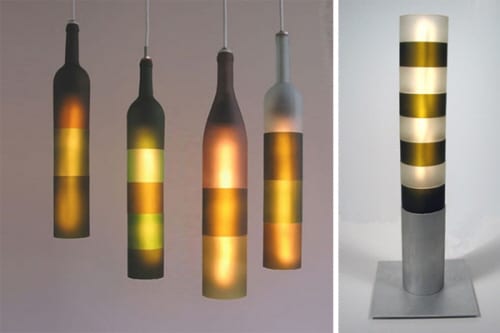 Regency Luxe Wine Cellar By Sand & Birch
Wine connoisseurs are in for a treat since there is a new wine cellar on the block. The well-designed and luxurious  Regency wine cellar is from the house of Sand & Birch, a company known for their high-end wine cellars.
Designed for Cantine Ellemme, Regency cuts quite an imposing figure and has a capacity to store 90 bottles. It also features a climate controller, and the air-conditioner can be customized to persevere wine.
Other highlights include; a LED lighting system, solid construction from woods like  planked oak, maple, and solid, and the use of fine stainless steel and anti UV glasses.
Loopsey Wine Rack by Umbra
Loopsey is a cool wine rack that is sure to garner attention from your guests. Made of .3″ thick clear acrylic, Loopsey can accommodate six bottles of wine; five in the holes and one between the two slots on the top row.
The Loopsey was designed by David Quan and takes its roots from a blossoming flower. The fact that the wine rack is clear makes the "floral touch" less obvious which opens this product to other kitchens that may not have a floral theme.
Dimensions: 8″ x 13″ x 13″. Price: $179.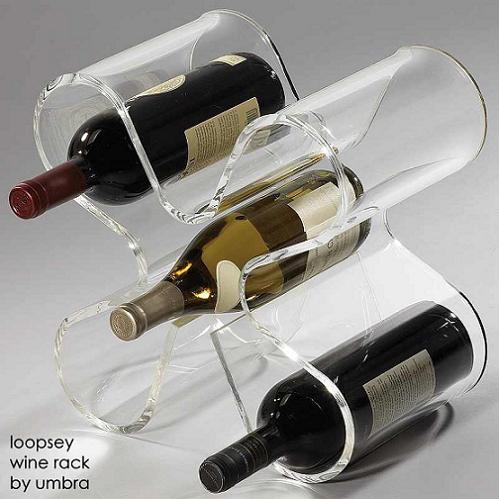 Gus Design Acrylic Wine Rack
A wine rack is a great accent in a kitchen as it speaks of festive, fun, good times, and hope. I say hope, because with a little wine, a bad day can easily be erased. Gus Design has created an acrylic wine rack that features a clear look that will accent the bottles and blend well into most kitchen designs.
Also, if space is at more of a premium such as in a loft or apartment, the vertical nature of this style may suit your wine storage needs. Measurements: 4.5″ d x 1″ w x 32″ h. Price: $155.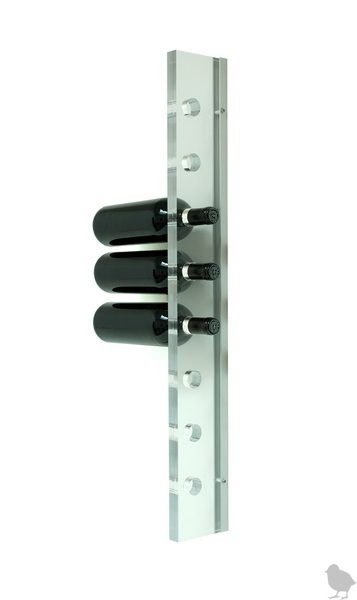 The Menu Wine Rack
The Menu Wine Rack by Jacob Wagner redefines bar accessories with its imaginative and sculptural form. This tastefully designed wine rack seeks to replicate the shape of grapes hanging from a vine and and this design inspiration takes center stage beautifully.
Each racks holds to 6 bottles of various sizes (ordinary wine bottles, slim dessert wines and plump champagne bottles) and is also supplied with screws and plugs. Those planning to gift the Menu Wine Rack can also make use of the giftbox which is available free of cost.
The Wine Rack measures H33 x W5.5 x D 7.5cm and creates quite a dramatic effect with its black and stainless-steel form factor. You can order it from Wheredidyoubuythat.com
The Bachus Bottle Holder by Slide
If you love wine or happen to be a collector, it is important to get the perfect bottle holder. A good bottle holder not only displays your wine, it maximizes space by holding a large number of bottles. The Bachus bottle holder by Marcel Wanders is one such item.
It is a versatile and unusual piece that can hold up to 40 bottles. Created by Marcel Wanders, the wine rack serves as a container and decorative piece. It can be used both indoors and outdoors and is practical and easy to handle. Its essential lines and modularity adorns not only classic spaces but also areas with modern décor. It is vivacious and cheerful and comes in three colors; white, grey, and green.
Sleek yet practical, the Bachus bottle holder by Slide is a must-have for the contemporary abode. It is very handy and allows you to easily locate the wine and choose your favorite. When it comes to bottle holders, you don't have to choose something that is bland and boring with traditional curves and lines. Go for this modern piece and use it to flaunt your wine collection. It is not only useful; it comes in different colors to match your modern home décor.
If you've been trying to find the perfect holder for your wine without luck, Bachus offers the perfect solution. Perfectly balanced in its design, it matches the elegance of a wine bottle's shape. Don't you just love the Bachus bottle holder for entertaining?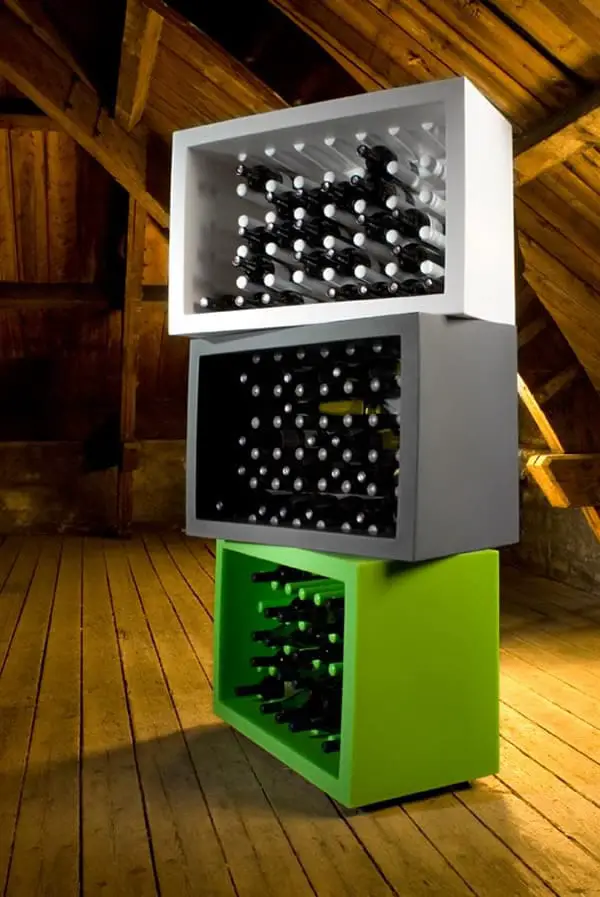 Wine Bottle Cork Candles
If you are a wine enthusiast then you have probably seen the decorating motif where wine bottles are converted into candles. Here is a simple product for $11.95 called "wine cork candles" that can help you transform empty bottles into decorative candles.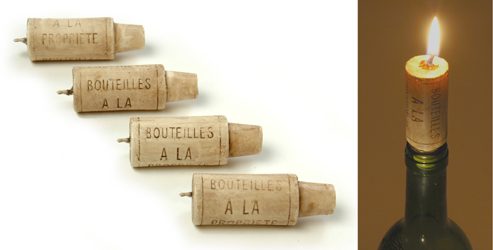 Uncommon Goods Prefers Wine Over War
Using vintage ammunitions boxes from the 1960's and 70's, French-Canadian utilitarian artists Anne Lapierre and Bruno Chouinard offer their collection of "boîtes de la paix" (French for "peace boxes") by recycling military objects into what they call "objects of hope."
In this particular piece, up to seven wine bottles are displayed at a 90-degree angle, allowing for proper storage by keeping the corks wet and ready for a clean pour.  Made in Montreal, the wooden cases stand 37" tall, run 12" wide and 7.5" deep and are available alongside other creatively-sourced and repurposed bar solutions from Uncommon Goods.  $325