If you like experimenting with candy recipes for the holidays and have a weakness for cotton candy then the Hard Candy Cotton Candy Maker should be in your wish-list. Available on Best Buy for $49.99, this affordable kitchen appliance also makes for a great gift during holiday season. Manufactured by Nostalgia Electrics, the machine lest you spin your favorite sugar or sugar free hard candy into delicious cotton candy without creating a mess. The candy machine features a translucent bowl and even ships with two plastic cones.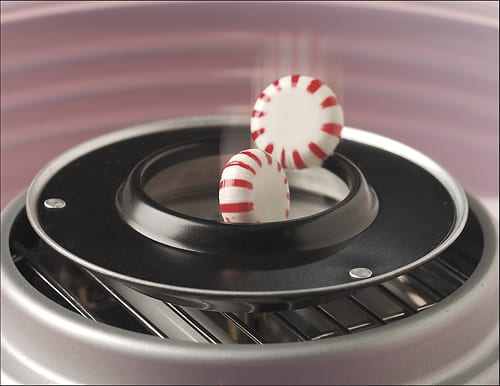 The Candery Cotton Candy Machine – Bright, Colorful Style- Makes Hard Candy, Sugar Free Candy, Sugar Floss, Homemade Sweets for Birthday Parties – Includes 10 Candy Cones & Scooper
CREATE & ENJOY - It takes only minutes to get sugar sweets spinning and ready to enjoy. Easily create cotton candy cones, hard candies & sugar floss.

COLORFUL DESIGN - A truly uniquecandy floss machine, our cotton candy maker looks bright and colorful with a modern, kitchen-friendly décor style.

FUN FOR ALL AGES - Parents and children alike can enjoy making sweet candies together thanks to the clear rim guard, stable feet, and simple design.

COMPLETE KIT - Lightweight and quiet, each treat maker comes with everything you need for homemade sweet treats, including 10 candy cones and a sugar scoop!

SATISFACTION GUARANTEED - The Candery cotton candy machine is backed reliable, high-quality construction and a guarantee for quality assurance.