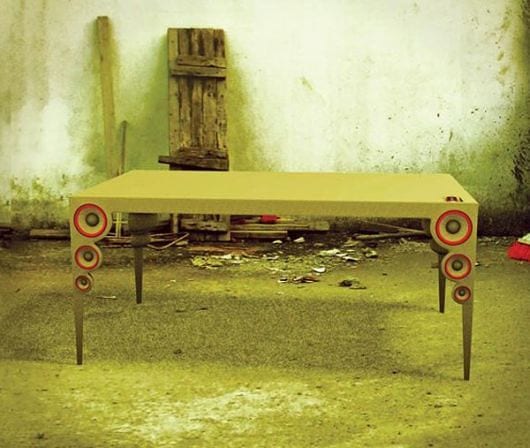 Is there any better place to make a style statement than at your desk? Whether it's making your home office feel like it was built just for you, or making a workplace look as forward-thinking as the company it houses, a cool looking desk makes work seem more like play. The Arc Desk Created by Turkish designer Aziz Sariyer for Alparda, the award-winning Arc series expresses a minimal yet functional vision for office furniture. The Arc is composed of stained wood, but has the appearance of plastic — a somewhat odd reversal of the materials' usual proxy relationship. No wasted material here, just thin, bent planes supported by a convenient drawer system hidden behind a facade that appears to defy gravity.
The Messy Desk It could pass for an Ikea "home-assembly fail" or cubist sculpture, but not a functional piece of office furniture, right? Wrong. To some, this piece may be more functional than the most perfectly assembled
Milk Desk Adapting Apple's aesthetic to a more industrial-modern context, Soren Kjaer's Milk looks like a MacBook Pro balanced atop a steel beam — the storage slot in front even looks like a disc drive. Like Apple products, this desk is designed to make even the wired appear wireless. And the storage compartments are accessible from the top of the desk, leaving open space underneath the thin desktop.
O4i Workflow This strikingly simple integrative concept from Swedish design-house O4i brings together several pieces of office furniture into one. Appropriately titled "Workflow," the concept provides a desk, a reclined seating space and a counter top with each functionality "flowing" into the the next. It's sort of like a reverse cubicle in that it removes privacy from the work environment, encouraging collaboration on its countertop and relaxed discussion with its chair.
Max Ingrand Desk French designer and artist Max Ingrand made functional art with his furniture and lighting concepts. This piece, believed to have been produced in 1966, reminds us of (and could have possibly been inspiration for) 04i's Workflow desk. Like the Workflow, Ingrand's design wraps a single continuous form into a whole seat-inclusive workstation.
Open Room No. 1 Where Ingrand's design anticipated the future, Matali Crasset's "Open Room No.1" desk seems to look back to the dutch De Stijl art movement of the early 20th Century. You may not be able to tell from looking at it, but this jumble of monochromatic rectangular forms encompasses a desk, a cupboard, a lamp and a wastebasket. Clever, stylish, intelligent and yes, available — this one's no gallery piece. From Established and Sons.
Cowling DC Airplane Desks Using repurposed Douglas Cowling aircraft, MotoArt has been designing and selling furniture for the last decade. But this piece isn't tacky or interest-specific like much of the repurposed heavy machinery furniture out there. The inclined cylindrical form of these desks leave only a hint of their former function, and the smooth metallic sheen of their exteriors create a cool wrap-around mirror effect. These pieces don't say "aviation-themed restaurant" anymore than they do "ultra-modern office," which is nice for those of use not running aviation-themed restaurants.
Hexa Desk Sitting on an ultra-light carbon honeycomb framework, Can Yalman's Hexa desk looks as though it could be lifted and moved across the room on single fingertip. Though the manufacturer claims the tiered desktop is meant to encourage others to sit at the desk and have their own workspace, one wonders where they would place their legs while doing so? Still, as a desk for one, this piece fits into a modern high-tech aesthetic quite beautifully.
Table of Sound Part desk, part iPod dock, the Table of Sound concept would be a more than a fun idea if you could convince us that it would be possible to get any work done on a vibrating desk. Still the modern-baroque look of the speaker set in the legs of the desk is pretty cool, and sitting at one of these would leave little question as to who the office DJ is.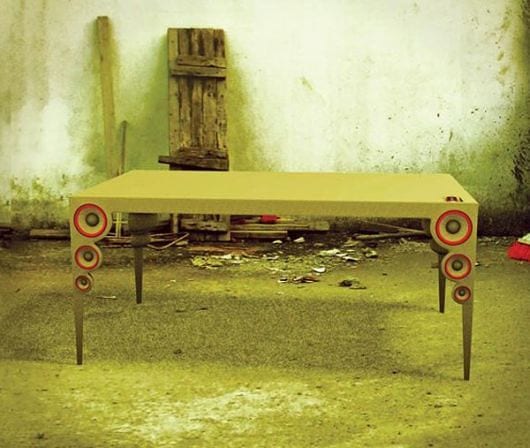 Globus Workstation This space age computer workstation offers a cool fold up design with a well rounded design that includes a chair. This all in one computer workstation by Michiel van der Kley is perfect for home or apartment and also commercial airports, waiting areas and other businesses that need to offer temporary office space. From Artifort.