Stunning Living Room TV Ideas For 2022
A living room should be decorative, comfy, cozy and welcoming, especially in a family home. And two key elements to that comfy coziness are a warm fireplace to have crackling throughout the colder months and favorite movies.
Of course, when you have both kinds of focal points for one of the biggest spaces in your house, it can get confusing on what kind of design you'd like to build or situate. So, we've rounded up some beautiful living room layouts with fireplace and TV for your inspirational needs! Take a look!
Image
Title
Price
Prime
Buy

Top

Clevr 750-1500W 39" Recessed/Wall Mount Electric Fireplace Heater/Multicolor Flame Adjustable Back Light Decorative Crystals, CSA and UL Certified

Prime

Take a Look
Touchstone 80001 - Onyx Electric Fireplace - (Black) - 50 Inch Wide - On-Wall Hanging - Log & Crystal Included - 5 Flame Settings - Realistic Flame - 1500/750W Timer & Remote

Prime

Eligible

Take a Look
Valuxhome Electric Fireplace, 50 Inches Wall Mounted Fireplace with Overheating Protection, Thermostat, Timer & Remote, Touch Screen,1500/750W, White

Prime

Take a Look
Northwest Electric Fireplace Wall Mounted LED Fire and Ice Flame, with Remote, 42", Black

Prime

Eligible

Take a Look
R.W.FLAME 50 inch Recessed and Wall Mounted,The Thinnest Electric Fireplace,Low Noise, Fit for 2 x 4 and 2 x 6 Stud, Remote Control with Timer,Touch Screen,Adjustable Flame Color and Speed

Prime

Take a Look
PuraFlame Alice 60 Inches Recessed Electric Fireplace, Wall Mounted for 2 X 6 Stud, Log Set & Crystal, 1500W Heater, Black

Prime

Eligible

Take a Look
Touchstone Chesmont 50" 80033 50" White Mantle, Wall Hanging Electric Fireplace

Prime

Take a Look
R.W.FLAME 60 inch Recessed and Wall Mounted Electric Fireplace, Fit for 2 x 6 Stud, Remote Control with Timer,Touch Screen,Adjustable Flame Color and Speed, 750-1500W

Prime

Take a Look
Clevr 32" Vertical Wall Mounted Fireplace Heater, with Adjustable LED Back Light Colors, Modern Black Electric Heat with Decorative Crystals, CSA and UL Certified, 1500W

Prime

Take a Look
Product prices and availability are accurate as of the date/time indicated and are subject to change. Any price and availability information displayed on [relevant Amazon Site(s), as applicable] at the time of purchase will apply to the purchase of this product.
Prices pulled from the Amazon Product Advertising API on:
Farmhouse Barn Door Wood Fireplace Stand
This cozy 58-inch fireplace TV stand is the perfect piece to give your living or family room area a charming country feel.
Features concealed storage space behind the barn styled side doors with adjustable shelving to fit your media and accessories, while having a mix of rustic and modern farmhouse style.
Includes a fireplace insert to warm up when it gets chilly that's easy to use and requires no electrician or venting.
Home Fireplace and TV Stand
Another virtual depiction that we can't help but share is this quaint nook that was turned into a rest and relaxation spot.
The fire warms up the space and the TV sits to the side so that both focus points are within an arms reach. We also love the overall feel of this room, with its meshing of rustic charm and modern flair.
Transform your living room from a typical, mundane space into an inviting and warm environment with the Ameriwood Home Lumina Fireplace TV Stand.
This sleek stand comes with all of the modern features you want including a 23" electric fireplace insert that provides enough warmth for up to 400 square feet!
You will be able to turn on or off both heat and flame at any time using only one button–no more hassle! Add style-wise accents by choosing between three different colors: brown, black, gray.
The fun doesn't stop there though. On either side of the fireplace insert are three shelves, 2 glass, that hold your entertainment components like gaming systems, a DVD player, remotes and more.
Both of the side shelves are illuminated with blue lights to coordinate with the glowing fireplace.
Fireplace and Room For a Massive TV
Buckle down on farmhouse charm without having to wander out to an actual barn to gather firewood thanks to the electric fireplace TV stand.
The heater comes with a faux wood hearth and the ability to control the light and heat options separately on the unit so you can achieve a variety of ambiances at the flip of a switch.
This rustic console with mesh metal drop door cabinets includes cord management, open and closed storage, and can accommodate up to a 85" TV.
The accent wall is home to both the fireplace and television in this spacious resting spot. There's a coziness to this room that some of its predecessors lack but there's still a crispness and luxury vibe that makes us feel like whoever gets to enjoy this spot knows how lucky they are.
It's not overly done or stylized either, which we love when it comes to creating family areas.
Photo by Sidekix Media on Unsplash
The tone of this room is inviting and quiet but the design is slick and sophisticated, The foundation is family-oriented but there's not a fashionable detail missed.
Everyone can cozy up on the couch and catch their favorite TV show. A stunning open roof with plenty of light. Of course, this can also act as a romantic escape in the evenings, just pull up a chair or grab a ledge.
Photo by Andrea Davis on Unsplash
This room is spacious. If only we all had the luxurious of this amount of excess room, we'd have a much easier (and sometimes harder) time deciding on what to buy and decorate with.
But when you do have this much to work with, you can get really creative.
Photo by Jason Pofahl on Unsplash
A personal favorite from all of our picks today, this contemporary living room is more on the formal side, but it still has all the essentials you need for a cozy space. The tv is located on the focal, accent wall – which is always a good choice and layout to use.
Photo by Ashley Byrd on Unsplash
The white foundation this room is based on sets the premise for a subtle charm and a completely comfortable ambiance. There's no way you wouldn't want to settle in for a night when your living space looks this welcoming.
But it's also got a textural, interesting style about it that makes it known that it was designed with fashion in mind but comfort at the forefront.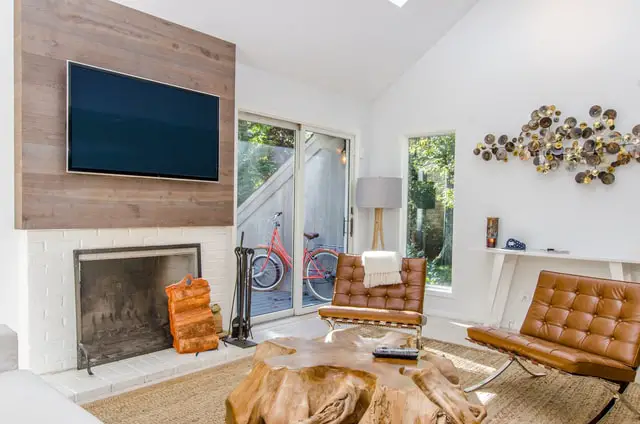 Photo by Chastity Cortijo on Unsplash
This is another traditional living space with a more subdued, and even a more masculine of styles. If you're looking to create a room without anything "in your face" or harsh on the eyes, use this as a jumping off point.
The television is front and center without obstruction and is situated to blend right into the scenery, used with function in mind instead of artistry.
Photo by Sidekix Media on Unsplash
This living room is absolutely swoon-worthy. From the delicate touches to the masculine infusions, the interest of this space explodes in every corner. We love how everything blends but also stands out on its own, and also uses every part of the room with style and ease.
Photo by Blvck Paris on Unsplash
This home has a bit of a studio apartment feel with its wide-open spaces. Instead of walls to divide up the rooms, the decorator has to get creative. And we love how the accent wall makes it easy to pick out where the cozying up has to happen.