Finn Juhl's 1961 Glove Cabinet
One of the most eye catching products has been recently relaunched on the market in a very limited edition, the Finn Juhl's  outstanding Glove Cabinet from 1961.
The new Glove Cabinet is produced like the original in every detail, making it a genuinely exclusive product without the price tag. If a 1961 piece currently sells for over 35.000 dollars, the new version of this glove cabinet, now re-interpreted as a jewelry storage solution can be purchased for under $10.000 and it will only be manufactured upon request.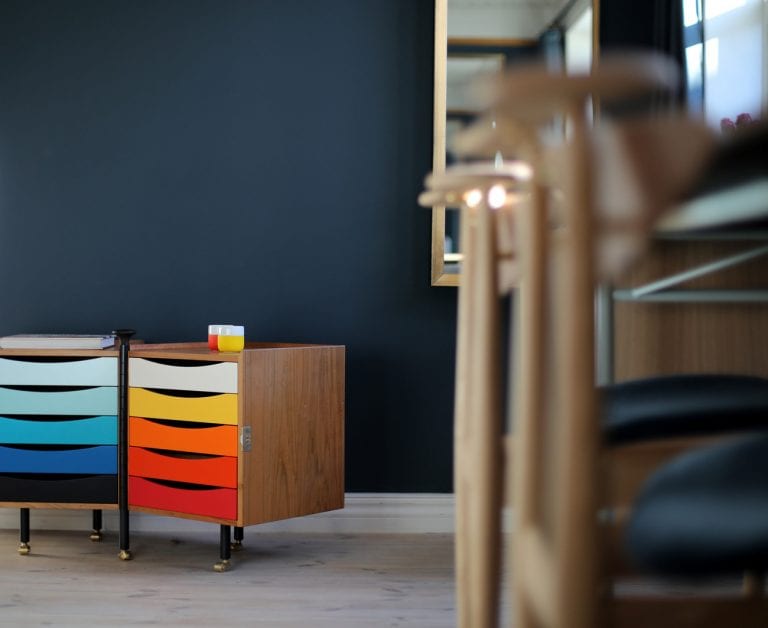 The Glove cabinet was designed by Finn Juhl for his wife in 1961 with a specific purpose in mind: just like the name suggests, to be storage solution for her many pairs of gloves. The multicolored piece was presented by Ludwig Pontoppidan at The Cabinetmaker's Guild Exhibition in 1961, Finn Juhl's 25th and last guild exhibition. There its design was heavily criticized by established designers, and received bad reviews. Time proved them wrong and ever since, the Glove cabinet became a timeless piece of Danish furniture design and a collectible item.
The storage cabinet was originally part of his wife's bedroom furniture collection. The set also included two lounge chairs and a small coffee table that were crafted of solid cherry with exclusive decorative details of brass and wenge wood.
Just like the original, the new version of the Glove Cabinet is hand crafted from solid Japanese cherry tree, which is oil treated to increase resistance and aspect. Handle in solid wenge with main hinge and legs in burnished steel with handmade lock and castors in solid brass. And just like the original, the handmade storage unit opens up like a jewelry box and reveals its ten trays in different colors.
Finn Juhl was an architect and one of the leading figures in the creation of "Danish design" in the 1940s giving a soft edge to the lines of wooden modernist chairs, favoring organic shapes which often took the wood to the limits of what was possible.