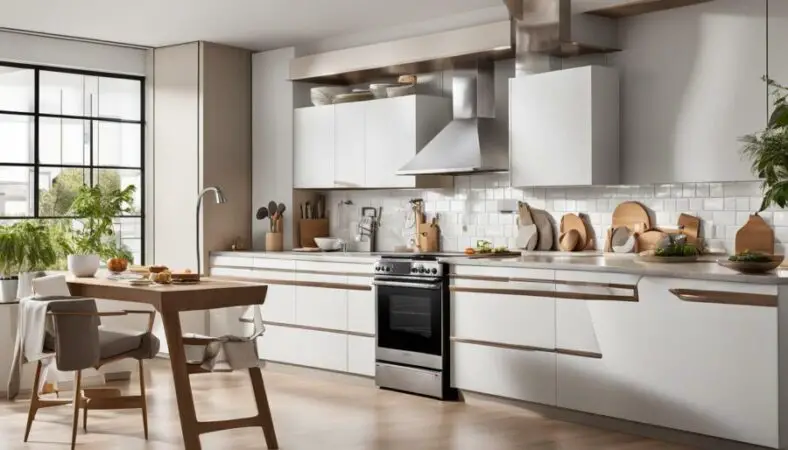 Designing your dream kitchen can be a daunting task, but with the right expert tips, you can turn your vision into a reality. Whether you're renovating your existing kitchen or starting from scratch, planning and designing your kitchen space is crucial to create a functional, efficient, and visually appealing layout that suits your personal style and needs.
With so many factors to consider, from layout and storage to appliances and lighting, it's easy to get overwhelmed. That's why we've compiled a list of expert tips to guide you through the process and ensure a successful kitchen design that meets your expectations and requirements.
Key Takeaways:
Designing a kitchen requires expert tips and planning to create a functional and visually appealing layout.
Consider factors such as layout, storage, appliances, lighting, and personal style to create your dream kitchen.
Creating Your Wish List
Before you begin planning your dream kitchen, it's important to create a wishlist of your wants and needs. This will help you prioritize the essential elements and establish a clear vision for your ideal space.
Start by asking yourself a series of questions. What are your must-haves in a kitchen? What do you currently love about your kitchen, and what do you wish you had? What are some functionalities that would make your life easier?
Consider factors such as the size of your family, your cooking habits, and your lifestyle. If you enjoy hosting and entertaining, you may want to prioritize features such as a large island, ample seating, and easy access to appliances and cabinets. On the other hand, if you have a busy schedule that does not allow for extensive meal preparation, you may want to focus on efficient storage solutions and time-saving appliances.
Once you have compiled your wishlist, take some time to prioritize based on your budget and feasibility. Keep in mind that compromising on some items may be necessary, so determine what elements are non-negotiable and what can be adjusted or eliminated.
Having a clear wishlist will not only help you during the planning and design process, but it will also serve as a handy reference throughout the project, ensuring that you stay on track and achieve your desired outcome.
Maximizing Functionality with Appliances and Fixtures
When it comes to designing your dream kitchen, incorporating the right appliances and fixtures is crucial. One important feature to consider is a boiling water tap. With this fixture, you'll have instant access to hot water, making meal prep and daily tasks more efficient.
To maximize functionality, factor in appliances that fit your lifestyle and cooking habits. For example, if you love baking, a double oven would be beneficial. If you prefer healthy cooking options, a steam oven might be more suitable. Don't forget to consider the size and placement of appliances to ensure they fit seamlessly into your design.
With the right appliances and fixtures, your kitchen can be both efficient and stylish. Keep these tips in mind as you plan and design your dream kitchen.
Optimizing Countertop Space
When designing a kitchen, measuring out sufficient countertop space is crucial to ensure practicality and convenience. Consider your cooking style and needs to determine an appropriate amount of counter space. Generally, experts recommend a minimum of 36 inches of uninterrupted counter space for food preparation.
However, it is important to note that measuring counter space is not just about length. You must also consider width and height. Counters that are too low or too high can strain your back when cooking, while counters that are too narrow can make it difficult to prepare food.
Take into account the space needed for appliances, such as a stove or refrigerator, and any other fixtures like a sink or a range hood. You may also want to include a kitchen island, which can provide additional counter space and storage.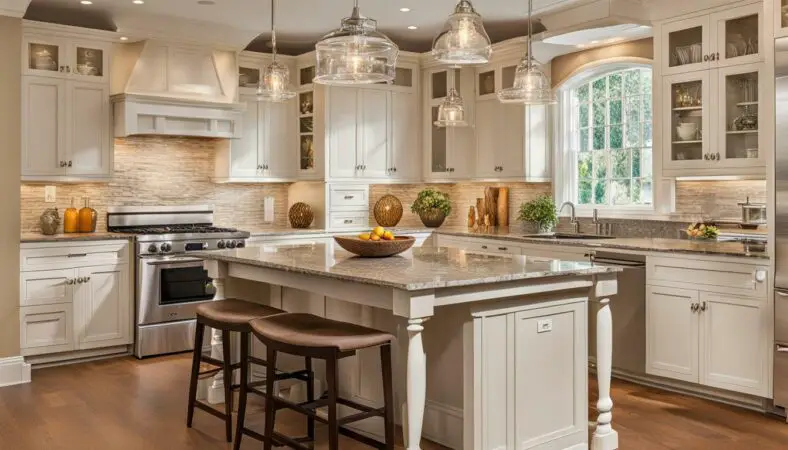 Remember, adequate countertop space is essential for a functional and efficient kitchen. Take the time to carefully plan and measure your space to optimize your kitchen design.
Incorporating a Kitchen Island
If you have the space in your kitchen, adding an island can take your design to the next level. Not only does it provide additional workspace, but it can also serve as a dining area or a spot for meal prep. However, planning for a kitchen island requires careful consideration to ensure that it is both functional and aesthetically pleasing. Here are some tips on how to plan in a kitchen island:
Consider the size: Before planning for a kitchen island, make sure you have sufficient space. Measure the area and ensure that there is enough room for the island to fit comfortably without obstructing any walkways or doorways.
Decide on the function: Are you planning to use the island as a workspace, a place for dining, or both? This will dictate the layout and design of the island.
Factor in appliances: If you want to incorporate appliances such as a sink or a cooktop, ensure that you have the necessary plumbing and electrical connections in place.
Choose the right materials: The materials you choose for your island should complement the rest of your kitchen design. Consider options such as wood, granite, or marble, depending on your style and budget.
By following these tips, you can plan in a kitchen island that not only enhances the functionality of your kitchen but also adds a touch of style to your space.
Efficient Kitchen Storage Solutions
When it comes to designing your kitchen, one of the most important considerations is storage. To ensure your kitchen is both practical and convenient, you need to work out what kitchen storage you need.
Begin by taking stock of all the items you want to store in your kitchen. This includes everything from pots and pans to utensils, cutting boards, and food items. Once you have a list of everything that needs to be stored, you can then start planning the type of storage solutions that will work best for your needs.
When considering storage solutions, it's important to think about both practicality and aesthetics. You want your storage to be functional and accessible, but you also want it to look good. Some popular storage solutions include:
Drawer dividers
Roll-out trays
Pantry pullouts
Vertical storage racks
Open shelves
It's also important to consider the size and layout of your kitchen when planning your storage solutions. If you have a small kitchen, you may need to get creative with your storage solutions to maximize the available space. This could mean using vertical storage solutions or installing custom cabinets.
Another important factor to consider is the flow of your kitchen. You want to make sure that your storage solutions are conveniently located and easily accessible. For example, you might want to keep your pots and pans near your stove for easy access during cooking.
Ultimately, the key to efficient kitchen storage is careful planning. By taking the time to work out what kitchen storage you need and choosing the right storage solutions for your space and needs, you can create a kitchen that is both functional and stylish.
Illuminating Your Kitchen
Planning the right lighting for your kitchen is key to creating a functional and inviting space. Proper lighting can enhance the overall ambiance of the room, improve visibility, and add a touch of style to your design. To achieve optimal illumination, you should consider the following:
Layered Lighting
Layered lighting is the combination of ambient, task, and accent lighting that creates a balanced and comfortable environment. Ambient lighting is the primary source of light and should provide an even distribution of light throughout the room. Task lighting is intended for specific areas, such as under-cabinet lighting for food prep, while accent lighting highlights decorative features like artwork or a statement backsplash.
Fixture Placement
Strategically placing light fixtures in your kitchen can help create the right mood and improve visibility. Overhead fixtures like chandeliers or pendant lights can be used to create a focal point or draw attention to a specific area. Under-cabinet lighting helps with preparing food, while recessed lighting can assist with overall visibility.
Lighting Controls
Installing dimmer switches allows you to control the intensity of the light and adjust it to suit your needs, while motion sensors help conserve energy and provide hands-free convenience. It's important to consider how you will use your kitchen and select lighting controls that work best for your lifestyle.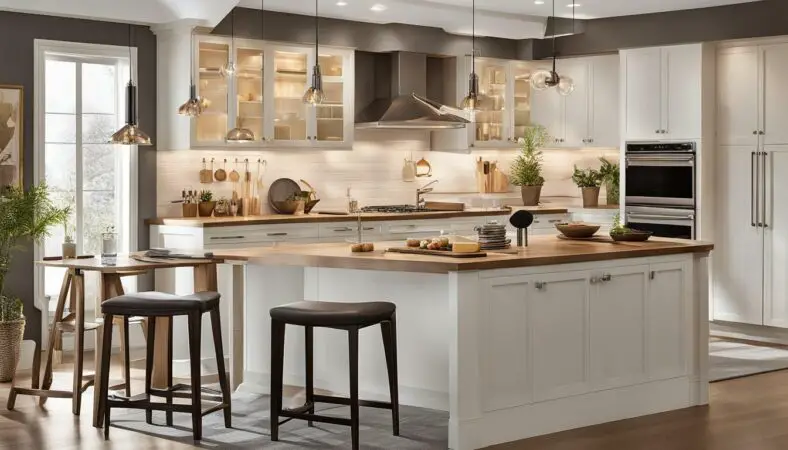 When planning your kitchen lighting, keep in mind your personal style and the overall aesthetic of your space. By incorporating multiple sources of light, choosing the right fixtures, and considering lighting controls, you'll be able to create a warm and inviting ambiance that complements your functional needs.
Choosing the Right Flooring
Choosing the right flooring for your kitchen is essential in both function and style. Consider durability, ease of maintenance, and aesthetic appeal when making your decision. Here are some tips to guide you in choosing the perfect flooring material for your kitchen.
Consider your lifestyle: If you have a busy household or pets, choose a flooring material that can withstand high traffic and is scratch-resistant.
Think about maintenance: Certain flooring materials, such as hardwood and natural stone, require more maintenance than others. If you want low-maintenance flooring, consider options like porcelain tiles or vinyl.
Factor in aesthetics: Your kitchen flooring should complement the overall style and theme of your home. Consider factors such as color, texture, and pattern to ensure a cohesive look.
Some great options for kitchen flooring include:
| Material | Pros | Cons |
| --- | --- | --- |
| Porcelain or Ceramic Tiles | Durable, scratch-resistant, low-maintenance, available in a variety of colors and patterns. | Cold underfoot, may chip or crack if heavy items are dropped. |
| Vinyl | Durable, low-maintenance, affordable, available in a variety of styles and colors. | Can be prone to scratches and dents, may not last as long as other options. |
| Hardwood | Timeless, warm, provides a beautiful natural character to your kitchen space. | Prone to scratches and dents, requiring maintenance and refinishing to keep them looking new. |
| Stone | Durable, scratch and heat-resistant, provides a natural look with a wide range of colors available. | Expensive, requires regular maintenance, can be slippery when wet. |
Take your time in choosing the perfect flooring for your kitchen. Remember that it is a long-term investment and should not only look great, but also withstand the demands of everyday life.
Setting a Realistic Budget
Designing a kitchen can be an expensive undertaking, but it doesn't have to break the bank. It's crucial to set a realistic budget before commencing the project to ensure you achieve the desired outcome without overspending. Consider the following tips while creating your kitchen design budget:
Research expenses: Gather information on the cost of materials, appliances, cabinetry, labor, and other expenses involved in creating your dream kitchen. This research will help you form a realistic picture of what you can expect to spend.
Factor in unexpected costs: Plan for contingencies, such as unforeseen repairs or modifications required during the remodel.
Set priorities: If you find that your budget is limited, prioritize the most essential elements of your kitchen design and invest in those first. You can always add other features later when you have more funds.
Consider financing options: If your budget does not cover the total cost of the project, consider financing options available to you, such as personal loans or credit cards. However, weigh the interest rates and repayment terms carefully before committing to any financing option.
By setting a realistic budget and adhering to it, you can realize your kitchen design goals without causing undue financial strain. Remember to stay flexible and be willing to make adjustments to your plans to align with your budget.
Considering the Kitchen's Functionality
When designing your dream kitchen, you must consider how you will use your space. Do you primarily cook for your family? Do you often entertain guests and need ample seating? Determining your specific needs will help you create the perfect layout.
When choosing the layout, consider the perfect flow for your kitchen. The most efficient kitchen designs have a "work triangle" that connects the three main areas of the kitchen – the sink, stove, and refrigerator. The distance between these areas should be neither too close nor too far apart for ease of movement.
Additionally, think about the placement of your appliances and the location of your storage areas. Placing your dishwasher next to the sink and your trash can next to the dishwasher creates an efficient clean-up workflow. Also, consider having a designated area for prepping food, cooking, and cleaning up to avoid clutter and confusion.
By considering how you will use your space and the perfect layout, you can create a functional and practical kitchen that suits your specific needs and preferences.
Making Informed Cabinetry Choices
When considering the design of your kitchen, choosing the right cabinetry is essential. Cabinets play a significant role in the overall aesthetics of your kitchen and contribute to its functionality. To make the right cabinetry choice, it is important to consider factors such as material, finish, and proportion scale and symmetry.
| Factor | Considerations |
| --- | --- |
| Material | Choose a durable and easy-to-maintain material that complements your kitchen style. Popular choices include wood, laminate, and thermofoil. |
| Finish | Select a finish that matches your desired look and is easy to clean. Popular options include stained, painted, and glazed finishes. |
| Proportion Scale and Symmetry | Ensure that your cabinets are proportionate to the size of your kitchen and that they exhibit symmetry in their placement. This will create a balanced and visually appealing aesthetic. |
Additionally, consider incorporating organizational features such as pull-out drawers, lazy susans, and built-in spice racks to maximize storage and functionality.
By carefully selecting the right cabinetry for your kitchen, you can achieve both a functional and aesthetically pleasing space.
Exploring Kitchen Colors
Choosing the right color scheme is essential to create the ambiance you desire in your kitchen. Kitchen colors play a significant role in setting the mood and can impact your appetite, energy, and even your mood. When you plan your kitchen design, think: kitchen colors.
It's important to select a color that reflects your personal style and creates a cohesive look that complements the rest of your home. You can choose from a variety of hues, such as bold and vibrant or soft and subtle, and use them in different ways to create the desired effect.
For instance, consider using bold colors in your kitchen accents, such as your backsplash or small appliances, to add a pop of color without overwhelming the space. You can also use brighter, lighter hues to make the kitchen feel more open, while darker shades can create a cozy and intimate atmosphere.
When choosing your kitchen colors, keep in mind the overall ambiance you want to create and the mood you want to evoke. Your kitchen color scheme should be in harmony with the style and theme of your home and create a seamless flow from room to room.
Experiment with different color combinations and don't be afraid to step out of your comfort zone. You might be surprised at how different colors can transform the look and feel of your kitchen.
In summary, selecting the perfect color scheme is an essential aspect of kitchen design. Think: kitchen colors and experiment with different hues to create the ambiance you desire. Remember to keep it in harmony with the rest of your home and don't be afraid to try something new.
Incorporating Appliances with Style
When planning your kitchen design, it's important to factor in appliances to ensure they seamlessly integrate into the overall aesthetic. This means considering their size and color, as well as practical factors such as ease of use and functionality.
One of the best ways to incorporate appliances into your kitchen design is to choose models that have a similar style, color, or finish. For example, stainless steel appliances can look great together and create a cohesive look. Alternatively, you can choose appliances in contrasting colors or finishes to create a more eclectic or customized look.
It's also important to consider the scale of your appliances and how they fit into your kitchen layout. For example, if you have a large refrigerator, you may want to position it in a way that doesn't obstruct the flow of traffic in the kitchen. Additionally, think about how you will use your appliances on a daily basis and plan their placement accordingly.
Ultimately, the key to incorporating appliances into your kitchen design is finding the right balance between form and function. By considering factors such as style, size, and placement, you can create a kitchen that not only looks great but also works well for your needs.
The Basic Elements of Kitchen Design
When designing a kitchen, it's important to consider the basic elements that make up a functional and visually appealing space. Whether you're starting from scratch or renovating an existing kitchen, taking the time to carefully plan and design your layout can make all the difference in creating a kitchen that meets your needs and exceeds your expectations.
The basic elements of kitchen design can be broken down into four categories: layout, functionality, storage, and aesthetics. Let's dive deeper into each of these categories to explore what they entail and how they can impact your kitchen design.
Layout
The layout of your kitchen refers to the way in which the various components are arranged. This includes appliances, counters, cabinets, and any other features you may have. When designing your kitchen layout, consider how you will use the space and what type of layout will work best for your needs.
Some popular kitchen layout options include the L-shaped kitchen, U-shaped kitchen, galley kitchen, and open-concept kitchen. Each layout has its benefits and drawbacks, so it's important to consider your specific needs when determining which layout will work best for you.
Functionality
The functionality of your kitchen is closely tied to the layout. This refers to how well your kitchen functions for your daily needs, such as cooking, cleaning, and entertaining. When designing your kitchen, consider factors such as workflow, counter space, and ease of access to appliances and storage.
For example, if you do a lot of cooking, you may want to prioritize the placement of your stove and oven as well as ensure you have enough counter space for food prep. If you frequently entertain, you may want to consider adding a bar or extra seating for guests.
Storage
Storage is a crucial element of any kitchen design. When planning your storage solutions, consider the items you need to store and how frequently you access them. This will help you determine the best type of storage for your needs.
Some popular storage solutions include cabinets, drawers, open shelving, and pantry space. It's also important to consider the placement of your storage solutions to ensure easy access and optimal functionality.
Aesthetics
The aesthetics of your kitchen refer to the overall look and feel of the space. This includes the color scheme, materials, finishes, and any decorative elements you may incorporate. When designing your kitchen, consider your personal style as well as the style of your home as a whole.
Choosing the right color scheme and materials can help create a cohesive and visually appealing space. It's also important to consider proportion scale and symmetry when selecting cabinetry and decorative elements to ensure a balanced aesthetic.
By taking these basic elements into consideration, you can design a kitchen that not only looks great but also functions efficiently and meets your individual needs. Whether you're working with a professional or tackling the design yourself, a well-designed kitchen can add both value and enjoyment to your home.
Conclusion
Congratulations! You now have a solid understanding of how to plan and design a kitchen with expert tips. Remember that designing a kitchen is not just about aesthetics, but also about functionality and practicality. By creating a wishlist, maximizing functionality with appliances and fixtures, optimizing countertop space, incorporating a kitchen island, utilizing efficient storage solutions, illuminating your kitchen, choosing the right flooring, setting a realistic budget, considering functionality, making informed cabinetry choices, exploring kitchen colors, and incorporating appliances with style, you can achieve a well-designed kitchen that suits your needs and personal style.
Always keep in mind that expert tips and guidance are crucial in achieving the best results in designing a kitchen. With the right approach and attention to detail, you can turn your dream kitchen into reality. Good luck with your kitchen design journey!