Designer Rolf Benz Furniture
So you want a contemporary chair look in your house, but you want some comfort as well? It is hard to beat a recliner when it comes to comfort. Any working person's dream is to come home from a hard day's work and relax in their favorite recliner.
Available from House of European Design is the Avola recliner by Rolf Benz. This chair just looks cool. This is not the overstuffed chair that you see worn out and out at the local yard sale, but a crisp leather recliner with clean lines that is sure not to clutter up your living room.
It's hard to beat the comfort when you sit down in a modern piece like this. So grab your briefcase and head home for some relaxation. Don't forget your favorite book and a glass of wine, because you are going to need it.
Rolf Benz 1210 Glass Dining Table
The glass dining table here is made by Rolf Benz and is called 1210. It was designed by Georg Appelshauser. This model has the most legroom of any dining table from Rolf Benz.
The base is quite sturdy despite its overall sculptural look. In the 1210 model, the glass can also come in round, oval and boat shapes. Worth owning if you can find one in the current market.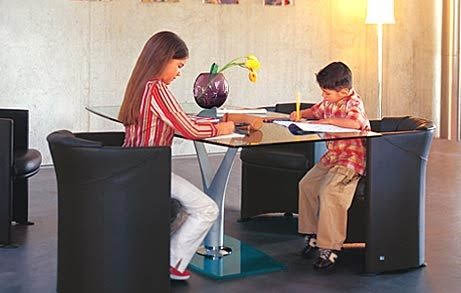 Office Furniture by Rolf Benz
Rolf Benz invites you to "Design Your Own Chair". Choose from a wide selection of bases, and then add arms in Oak, Walnut or leather, shiny or matte finishes, and a fabric or leather of your choice.
The 620 and 625 chairs are both customizable from a myriad of options so you can order a chair that suits your needs, both functional and visual.
Vero Sofa Group The Ultimate Modern Seating
For modern and contemporary furniture "Made in Germany",Rolf Benz has set the bar very high since the 1960″s. The Vero sofa series is the newest collections in a storied history by the company know for winning RedDot design awards.
The modern Vero sofa features height adjustable backs, seats that extend with pseudo recliner option, optional bookcase or upholstered arm, and a myriad of sizes in left or right configurations.
These options and the timeless linear design make the Verso adaptable to any living room environment, and I especially like the metal sled style support that offers a nice touch of class.
Available world wide through authorized Rolf Benz dealers in leather or fabric.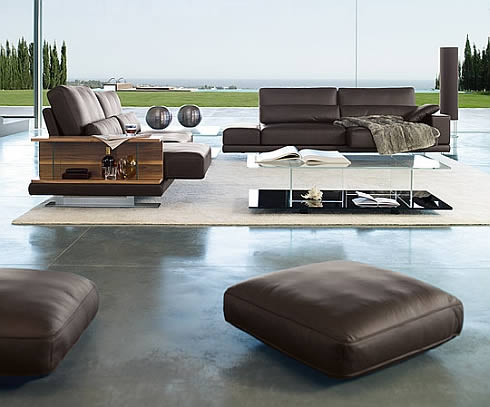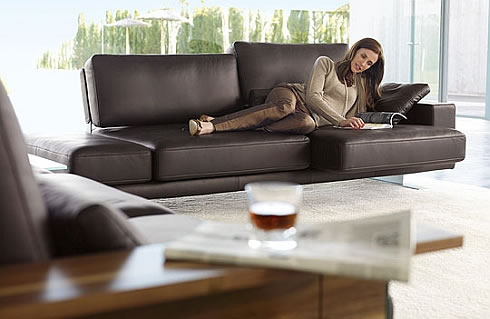 Rolf Benz Designed Chaise Lounge Recliner
A dream in any home is a special place to sit after a hard day where once you sit those bad memories begin to fade. Rolf Benz designed a chaise lounge recliner with that very premise in mind.
Each time when I see this piece I ask myself, "Can I take that furniture for a test drive?" If I were to "test drive" it, I would put it into 5th gear and not look back. With a book or TV remote in hand, life would be getting back on track. A unique feature is that this chaise lounge does recline making it more like a traditional recliner.