It's time for bed and won't you be excited to lie down on the unique, innovative design of the Mirage bed.  The Mirage bed by Cappellini is a sleek, contemporary bed manufactured by Poltrona Frau Group. Designed by Marten Claesson, Eero Koivisto and Ola Rune, the Mirage bed showcases a sharp, clean and symmetrical profile.
With a finite design that is all straight lines and clean edges, the modern Mirage bed speaks volumes when it comes to contemporary furniture.  Simple and sleek with a beautifully basic design, this bed will provide a bedroom space with functionality while at the same time serving as the room's focal point.  Purchase bedding and pillows that coordinate with the color of the bed frame and you've got yourself an innovative focal point for your modern bedroom design.
Functional, comfortable and eye appealing this bed covers even the most exotic of design needs for a contemporary space. The wooden structure of the bed is available in macroter or a variety of different colors of polished lacquer, providing the homeowner with selection and versatility when coordinating the bed with the rest of their bedroom design. The Mirage bed will serve as the inspiration and starting point for the rest of the design for any contemporary bedroom.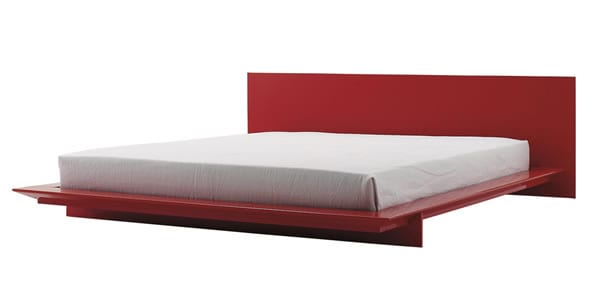 Whether you are looking forward to a cozy night's rest or waking up to a beautiful sunrise, do it in style. While relaxing in the Mirage bed rest assured that the bed you are lying on is not only comfortable, but more than likely one of the most beautiful pieces of contemporary furniture in your bedroom.
Now wouldn't that be enough to give you a night full of sweet dreams?