The Coolest High Tech Beds
Who would not like a high-tech bed? None of us can deny that everything is advancing at a high pace. From connecting with people worldwide to asking Siri and Alexa to control our smart devices, the world around us is changing significantly.
The furniture industry is undergoing the most profound changes, with everything changing substantially. Electric high-tech bed frames are now all the large, giving you a choice of sleeping positions to rest and relax at night.
But these frames are more for a comfortable night's sleep rather than something that looks like a sci-fi bed.
After smartphones and smart appliances come smart furniture and now high-tech beds. Yes!! You read it right. Gone are the days when all you needed was a piece of mattress, sheet, and pillow to get that good night's sleep.
[related_posts_silo]
Well, the importance of a good night's sleep has not diminished, but the present era calls for furniture with high-tech and exciting features: high-tech smart beds and even a high-tech mattress to add to the beds.
I understand that you might find it difficult to digest but stay calm as in this article, I will take you on the rundown to some of the coolest high-tech bed frames, which will leave you amazed. Also, this list of fantastic beds will help you choose the one which suits you best. So, let's look at some of the coolest high-tech beds.
ReST Bed
The Responsive Surface Technology bed is best suited for people who maximize their awake time. Built to keep the back pain problem in mind, this bed adjusts the firmness automatically as you sleep to ensure optimal comfort and support.
While the comfort provided is worth considering, the ReST bed recognizes that each body and its needs are different (especially for physically active ones) and offers customization to its users.
The ReST bed features five independent support zones, including shoulders, back, legs, head, and hips, and gives complete control to its owners over the firmness of each zone, allowing them to build the perfect bed for their bodies.
Sleep Number 360
Sleep Number has made a long way regarding cutting edge-sleep technology, and its latest innovation, "Sleep Number 360," does not disappoint the users when we talk of diving into a state of deep sleep.
The user-friendly and practical features of this bed, along with its automated amenities, help you get the most comfortable sleep experience. It allows users to adjust the firmness level according to their needs. It automatically adjusts firmness throughout the night with its responsive air technology as the owner changes positions while sleeping, ensuring that one never finds themselves in an uncomfortable spot.
Also, if you take a lot of trips to the washroom in between your sleep, it covers you with its under-bed lighting, which automatically gets activated as soon as it detects that you have arisen.
If, under any circumstances, you get stuck with a snoring partner, this bed covers you there as well. Some models of the 360 feature Flexfit, allowing users to gently elevate the head position of their snoring partner to end the saw logs.
The models with flexfit features also enable the owners to enjoy multiple bed positions from the elevated back for watching TV to zero gravity for resting and sleeping peacefully. In addition to these fantastic features, the 360 also offers toasty toes, as some models of this series of smart beds also come with foot warmers.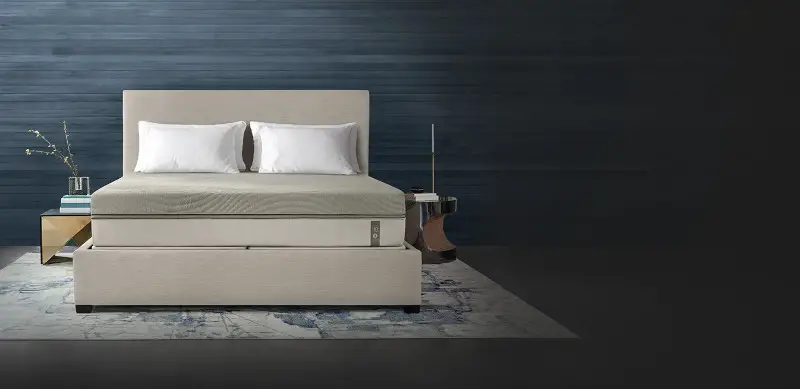 Image source: sleepnumber
SmartDuvet
One thing almost all of us hate in common is the chore of making our bed after waking up. Wouldn't it be cool if our beds could come with that feature? I know, right?
And the good news is that with SmartDuvet, you no longer have to worry about making your bed. Yes!! You read it right. The SmartDuvet is a smarter comforter attachment equipped with technology that assists you in making your bed each morning. All you have to do is tap the app-based button.
The SmartDuvet slips between the duvet and duvet cover and has the added advantage of working without hassle with your current bedding and bed. Not to boast about it, but SmartDuvet's abilities are not only limited to the time-saving amenity of maintaining your bed.
It also comes with dual-side climate control, allowing users to adjust the temperature of their side of the bed according to them, without any need to fight over the thermostat.
Image source: geek
Adjustable Bed Base
Regarding beds, it is not always about the mattresses, comfort zone, or even sleep data, and the incredibly fabulous Beautyrest Smartmotion Base has considered the same. This beauty takes a different approach to better comfort and rest.
This smart bed base can set itself to any number of positions, from zero gravity to custom configurations set by the owner. It does not matter if you are reading, relaxing, or watching TV; it will allow you to build the bed position you need for the task.
However, its commitment to comfort does not stop at only bed position configurations. There are specific models of the smart motion base with a six-level massage system for its users, offering instant relaxation at the touch of a button.
Sci-Fi Bed
Probably nothing better for your child than to sleep in a bed with a massive TV at the end of it. Not ideal for many parents, but it is fine by others, only those with big bucks and loads of doe.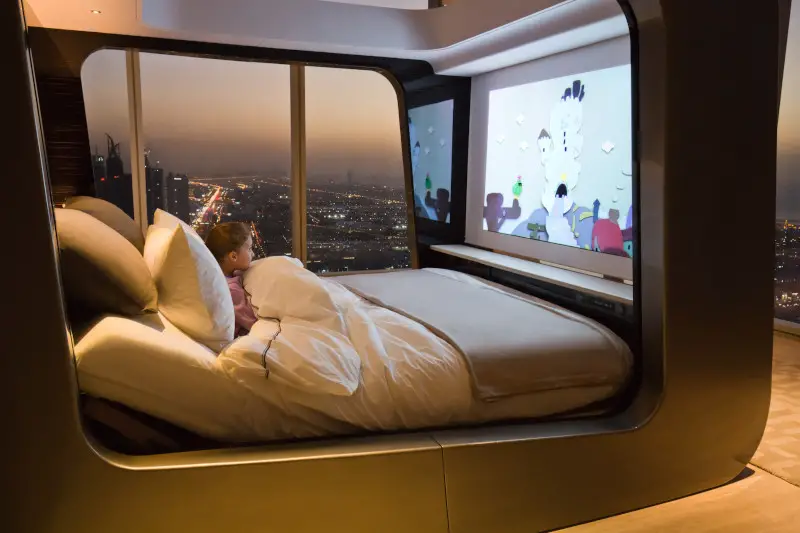 Image source: hi-interiors
Starry Night Sleep Technology Bed
From Leggett and Platt, the Starry Night Sleep Technology Bed is a perfect combination of bedding and technology to provide maximum comfort to its users. It uses diagnostic tools to maintain temperature, monitor body movements, and alleviate snoring.
It has an anti-snore technology to reduce snoring in mild to moderate cases by elevating the upper body a few degrees. Also, the diagnostic sleep center keeps track of body movement and breathing patterns throughout the night.
Also, the dual programmable temperature control lets you adjust the temperature according to your liking. One of the best things about this bed is its iPod docking station and a 2500-watt sound system, adding perks for music lovers.
Image source: gizmodo
Hollandia Platinum- Luxe Elite Sleep System
Boasting loads of luxury options, this bed has a retractable 32-inch Sony Bravia HDTV that sits 80 inches from the headboard. The brightness automatically adjusts to the ambient light, reducing eye strain. The elite gently adjusts to a comfortable reclining position to provide maximum comfort to the user.
Apart from the classic features, the elite comes with a gorgeous design. The base of the bed is covered in Italian-designed fabric, and it is available in a variation of grey and white to complement any bedroom.
Image source: gizmodo
Puffy Beds
Experience luxurious comfort made simple with Puffy Beds. With their complimentary sleep trial, lifetime warranty, and flexible financing options, we've got you covered.
Puffy offer something unique. Order your new Puffy Mattress worry-free. Every mattress comes with a 101-night mattress trial period so you can put Puffy to the test. If you don't get the best sleep ever after at least 14 nights, they will give you a full refund.
They even offer a 14-night trial and a free return within this period. If you are not convinced within the first 14 days, you can return the mattress free of charge.
You can even return it for free after the end of the 101-day test period. That is a quality guarantee that is hard to beat anywhere.
Wrapping it Up
The race to stay ahead of others in the present competitive era makes it difficult to get a good night's sleep. Well, with the smart beds mentioned above, getting a sound sleep has become easy.
If you want a high-tech bed, you may have also considered home automation. The future of sleep may well depend on our ability to automate and personalize the bedroom environment. Home automation solutions are becoming increasingly popular, giving you access to various features like adjustable lighting, climate control, sound systems, and more. By automating these features, you can create a perfect atmosphere for a good night's sleep. Smart Home technology is also becoming more accessible, and you can use it to control your home environment from a mobile device. Why not give it a try today?
Also, the smart range of high-tech beds available has improved sleep and modified the definition of entertainment, comfort, and luxury in an all-new way. So, get yourself the bed that suits all your needs and enjoy your sleep at your best.