Bold, the illuminated patio furniture collection designed by Italian designer Giulio Iacchetti for Plust, is the collection with wrap-around lines composed of an armchair and sofa with large and deep seats and it is an extension of the Bold patio furniture from the same manufacturer.
The coffee table completes the furnishing proposal, creating an indoor and outdoor environment – elegant and welcoming. In the illuminated version, all furniture pieces emanate a soft light that exalts the soft shapes and creates an intimate atmosphere.
Its soft and comfortable lines make this outdoor range ideal for every living space both private or public. The single, two or three seats armchair and sofas are featuring a wide and deep seat complete with a pillow system that makes them very comfortable and welcoming.
The structure of each piece from the illuminated patio furniture collection is made of polyethylene while they make the cushions available in three colors of DryFeel foam and (probably as expected for an outdoor item) the highly acclaimed Sunbrella fabric.
All seats of the collection have been drawn based on the idea that these type of items should be easily moved from outdoor to indoor. Bold's reduced dimensions with soft shapes and removable quilted parts allow this range to set a precedent for these normally over-dimensioned objects.
The armchair and sofas are framed by a uniform floor level shell with curved corners and inset seat cushions offering them eye-catching qualities that can't be shadowed.
The Bold table is ideal both for indoor and outdoor environments and next to the sofa and the armchair, it is a perfect solution to furnish with originality any patio or contract space.
Plust Collection is a brand established in 2007 as an Euro3plast Spa design company, a leading manufacturer of traditional pots distributed throughout the world with a certified production and entirely Made in Italy.
Illuminated Furniture
[amalinkspro_table id="98972″ aff-id="undefined" new-window="on" nofollow="on" addtocart="off" /]
Bold Illuminated Table and Chairs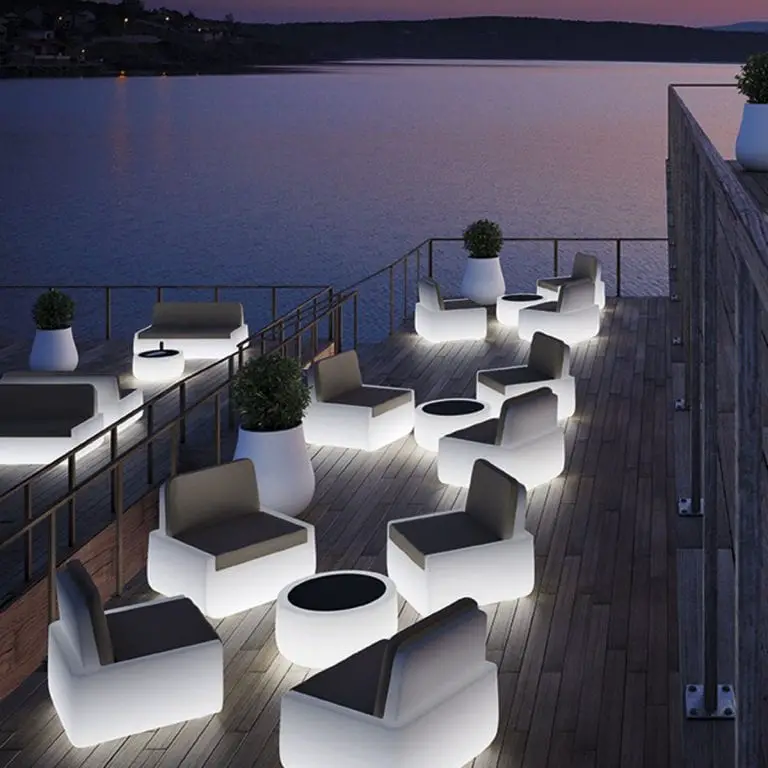 Bold Illuminated Chairs
Bold Yellow Illuminated Chair