What You Should Consider When Hiring Contractors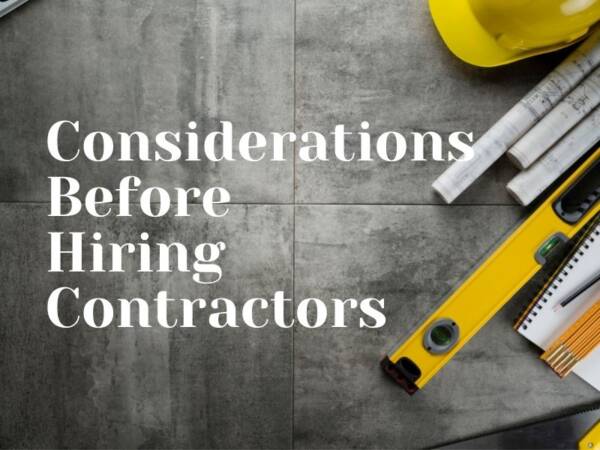 One of the biggest fears for owning a home is the money. There's the mortgage payment, maintenance costs, and even furnishing your new home. The fear can be even greater if you're working with a contractor to design and build a custom home.
Building trust with the client (the homeowner), keeping an open line of communication, and being licensed and insured are some simple ways contractors can ease the fears of homeowners at any stage of homeownership.
Custom Home Building
When designing and building a custom home, one would need a team that includes an architect, a general contractor, and maybe even an interior designer. Building a home from the ground up can be stressful for the future homeowner and the team. It is important to keep an open line of communication among all parties involved.
While the architect is needed in the designing and building processes, and the interior designer is needed after the building has been constructed, the general contractor will be needed throughout the entire home-building process.
The Contractor's Responsibilities Within Home Building
The contractor has the biggest and the most responsibilities for home building. Their job is to inspect the property (land) on which the home is to be built, secure that land for building and any permits needed, and oversee the work of all the subcontractors, including electricians and plumbers. Building trust with the future homeowner is essential, because having many people involved in the construction of a custom home can be overwhelming.
Licensing
Although many states do not require a general contractor to hold a license, having a license can help ease some worries of the future homeowner, as well as any anxieties the contractor may have.
In some states, a license holder means the contractor has had extensive training and education in this field, and who wouldn't want an expert overseeing the creation of their dream home? But to be taken seriously as a contractor, you want to make sure you meet all of your state's requirements, including passing your industry-specific exam and completing all necessary continuing education before thinking of taking on any clients.
Insurance
Just like a homeowner needs home insurance, a licensed contractor is almost always required to have some type of liability insurance, just in case something goes wrong. Not only does this protect the contractor's business, but the future homeowner can also have peace of mind knowing that any accidental wrongs will be made right.
Homeownership
Once the home is completed, the fears do not stop there. Things in brand new houses can break down too. Or maybe it's an older home in need of some renovations. General contractors have a great responsibility in this stage of homeownership as well.
The Contractor's Responsibilities Within Home Renovations
In minor projects, a handyman may be sufficient, but for major projects, a contractor is definitely needed. New kitchen countertops are minor and won't take longer than a week, but an entire kitchen remodel is major and may take a few weeks or even months. This is a normal length of time for major home renovations.
Just like when building a home from the ground up, remodeling an entire home or even just one room will require different subcontractors. Again, the general contractor oversees these operations as well. Building trust with the client and keeping an open line of communication with all parties involved is essential to easing any fears the homeowner may have with home renovations.
Conclusion
So the major themes here are trust, communication, and holding a license. As a general contractor, it is important to build trust with all of your clients. Owning a home can be stressful, and custom building renovations are just as stressful, but exciting!
Building trust means being upfront and honest with clients every step of the way. When communication is clear and consistent, the client will be at ease. Finally, holding a valid and up-to-date license, as well as having insurance, ensures that everything will be taken care of professionally, even if accidents happen.