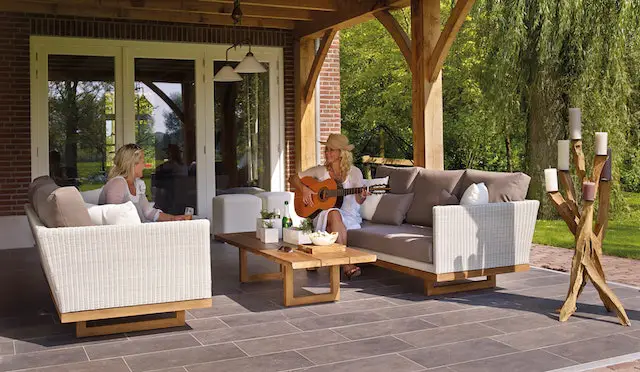 The Best Materials for Outdoor Furniture
When the weather is lovely, and the sun is shining, there is no better place for you to be than your backyard. Is it a terrace, a patio, or just a lawn? All those outdoor spaces are a perfect extension of your home.
Getting the best elements to furnish your outdoors is as important as the ones for the indoors. Comfort and style are not questionable.
However, regarding patio furniture, quality and durability should be your priority. That's why we will give you tips on choosing top materials for outdoor furniture.
Things to keep in mind when choosing the materials for the outdoor furniture
One should consider numerous factors when choosing a suitable material- weather conditions such as rain and storms, moisture and temperature, sun exposure, and cleaning.
The weather– Outdoor furniture should be resistant to various weather conditions. That means that material it is made of should not be ruined or deteriorated once exposed to high humidity. Water damage such as mold, rot, corrosion, rust, or warping can change your furniture's outlook, destroy its composition and make it completely useless.
Temperature shifts– The areas with huge and often temperature variations require outdoor furniture to resist extremely high and low temperatures, prolonged sun exposure, ultraviolet rays, and quick climate shifts. All materials prone to fading, cracking, or heat retention will not suit the purpose.
Wind and storms– Furnishing the outdoors in a windy area has one simple rule- it should not be blown away. Therefore, unless you are ready to store your outdoor furniture whenever the weather forecast says you'll have a storm somewhere near you, you should buy strong, heavy furnishing elements.
Maintenance and cleaning– The durability and the outlook of your patio furniture also depend on the time and care you invest in it. Some materials require very little maintenance. You can easily clean them with some soap and water; if you don't do that regularly, it won't significantly impact them. However, other materials are far more sensitive. You will need much more effort, time, and special care products to keep the furniture in the appropriate condition.
Having all these facts in mind and after defining your weather set and your priorities, you are ready to choose the material.
1. Wood- a traditional choice
The first association of elegance, style, and good taste in the furnishing world is wood. It is by far the most required material for indoors and outdoors and brings some coziness to the space.
So, if you want to get rid of your old outdoor sofa and are looking for a new furniture set for your patio, wood is a perfect choice. There is nothing that looks so classy and elegant as wood.
Moreover, it is also good since it doesn't absorb heat, and in most cases, it is resistant to mold and insects. And, if you treat it with care, use appropriate colors, and a protective finish, wooden furniture can last you for decades.
However, it is good to remember that not all wood types suit all furnishing elements. Softwoods, such as pine or cedar, are more appropriate for the indoors thanks to their low weather resistance.
What's more, the maintenance of these softwoods is more delicate and requires more attention and time. Regular painting, oiling, and varnishing are minimum if you want to protect it and make it last longer.
On the other hand, hardwoods such as teak are ideal for the outdoors. It is heartier and can sustain all weather conditions. However, the downside of the hardwoods is that it's not so easy to shape them, and their prices are usually pretty high.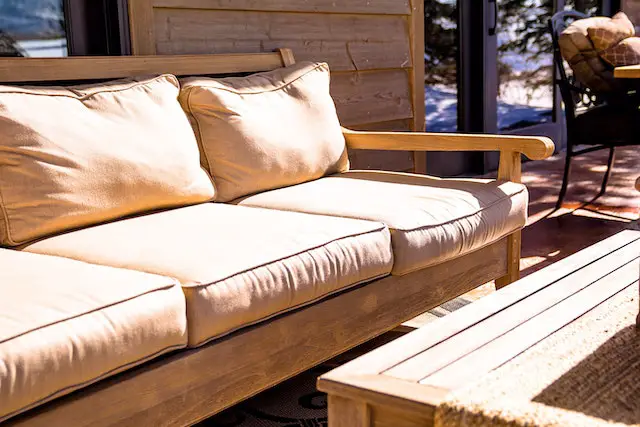 2. Stainless Steel
Steel furniture is your best choice if you are looking for a more modern and contemporary style. It is the sturdiest material for outdoor furniture. That makes it suitable for big tables, sofas, and all the other elements that should bear big weights. It is also resistant to corrosion and rust, which makes it perfect for all weather conditions.
Although it gets hot when exposed to high temperatures, it is more resistant to extreme temperatures than other metals. Moreover, steel has high density and is heavy. That's why it is an often choice in windy and open areas.
Easy maintenance is another advantage of this material. It can be cleaned with soap and water and doesn't necessarily require unique products. However, if you use some powder coating occasionally, you will prolong your steel furniture's beauty and increase its resistance. Since it is mostly made of recycled materials, it is also very eco-friendly.
Stainless steel furniture is available in many different styles, and apart from being sturdy and durable, it looks chic. However, the prices of stainless steel furniture are usually pretty high, too.
3. Aluminum
This is one of the top most popular materials for outdoor furniture. It is sturdy and durable, and resistant to corrosion and rust. However, it is less expensive than other similar materials. Thanks to their hollow structure, aluminum-made furniture are also pretty light. That's why this material is ideal for chairs and other furnishing elements that need to be movable and carried. Relocating aluminum outdoor furniture is also pretty easy. You won't need any extra help with it. Just pack up your furniture and bring it to your new patio.
These days, it is possible to choose between cast and wrought aluminum. The first one is a bit denser and thus more durable, while the latter is easier to manipulate and shape. Another strong side of this material is that it practically requires no maintenance. Moreover, it can also be found in numerous shapes and colors.
However, it is good to know that aluminum is prone to dents and stretches, and that means repairs from time to time. Another downside is that it is not suitable material for windy areas. Even though people often use it everywhere, it can be easily blown away if not adequately secured.
4. Resin Wicker
The patio area is their favorite part of the house for many people. A wicker set is like a rule for a classic outdoor area. However, the truth is that wicker is not a durable furniture material.
That is why modern-day experts developed a more sustainable solution- resin wicker. It is a synthetic material that is a perfect copy of natural wicker, yet more durable. It is stylish, and, at first glance, no one can make a difference.
This unique material is sturdy and resistant to extreme weather conditions, humidity, rain, and high temperatures. It is also a better solution than natural wicker since it is not prone to fading.
Color is inherent in its chemical makeup, so long-lasting exposure to sunlight won't hurt it. Moreover, it is also a bit cheaper, light, and much easier to maintain.
However, although resin wicker is more durable than its natural counterpart, it is still prone to cracks and breaks under a heavy load.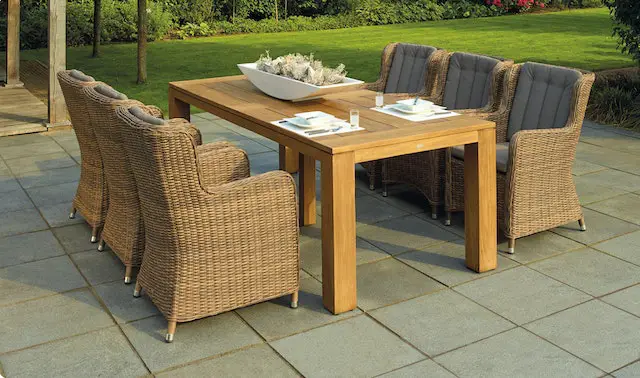 Wicker Furniture Image by Marianne
5 Plastic
Plastic furniture is an affordable and practical option. Although in the past, the durability of this material was disputable, nowadays, plastic quality increased.
The top benefit of this material is that it's pretty light and requires almost no maintenance. Moreover, it comes in numerous colors. So, this is the best material for you if you want to create a unique and playful outdoor area.
Another great thing is that, if well done, it can be a perfect imitation of wood or wicker. Yet a much cheaper one. However, the biggest problem with plastic is that, if exposed to constant sunlight, that can lower the material's quality.
Recycled plastic, for example, apart from being eco-friendly, is also unusually sturdy. It resists moisture and insects and is perfect for seaside patios since saltwater can't damage it.
Recycled plastic is also suitable since it won't break or peel easily. The only problem with this type of plastic is that it's a bit heavier than the regular one. However, this quality doesn't make it resistant to strong winds.
6. Rattan
Here is one of the most popular materials for outdoor furniture. Rattan is pretty adaptable in any style, and it suits every surrounding. Whether planning to create a deck for your backyard or decorate your garden with some stylish furnishing elements with rattan furniture, you cannot make a mistake. Your outdoors will look cozy and natural.
Its light construction enables easy moving and thus makes rattan furniture practical. On the other hand, it is also resistant to different weather conditions and sunlight exposure. One of the most significant advantages of this material is its easy maintenance.
Vacuuming, water, and soap cleaning will be enough to keep rattan furniture in good shape. However, you can always add some special coating if you want to give it a final protective touch.
On the other hand, it won't hurt to mention some of the downsides as well. First of all, rattan seats can be a little bit uncomfortable. That's why adding some cushions is a must. On the other hand, although it is a resistant and strong material, it can still crack or fade as time goes by.
The only problem is that repairing the rattan furniture can be difficult, and you will need to find a professional to do all the work.
7 Iron-cast and wrought
Throughout the centuries, this has been one of the most popular materials for making furniture. That is mainly because iron is one of the sturdiest and most durable materials.
Iron-made outdoor furniture is perfect if you want something unique and stylish. Its heavy construction makes it wind resistant, so this furniture tends to be very stable. Still, the downside of this quality is that it makes iron furniture a bit difficult to move around.
Another thing to mention is that iron is also very prone to rust and corrosion. That makes it vulnerable to many weather conditions. However, using the right treatment and the protective weather-resistant finish, your iron furniture will last longer. 
Nowadays, it is possible to find two types of iron furniture. The wrought iron is made by hand and thus is generally more unique. Cast iron, on the other hand, is created by molds. Both types are equally sturdy and durable.
Photo by Mike B
And this brings our story to an end. Which materials for outdoor furniture suit you the best depends on your wishes and the style you want to create. Thus, consider all these materials' pros and cons, and make the best choice.