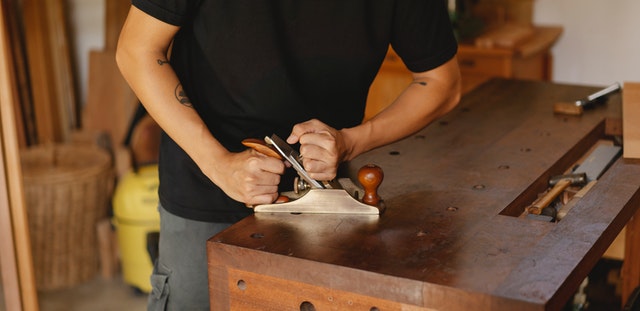 Restoring Antique Furniture
Have you ever wondered what all those professional and amateur antique furniture restorers have in common? Well, we have, so let us tell you – what both of them have in common is the desire to take a piece of furniture they found in the garbage and breathe life back to it.
Restoring antique furniture to its former glory is their ultimate goal! These restorers see the best in furniture. For instance, where one sees an old, shabby table with scratches and water rings, restorers see the most beautiful piece of antique furniture.
However, let us get one thing straight – antique furniture restoration is far from easy. On the contrary – it is a task that requires a lot of knowledge and experience as well as a lot of time, energy, and (sometimes) money.
But, do not worry! If you are really into furniture restoration, you are in the right place. Today, we will share all those important tips to remember when restoring antique furniture. So, without further ado, here is what you should know when trying to transform a run-down piece of furniture into something functional and beautiful.
Be Sure You Have the Time and the Money to Devote to This Project
Okay, first things first – before we start talking about all those tips to remember when restoring antique furniture, it is essential to mention the time and the money necessary for these projects. This is not a hobby that should be taken lightly.
Be sure that restoring just one piece of furniture is something that can last for months, maybe even years. For instance, refinishing can last for hours, removing rust can last for weeks, deep carving can last for months, etc.
And, more importantly, be sure that restoring just one piece of furniture can cost up to one or two thousand dollars! The more complex the piece, the more expensive it will be to fix it.
So, sit down and think through your decision. If you are unsure whether you will have the time and money to recycle your old furniture, you'd better back out. But, if you have the necessary resources, and if you are passionate about this, go for it.
Do Research Before Getting Started
Another crucial tip to remember when restoring antique furniture is to research it before getting started. And, why is this important? Well, you probably do not want to keep your restored antiques in storage. You want to show them off or to sell them! For the latter one, you need to know the worth of the antique.
For that, you need to look for the so-called telltale signs. Usually, those are labels and marks on the piece itself. If you see one, google it. The internet will tell you what you are restoring and its price.
However, if you cannot find these signs, do not worry – call a professional to examine the item. Do not skip this step because you may end up selling an expensive antique for a few bucks.
Moreover, previously we mentioned that you shouldn't keep your antiques in storage. It would be best if you showed them off. But, if you have many of them and some that you are not ready to sell yet, there is nothing wrong with keeping them stored. However, storing antique furniture requires thorough preparation, so be sure to know how to store it the right way, too, as that is just as important as knowing how to restore it!
Have a Final Product in Mind
Before getting started, you should also look at the antique furniture price carefully and try to have a final product in mind. This is especially important if you plan to restore something for your own home and if you want to incorporate that old furniture into your new home. Doing this will ensure you do not waste time and money on something unnecessary!
Put Your Safety First
If you think that having a splinter is the worst thing that can happen when restoring antique furniture, you are mistaken. Instead of having a splinter on your finger, you might have it in your eye. A heavy piece of furniture or restoring equipment may fall and break your bones.
Hazardous fumes may overwhelm you and make you faint. The list can, unfortunately, go on and on. But, do not let this discourage you from making your hobby come true. As long as you put your safety first, you will be fine.
First, you will need to pay attention to your wardrobe. You should always wear something with long sleeves and trouser legs. And, when it comes to shoes, they must be non-slippery and with reinforced front parts. Of course, do not forget to wear gloves, a mask, and working glasses.
Make it Clean
Surprisingly, most amateur antique furniture restorers do not know that you must also clean the furniture pieces besides cleaning the tools. Doing that will make your job easier and reveal the furniture's 'true self' and thus help you restore it properly.
So, to clean the antiques, you need a gentle sponge, warm water, and some vegetable-based soap. Be sure to scrub everything well and let it dry before moving on to the next step. Consider using a toothbrush or even a toothpick if the dirt is not getting off. As they are a lot smaller and sharper, these two will reach into all nooks and crannies. Just don't be aggressive – you don't want your antique furniture to look worse than before.
Repair What is Broken
It can be said that furniture restores are doing a noble thing – they are trying to reuse something that would otherwise end up in a landfill. So, be like them. Whether you have a piece of furniture that wastes your space, is too old, or is broken, try to make the most of it. All of these things can be overcome if you know how to repurpose and repair them.
It would be best to look for spare parts in antique stores or maybe some older furniture shops. Your restoring-antique-furniture journey is almost over if you are lucky enough to find spare parts for the broken elements.
However, if you are not, you need to get your hands dirty. That might mean creating the same custom-made pieces that are missing, or it might just mean tightening screws, joining small breaks with wood glue, etc.
If you do not know how to repair something, one of the best tips for restoring antique furniture we can give you is to call a professional. Carpenter's services will come in handy, especially if some parts must be re-made.
Sand, Refinish, and Paint
Now that your furniture is repaired and in one piece, it is time to all restorers' favorite parts – sanding, refinishing, and painting the furniture. To get started, you can take the easy way and use a chemical stripper that will strip the piece of its color.
Or, you can choose the more intricate route and sand everything yourself. Whatever you do, be careful and patient. Using too many chemical strippers or sanding too much can result in even more repair work. 
Finally, choose a stain or wood paint for your furniture piece. It is always best to go for the original color, especially if you plan on reselling the piece later on. However, if you want to put the piece into your home, you may need to choose a different color or stain – one that will match the rest of your furniture and the overall vibe of the room.
But, whatever you do, be sure to do all the painting outside. Paint fumes can be hazardous. And, of course, let everything dry outside before you bring it in. 
Keep a How-to Guide Close By
There is nothing shameful in having a how-to guide in your garage or workshop. Whether that be a guide for sanding, a guide for choosing the right stain, a guide to natural materials, etc., keep it close to you, especially when getting started.
And, more importantly, do not hesitate to use it. Furniture books and guides always have more information than the internet, believe it or not. You can buy these books in your local hardware store, DIY store, borrow them from the library, or order them online.
Prices pulled from the Amazon Product Advertising API on:
Product prices and availability are accurate as of the date/time indicated and are subject to change. Any price and availability information displayed on [relevant Amazon Site(s), as applicable] at the time of purchase will apply to the purchase of this product.
Get the Tools of the Trade
And, of course, if you want to breathe life into your antique furniture pieces, you will need all the tools of the trade. For getting started, we recommend buying only what is necessary:
Variety of sandpaper (everything from 80 grit to 600 grit)
Putty knives (metal and plastic ones)
Steel wool 
Liquid stripping gel 
Phillips head screw
Flathead screwdrivers
Hammer 
Rubber mallet 
But, if you want to go all out and buy everything you might possibly need for furniture restoration, then go ahead and buy the following too: 
Wood glue 
Wood putty 
Angled paintbrush is several sizes
Different kinds of stains and paints 
Oil soap 
Gloves, protective glasses, and a mask
Measuring tape 
With all the tips to remember when restoring antique furniture and the internet and other guide books by your side, this project will be a fun and fulfilling experience.