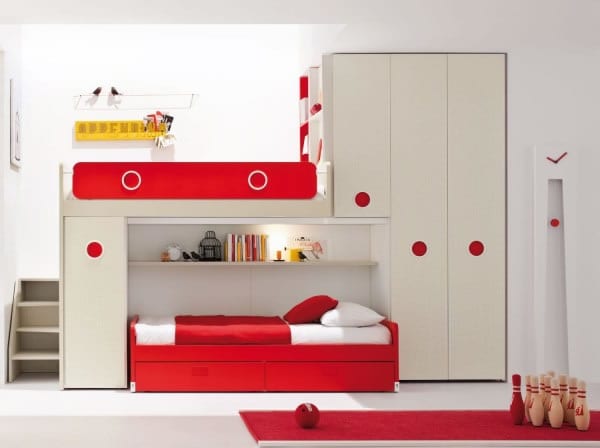 The Start 03 Kids' Bedroom has the cool style and fun design that kids and teens will love along with all the practical engineering and useful spaces that parents appreciate.  Designed by Clever, the collection is based around a lofted bed with a safe stepladder, a wardrobe, and a bookcase.  The combined storage built into just those three pieces means that your child can actually have an organized room even if space is limited.  Starting with the bed, you can instantly see the clean lines that make it cool and contemporary.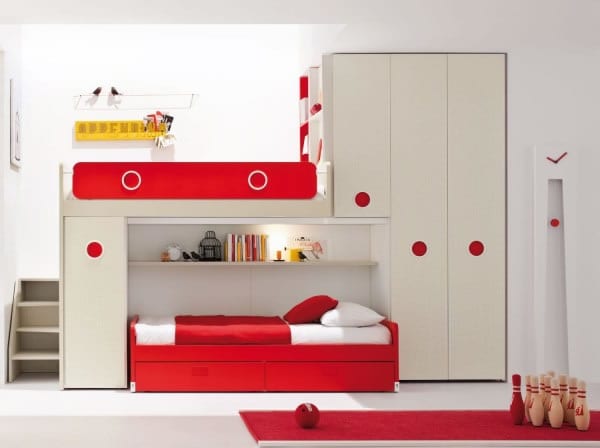 Rounded edges and corners of the Start 03 Kids' Bedroom by Clever on the head and footboard are both part of the trendy design and an added safety feature.  At the top of the stepladder the walking passageway makes getting in and out of the loft bed easier and safer, but there is an added feature: more storage.  Underneath the walkway two hinged panels open to reveal lots of space for extra blankets and toys.  The lower, second bed sits on casters for quick and easy maneuvering in tight spaces.
Start 03 keeps giving you and your child room to grow with storage.  The wardrobe features a shelf and three closet rods for hanging and folding clothes, while the bookshelf is the ideal place to stack books and games for easy access.  This collection is a bedroom for kids and teens, because the style stays cool and the storage keeps everything organized year after year.  Why not own a bedroom collection for your kids that you can love as much as they do?