Do you enjoy entertaining or getting together with your family and friends? Get the Bellagio Sofa Bench from Koinor. It is the perfect spot to sit and eat with your loved ones. The piece has backrests which can be tilted in different positions to make your dining experience even more enjoyable. It comes with a polished chrome frame or a stainless steel frame. It is designed by inHouse and is absolutely stunning. The sofa bench is available in a variety of shapes including straight and curved. You can get it with or without backs
We're an affiliate
We hope you like our recommendations! Just so you know, we may collect a share of sales or other compensation from the links on this page. Thank you for using our links, it is much appreciated.
Such gorgeous design can be the perfect alternative to conventional dining chairs. The Bellagio Sofa Bench by Koinor is one such piece. It is a brilliant example of the company's design and production skills and provides a unique dining experience. It is made in Germany by skilled craftsmen using quality materials. The sofa bench is upholstered by hand and comes in more than 60 choices of fine leather. It helps you dine in style and can be paired with different dining tables. It has shiny metal legs which give it an elegant look. It is highly durable and will give your interiors a unique feel.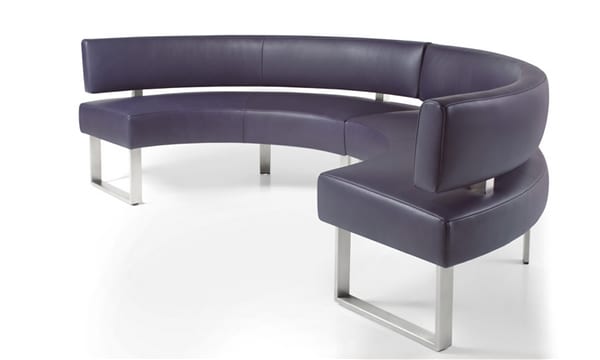 If your entire home looks like a designer's home except for the dining room, it's time to change that. Get the Bellagio sofa bench and fill the room with luxury and style. Once you buy it, your favorite room will become the dining room. Which design of the Bellagio Sofa Bench would you consider for your home?