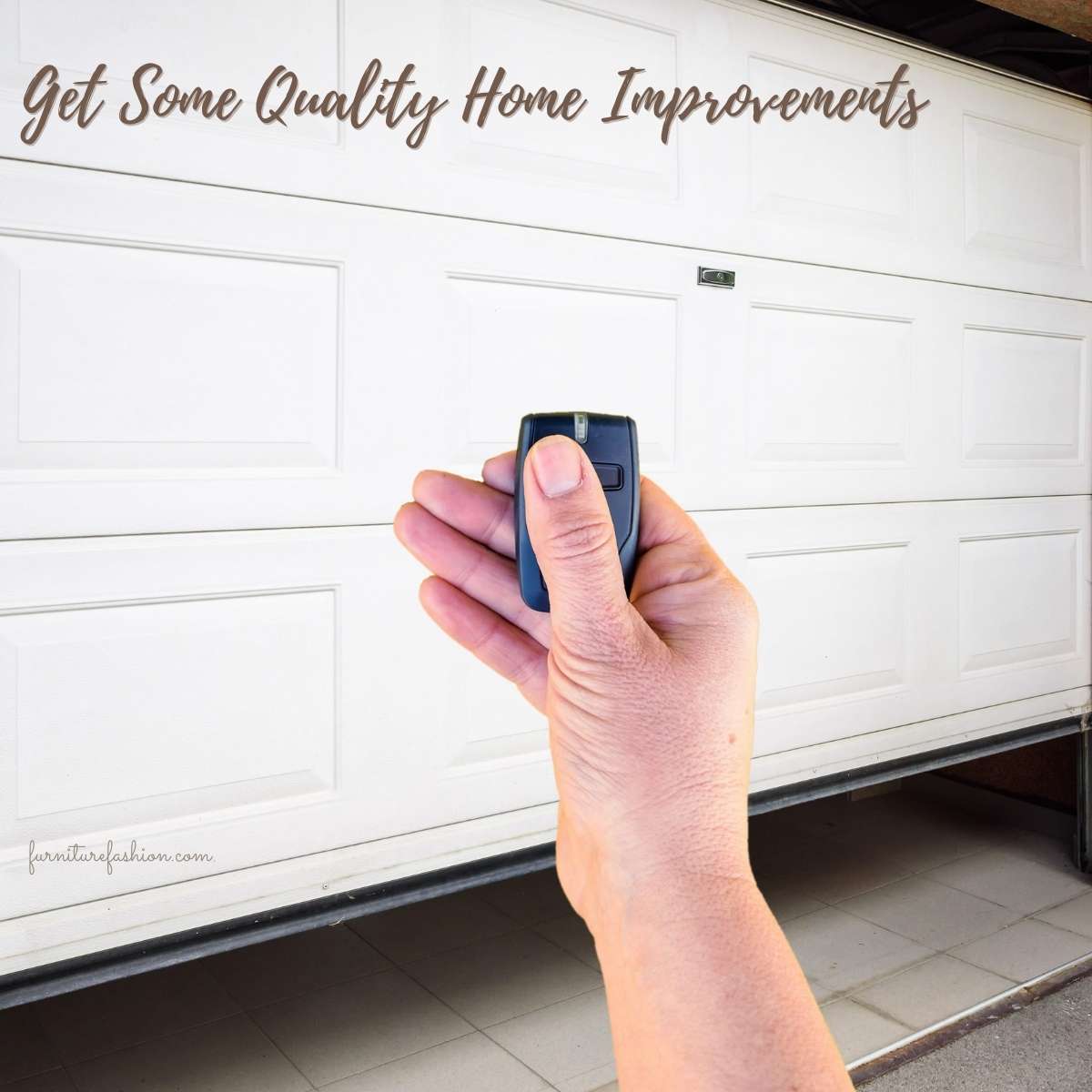 Home Improvement Ideas
You might not want to sell your home now, but life is full of surprises. With that being said, it's definitely easier (for you and your budget) to make one home improvement at a time (and while you can still enjoy the results yourself) rather than worry about that while already looking for potential buyers.
Home improvements are always a good idea, providing they are well-thought-out. It is far more enjoyable and comfortable to live in a well-maintained and looked-after house. But even if you don't mind living your daily life with some shortcomings, they can affect the value of your home.
The most important thing is to tend to any damages and failures as soon as possible because even the smallest ones can lead to much bigger (and more expensive) problems.
And if that's the case, or even if there's nothing super urgent, but you have found yourself with some money on your hands, more significant home improvements are always possible.
After some research and consultations with real estate specialists, we have prepared a list of home improvements that will add the most value to your home – and improve your life while you live there. You will find them below!
Garage Door Repair Replacement or Installation
While it might not sound revolutionary, and the change won't be that clear at the first glance, buying and fitting a new garage door can actually get you over 98% in recouped costs on average. In fact, in some areas, it can go even over 100%. Impressive, right?
However, make sure you choose the right garage door and a respectable garage door installation company to fit it. Getting a garage door to work right, and fitted correctly is not as simple as it looks.
So, now you see that if you have a garage, it is a must to get a high-quality garage door made of durable materials that will be properly insulated and, ideally, have other perks, such as energy-saving glazing, and if you can stretch your hard-earned cash, an electric garage door.
But it doesn't end there; while you will enjoy your improved safety and comfort yourself, you also have to make sure that your garage door stays in excellent condition. Luckily, whether you look for garage door repairs in Cincinnati, Ohio, or Santa Fe, New Mexico, you can almost always find reliable professionals to ensure any work is completed to a high and professional standard..
Electric Garage Door Opener
Heavy-duty chain drive system that allows for long-lasting durable operation

Strong 5-piece rail system that easily snaps together

Factory pre-assembled chain

N

o assembly with cables is needed making this chain drive opener even easier to install

1/2 HP DC MOTOR

Maintenance-free precision machined motor and gearbox

10-year limited warranty on this Genie garage door opener

Out-of-the-box works with popular built-in car remotes systems

C

omes with two pre-programmed 3-button garage door opener remotes

Safe-T-Beam Non-contact reversing system

GenieSense Monitoring

D

iagnostic technology

Intellicode Access security
Ideas For Kitchen Remodeling
The kitchen is the heart of every house, so it should not come as a surprise that it has a significant influence on home value. It is vital for every kitchen to be neat, and well-maintained, with no leaky faucets or flickering lights.
What's interesting is that you don't have to make costly improvements to boost your home's resale value. In fact, a minor kitchen organization or remodel (such as refreshing cabinets and countertops or a new sink) can provide a return on your investment of around 81% on average, while a major remodel, sometimes, is only over 50%.
You need to decide what will be most beneficial for you and potential homebuyers in the future. Every kitchen should have this special, welcoming feeling about it, no matter the decor and one's preferences. It has become a new living room for many people, and no groundbreaking improvements will save your home's value if your kitchen is in poor condition.
However, be careful not to overdo it – the kitchen needs to be consistent with the rest of the house, so it shouldn't be too fancy.
Airtight Food Storage Containers
Help Organize Your Kitchen and Pantry—-Imagine waking up every morning and walking to the kitchen to make some breakfast, found everything is neatly organized. No longer messy, you can get everything you want very quickly. They will make you feel easy to organize the pantry.
Clear containers allow you to identify contents

Made of high quality BPA free material

D

urable and shatterproof

Air-Tight to keep food dry and fresh

With special sealing mechanism

24 Reusable Labels
Consider a Bathroom Remodeling
If you only have one bathroom, but there's some unused space (like an almost empty closet or a room barely anyone visits), an additional bathroom will add value to your home. It helps to get back around half of what one has spent on average (though it varies significantly depending on the region), but selling a house with two bathrooms instead of one is usually easier and quicker.
Curb Appeal
We all know how vital it is to make a good first impression, and it's no different for selling your house. You might have the most beautiful living spaces, smart home additions, and whatnot, but if you neglect the curb appeal, people will enter your house with the wrong attitude.
If your property looks good from the outside, buyers will automatically assume that it's equally attractive inside. According to a survey, 17% of real estate agents claim that a well-maintained landscape has recently led to a sale.
Even if you have a small front or backyard, it is vital to mow the lawn regularly, trim the shrubs, and tend to your plants – of course, it all takes time and money, but ensures you almost a 100% return on your investment and provides a nice environment to live in for you and your family. Not to mention how valuable and beneficial it might be to build a porch, a gazebo, or add even a small pond.
However, if you decide on such an investment, you need to make sure you choose high-quality materials. For example, adding a deck is an excellent idea, but use actual wood for the project (it will help you get back over 80% of your investment), and create a detailed, well-thought-out design for safety and stability.
Apart from that, also make sure that the exterior of your house looks appealing, there's no flaking, chips, dirt, or mold on your walls, or the paint doesn't look too faded. One of the best home improvements you can make in terms of recouped costs is adding manufactured stone veneer – 97.1% on average!
Despite its name, a manufactured stone veneer is not a stone, but it looks like one and can add significantly to your curb appeal. It's enough to do only the front of your house to achieve the desired effect.
Adding Energy-Efficient Solutions
As people become more and more environmentally-conscious (some areas might even have more strict green regulations planned for the nearest future), they look for ways to reduce their carbon footprint and help our planet. That's why many homeowners and potential buyers pay more attention to energy-efficient solutions.
But that's not the only reason it's worth investing in green features – most of these upgrades will also help you save money on utility bills in the long run.
Some of the best green home improvements include:
Installing Solar Panels
replacing water fixtures with their low-flow alternatives
window replacement to ensure proper insulation and efficiency
installing energy-efficient appliances (e.g., a dishwasher)
a programmable thermostat
switching to a tankless water heater
using eco-friendly materials (e.g., bamboo or sustainable wood flooring)
Adding Living Space Ideas
Improving the living square footage can undoubtedly make your home more attractive on the home-selling market, but don't worry, you don't need to expand your property. With many houses, there's always a possibility to add some living space by using the rooms you already have.
Think about a cluttered attic or a molded basement – you can easily turn these into utility rooms, workout areas, or even additional bedrooms.
Improvements That Sound Tempting But Should Be Avoided
With living spaces, it is all about comfort and practicality. You might spend a lot of money on general home improvement, but it won't get you far if you don't think this through.
Below, you will find some valuable home improvements that won't affect your home's value positively:
Swimming pool – for a family with small children, this is a safety hazard, while others might consider it a waste of time and money (in terms of further maintenance)
Luxuries – such as adding too much marble or ornaments, leaving too big empty spaces, might appeal to some people, but when you want to sell a house, you want to reach a wider audience
Garage conversion – some owners feel tempted to add square footage to their house by converting a garage into living space, but you shouldn't go as far; most potential buyers prefer a garage
Landscaping – long story short, know where to stop. Most people don't dream about having royal gardens in their backyard
Invest in Home Improvements Now to Get a Return on Investment Later
While these improvements might seem expensive, you are more than sure to get a return on your investment later. It is also precisely why you shouldn't put them off – because of the needed budget and efforts, it's better to consider it all, prepare, and improve things gradually.
The housing market is tough. Homebuyers are very often aware of what they might expect, and many of them aren't likely to buy the pig in the hole. They usually work with experienced real estate agents, who truly know what they're doing. You won't be able to hide anything – not that you should even try.
The article above mentioned some home improvement projects that can increase the value of your property significantly, but remember that every effort counts. Take care of your house daily, and tend to all the needed repairs as soon as they arise – you will keep your home value higher and all the household members happy and comfortable!