The two things that will first strike you about this piece are its name and design. "Hey, chair, be a bookshelf!" has a name and design unlike any other. It is both a chair and a bookcase and performs both functions with ease. The chair/bookshelf looks superb in homes with limited space and is the perfect conversation piece. Marten Baas works with secondhand stores in Eindhoven, Netherlands to save products from imminent doom. He makes these pieces of furniture from products which could not be sold and are about to be disposed of. Since the products are different, each piece is unique. The fitting is toughened with polyester and coated with Poly-urethane coating.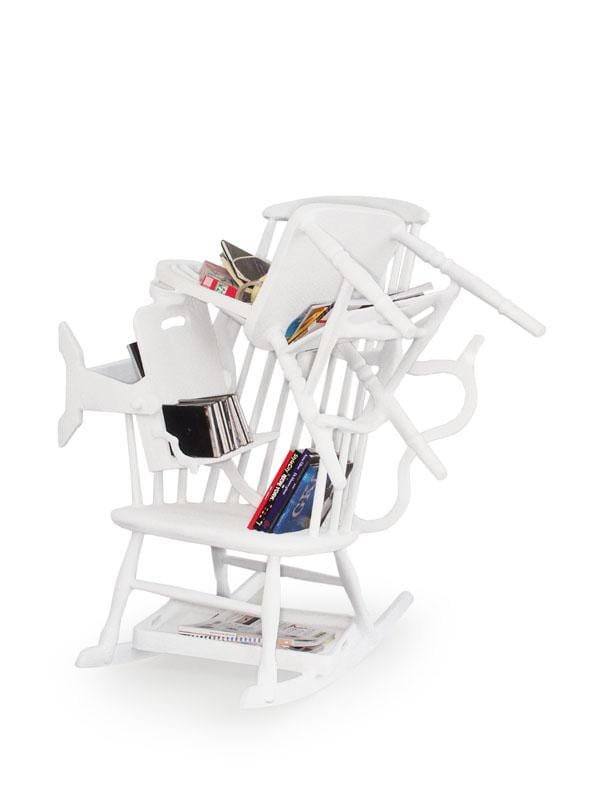 When designing "Hey, chair, be a bookshelf!" Maarten Baas focused on creating an assemblage of objects performing new functions. The seat/bookcase comes in different designs with a lampshade that functions as a coat rack and a tuba that functions as a flower vase. Potted plants and piles of CDs beautifully peep out at playful angles. Old chairs and lamp stands are whimsically stacked together to create striking furniture pieces. Maarten Baas transforms items that might have been called garbage into unified structures.
There are many special things about "Hey, chair, be a bookshelf!" It is made from second hand pieces, offers different functions at once, and boasts an inventive design. Its seemingly precarious arrangements are toughened by hand-coated polyester and will give your home enduring beauty. Do you find the "Hey, chair, be a bookshelf!" simple or spectacular?