If you like to spend a lot of time in front of your TV, it is important to place it in a stylish home. A TV holder complements your sense of style and can be a focal design point. The Ola TV holder from Mantellassi 1926 is a contemporary piece made for modern homeowners. It has been designed to meet your needs and desires. While organizing your entertainment area can be challenging, it performs the job with ease.
TVs are more enjoyable these days. They are equipped with games, internet browsing, and even online movies. However, the wires, satellite boxes, and accessories they come with can leave you feeling overwhelmed at times. The Ola TV holder from Mantellassi 1926 hides all your TV accessories from view allowing you to create a neat and organized area. It helps you to get rid of clutter and style up your space. With shelves on the sides where you can place DVDs, CDs, remote controls, collectibles, and even flowers. It will look beautiful fitted on the wall and is ideal for homes with limited space as well as large homes.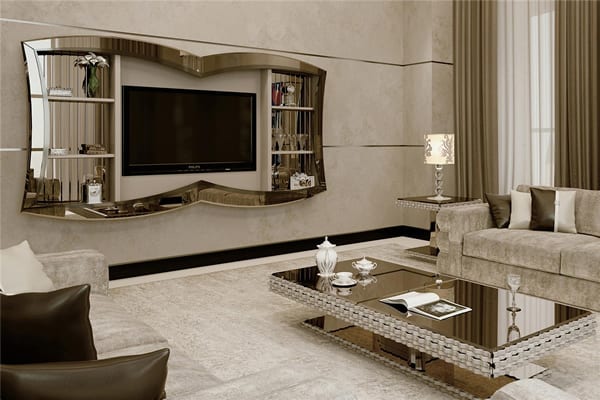 This TV holder will allow your guests to enjoy the view even when the TV is off. Available with a shiny lacquered finish or silver polish your television will be the focal point of the room with the bronze mirror. Get it for your home and transform your entertainment zone. You'll be able to sit back, relax, and watch your favorite programs in total comfort. How would you adorn the Ola TV holder?