Finding A Bargain With George Nelson Furniture
1950s George Nelson Wall Unit by Herman Miller
A nice mid century modern example, this wall unit was designed by George Nelson and produced by Herman Miller in the 1950s. The wall unit features three vertical supports which serve as its architectural foundation.
On the left is an open shelf with dividers for storage. Beneath the storage with dividers, is a drop front desk with a single door opening to a storage space.
On the right-hand side, there is a single plank shelf at the top. Below there is a cabinet with one shelf which has two sliding glass doors. At the very bottom is a cabinet with three small drawers and one larger drawer/storage area.
I hope to visit a garage sale and find a wall unit as fine as this example. These pieces are becoming increasingly hard to find at bargain prices since more people understand their value.
He would charge from $2,800 – $4,000 for this piece depending on its condition.
Timeless Clocks of George Nelson
One of my favorite designers of the 20th century is without a doubt George Nelson. He could add a modern appeal to the most simple of things from his furniture designs to some great accessories.
I particularly love his many clocks with their varied shapes and colors making an ordinary thing into a conversation piece. The Vitra Design Museum has presented a reissue of many of his most cherished timepieces in a true-to-the original form.
They make all the clocks with exact materials and to correct scale for the connoisseurs.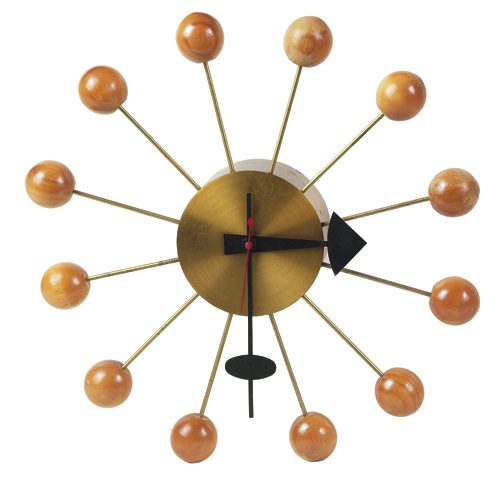 Sunflower Another Timeless Wall Clock by George Nelson
Since 1957 Vitra has manufactured the famous wall clocks of George Nelson as well as a wide range of furniture and accessories from the world's most iconic designers.
The various wall clocks of Nelson are to say the least timeless and are a clear representation of his forward thinking. The "Sunflower" clock is just one of the many time pieces still in production by Vitra and available from puremodern.com.
$1039
Happy Anniversary George Nelson Swag Leg Desk
Now that the large computer is slowly fading into a compact laptop George Nelson's "Swag Leg Desk" is the perfect place to conduct business in style.
This is the 50th anniversary of the Herman Miller release that features a Walnut laminate top, plastic drawers, chromed steel tubing, and four hardwood dividers in vibrant colors.
In addition, adjustable glides and a grommet for cable management make the Swag Leg Desk as convenient as good looking.
39″ W 28.5″ D 34.5″ H
$1799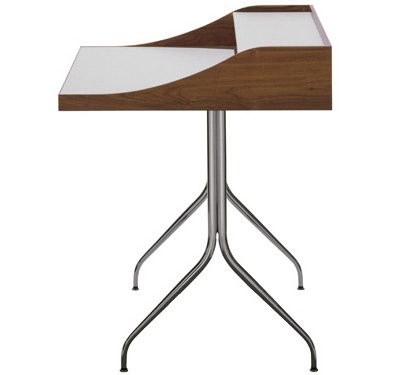 1960s Mid Century Modern Sling Sofa by George Nelson
With modern designers, George Nelson ranks right up near the top in terms of contributions to furniture design. The Sling Sofa pictured here was manufactured in the 1960s by Herman Miller.
They construct the frame of chromed tubular steel. The seat contains black leather cushions over a leather and rubber sling seat.
A piece like this is a modern classic that would fetch from $4,000-$8000 in the open market today based on its condition.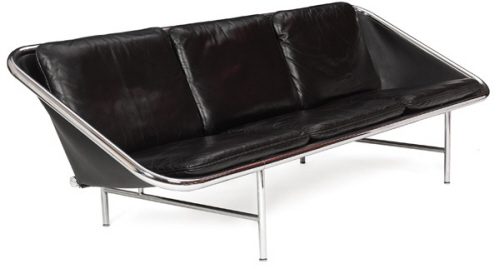 George Nelson's Classic Miniature Storage Chests
George Nelson's storied career as one of America's most beloved home furnishing and decorative accessory designers included this series of miniature storage chests from 1952.
Herman Miller produces the Nelson classics miniature storage chests in with a Teak laminate top and four-star metal base giving this series a timeless quality you would expect.
The scaled down size and variety of shapes make these perfect for all areas including the living room or bedroom. Available from HiveModern Free Shipping in Continental US
six-drawer chest 30.125″ w 13″ d 26.125″ h – $1,349.00
nine-drawer chest 10.375″ w 13″ d 43.5″ h  – $1,399.00
six-drawer chest low 30.125″ w 13″ d 6″ h  – $999.00
nine-drawer chest 10.4″ w 13″ d 23.4″ h  – $1,049.00
Mid-Century Modern George Nelson Cabinet
Here is a nice George Nelson cabinet from the mid-century furniture era that you may find while bargain hunting in your favorite thrift shops or on Craigslist. A great thing about this piece is its simple design.
This mid-century furniture could easily combine with new pieces. The "old and new" look can be cool when cleverly put together. This cabinet is just under 3 feet wide which is a nice size for providing additional storage while not creating a huge footprint in a room.