We're an affiliate
We hope you like our recommendations! Just so you know, we may collect a share of sales or other compensation from the links on this page. Thank you for using our links, it is much appreciated.
By definition, a galley kitchen is one that is inspired by ships and aircraft that are designed in a functional and slender space. And although these options have a bit more room for cooking than their in air and on sea counterparts, they embody that same work-focused vision. Let's take a peek at these amazing galley kitchen design ideas and layouts that utilize every inch of kitchen space with its hallway and efficiency-centric style in mind.
The room is long but not wide which is why this design works so well in the space. We also love the lighting, which creates an illusion of more space, as does the bright white foundation of the room. A take a peek at those marble counter tops – there's enough room for prepping dinner and decorating cookies with the entire family during the holidays.
A bit more subdued than its clearer predecessor, this version has a bit of a rustic, traditional overall style. Of course, its layout makes it easy on those that do a lot of cooking, with everything at an arms reach but still ample storage and counter space to get the job done without too much clutter or chaos disturbing the activities.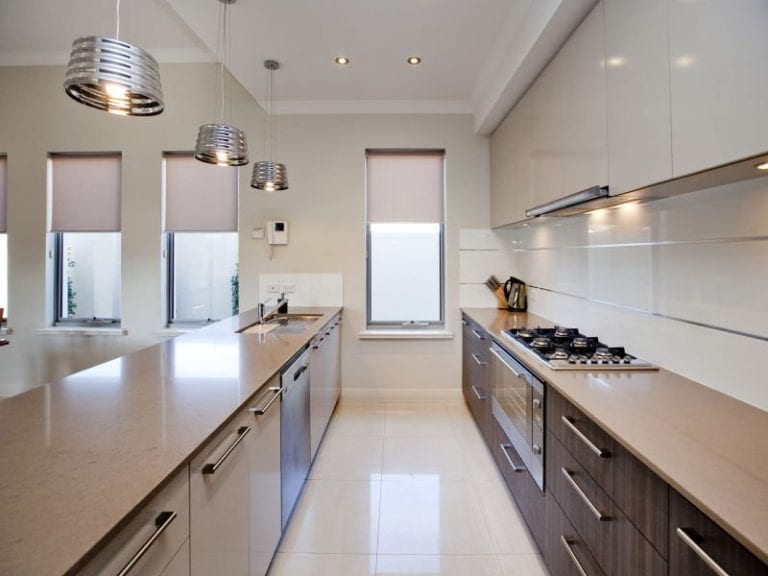 Chic and clean with contemporary style and fashion-forward vision in mind, we are loving this completely posh layout. Although it's quite simply decorative, we love the crispness and minimalist's lovers feel it gives. There's a lot of space for working but it's also a great place to entertain for dinner parties and holiday events! The neutral palette makes it easy to add pops of colors throughout the season as well, making it incredibly versatile.
There's a bit more pizzazz involved with the design of this style than others. Between the shelving and drawers, addition of a breakfast bar above the counter tops and the stainless steel appliances, you've got a chic and futuristic room that the entire family can enjoy. Notice the small pop of orange sitting on the counter, don't you love how a simple placement as such can transform and make the room encompass an entirely new personality?
There's a "Hamptons" vibe going on here that makes it feel like a vacation-like escape. The crisp white tops the traditional wooden edges and easily creates a fun interest and contrast for the eyes to enjoy. The white counters and walls also bring the eyes up and out, make the room look even bigger although it's still in a very slender shape and size.
Similar to the previous one, we love the bright white and dark wood contrast, but what makes this space a bit different than our "Hamptons" inspired design above, are the dark, stainless appliances. The addition of these pieces adds a crisper and more masculine edge. What saves this room from seeming too small are the big windows and the natural lighting that falls inside, giving off more clarity.
The white is on the bottom, giving more depth to the room and the wooden counter tops add just the right amount of compliment and contrast without becoming too dark or dull. We also love the hipster, trending vibe the room gives off with its simple styling and modern touches.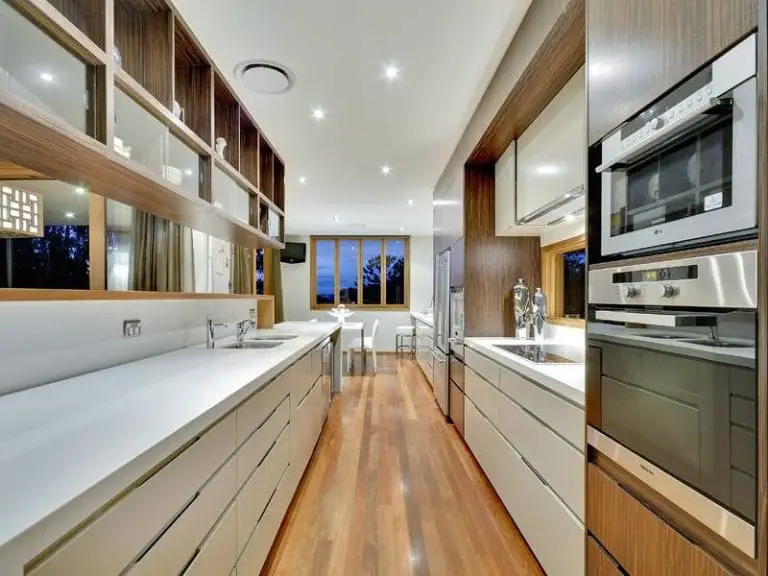 One of the most slender designs out of the bunch, the most genius element to this concept are the omission of drawers and cabinet hardware. The sleek surfaces from top to bottom, gives the illusion of more space. If there were knobs and handles as every station, there would be less focus on the overall design and more focus on the glisten and shine of each piece. It'd also be much more cluttered, so keep that in mind when decorating a room with limited space.
Crisp whites, stainless steel appliances and lots of shine that keeps light flowing throughout the room, we are loving the contemporary and delicate appeal of this kitchen. Again, there is a lot of room for working, preparing and even entertaining throughout – which are all benefits for one of the focal points of the home.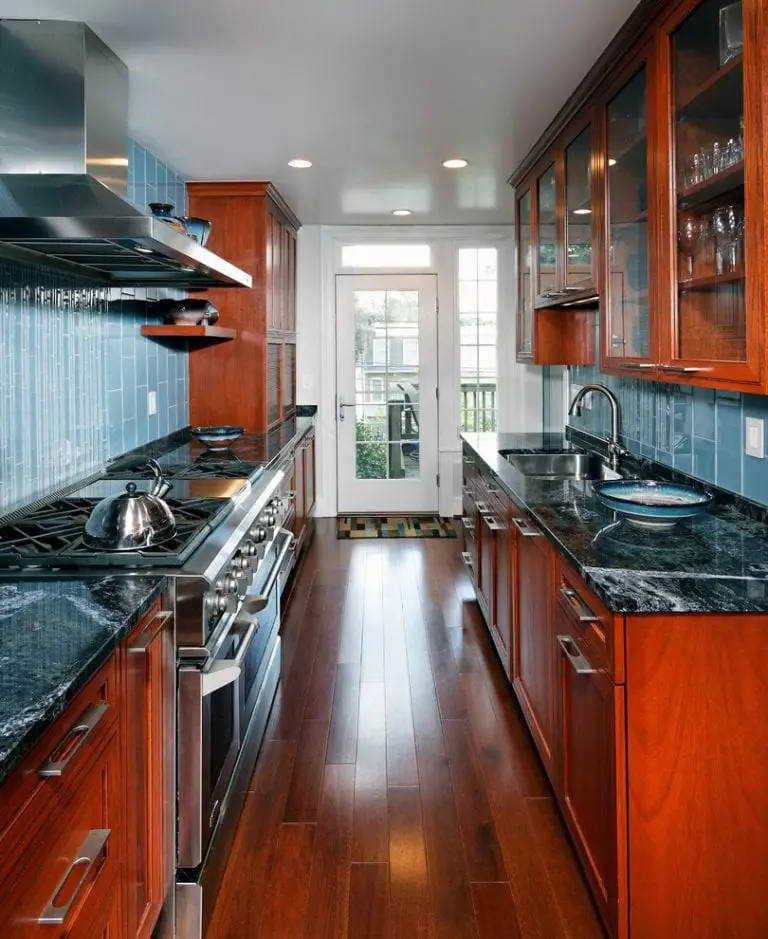 If you're looking for a design that's a bit more outside-the-box, take a peek here. The cherry woods top with the black counter tops creates lively, but warm, interest. Although it doesn't seem as open as some of the lighter and brighter kitchens on the list, this room deserves to be shown off based on its bold style and more traditional appeal. We do want to mention the window cabinets that lighten up the top of the room and keep the space a bit more modern.
This may be one of our favorites on the list because it feels like a cozy, family home … but with lots of style. The white foundation creates space, the wooden counter tops creates a cozy vibe and the blue tile back splash adds just enough of a "mom's" touch to keep it comfortable. We love how there's room to organize and have everything you need at an arm's reach without too much clutter, as well as the windows right over the sink giving off gorgeous, natural lighting.