Fritz Hansen Furniture
THe Attitude Lounge Chair by Morten Voss
Even if you never sit on it, the cool factor is enough to keep it in high regard. Fritz Hansen well known for cutting edge, sometimes radical design has teamed with Danish furniture designer Morten Voss to bring the Attitude lounge chair and table series to production.
There are a multitude of eye-catching fabric colors and blends available as well as a hand full of leathers for a significant up charge. Base options include smooth matte grey or rough silver grey and feature a return swivel mechanism.
In its day when introduced in 2007 this was around $2000 to buy. No idea what it will cost you today.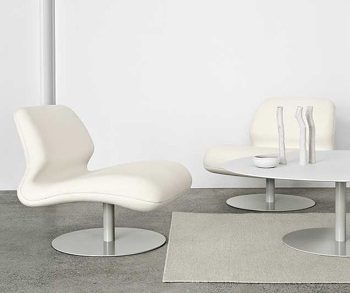 50th Anniversary of the Egg Chair by Fritz Hansen
If you have not seen the Egg Chair from Fritz Hansen then you just weren't paying attention. There probably isn't a more copied piece of furniture made than Arne Jacobsen's 1958 icon which was originally developed for the lobby of the Royal Hotel in Copenhagen.
The original prototype was developed in the garage of Arne Jacobsen and cast in plaster. To celebrate the 50th anniversary of the Egg, Fritz Hansen has released a series of 999 numbered chairs available February 1st, and I'm sure they won't last very long.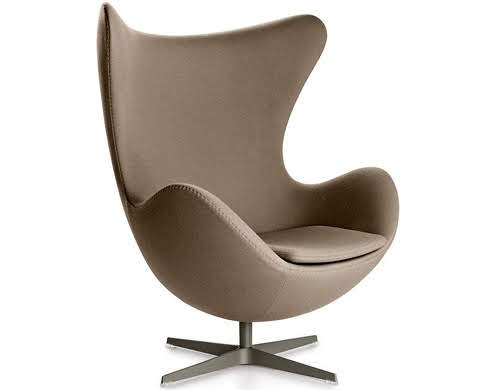 Today the synthetic shell is padded with cold cured foam and covered in fabric or different types of leather resting on a star shaped aluminum base. This is a great example of a timeless modern design that will look as up to date 50 years from now as it does today.
Rin Chair From Fritz Hansen Hiromichi Konno
In 2009 at the Stockholm Furniture Fair, Fritz Hansen released their latest chair design from Japanese designer Hiromichi Konno. The HK10 "Rin Chair" is the next Danish Modern "icon hopeful" that is also in harmony with Japanese design traditions.
The Fritz Hansen chair fits right in with the long history of mid-century modern furniture from Fritz Hansen that has some familiar characteristics like a circular shape and a minimal base structure.
Upon graduating from product design from Umea University in Sweden, Konno worked with design great Ross Lovegrove and helped create the Go Chair for Bernhardt Design. The classic modern Rin Chair features an injection-molded shell available in six colors.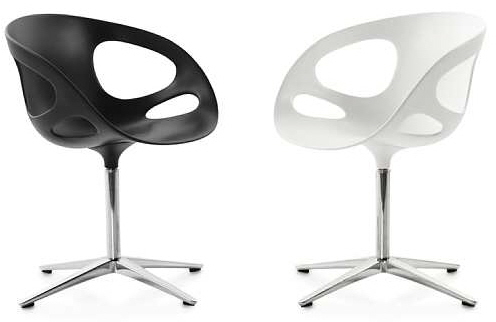 Fritz Hansen T-No. 1 Modern Dining Table by Todd Bracher
When Scandinavian manufacturer Fritz Hansen needed a dining table to compliment their classic Arne Jacobsen dining chairs, they turned to designer Todd Bracher. The Scandinavian trained Bracher decided to used a variety of materials and offer his new creation in several sizes as well.
The result is the Fritz Hansen T-No. 1 Dining Table that is available with tops in glass, white laminate, maple, walnut or colored ash veneer in black, and bases in mirror polished or black lacquered aluminum.
This destined classic is incredibly simple, but so often the best things are. Tops available in 79″, 94″ and 110″ W x 39″ D 29″ H $5825 (79″ glass version)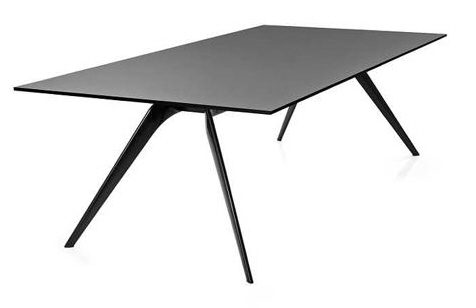 Related Articles: