What Is The Idea of a Family Room?
A family room is a space where families come together. It is a place for relaxation, conversation, and entertainment. It is also a place where children learn and grow.
A family room is a place where families come together. It is a place for relaxation and conversation, and it is also a place where kids learn and grow.
The best family rooms are designed to encourage interaction between parents and children. This means that there are places for both adults and children to sit and play games, watch television, read books, and do homework.
Family rooms are often used for entertaining guests. But they can also be used for private activities such as reading, watching movies, playing board games, or having quiet conversations.
The family room needs to be approachable, warm, welcoming and always feel like home. But that doesn't mean it can't be upbeat, stylish and fashion-forward. Forgo the dull, boring and simply traditional furniture pieces and instead go for designs that inspire you but still come together to create a look you enjoy and feel cozy in.
What Is a Living Room?
A living room is an area where we spend most of our time. It is where we relax, watch TV, play games, read books, listen to music, eat dinner, hang out with friends and family, and even sleep.
It is also the place where we entertain guests. A living room is the heart of any home. It is thecenter of activity for everyone in the house.
The living room is the focal point of the space. It is the place where the entire family gathers. It is the place that defines the character of the home.
Living rooms are often designed to reflect the personality of the homeowner. Some homeowners prefer a more formal look while others opt for a more casual style.
Regardless of the design, there are some basic elements that make up a living room. These include furniture, lighting, accessories, art, rugs, and decor.
Choose the Right Furniture
Furniture is the main attraction in any living room. It is the centerpiece of the room and provides comfort and support.
There are many types of furniture used in living rooms. Some examples include couches, chairs, tables, beds, bookcases, entertainment centers, coffee tables, and ottomans.
Make Sure You Have Stylish Lighting
Lighting is another important element in a living room. Lighting helps create ambiance and sets the mood.
Different styles of lighting include table lamps, floor lamps, wall sconces, chandeliers, recessed lights, track lighting, and ceiling fans.
We have included 15 stellar designs and photos of family room furniture ideas that will get your wheels turning and help you to transform this space into something so much more special but still as comfortable as ever.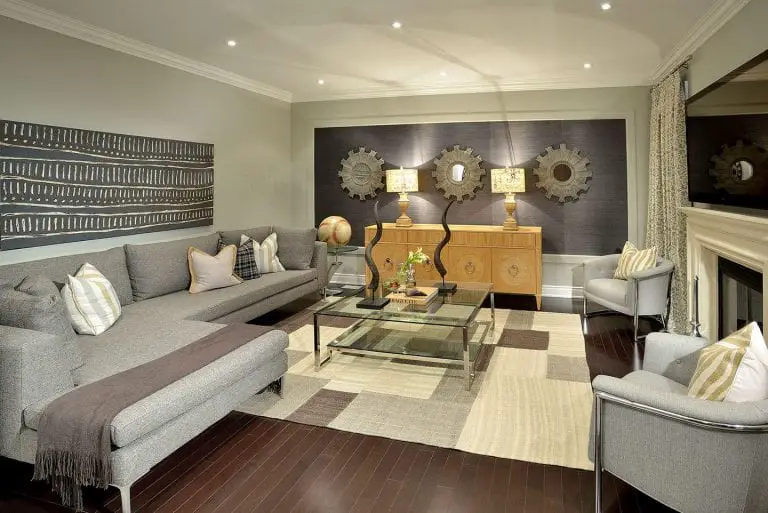 Grays and blues will always be colors that give off a welcoming and relaxing ambiance, which is why it's a great idea to take advantage of those colors. Of course you can still add textures and fun prints to create interest, but overall this living space seen above was made for a magazine spread or a movie night. It's stylish and creatively built, but with comfort in mind.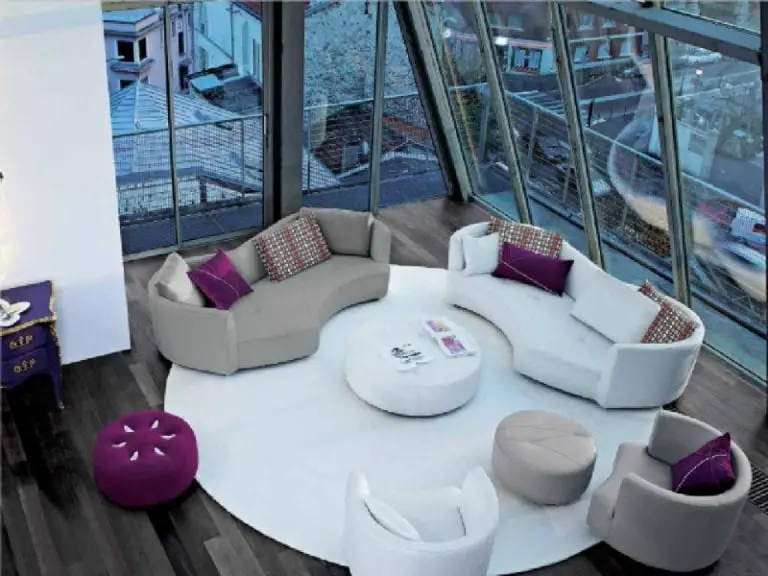 When you have a super open space, you sometimes need to "create" a room. Block off certain spaces to make them feel a bit more cozy and comfortable like the example seen above. It's unique in his circular form and extremely contemporary with its solid color-blocked theme. But it's also still very welcoming for relatives and friends too!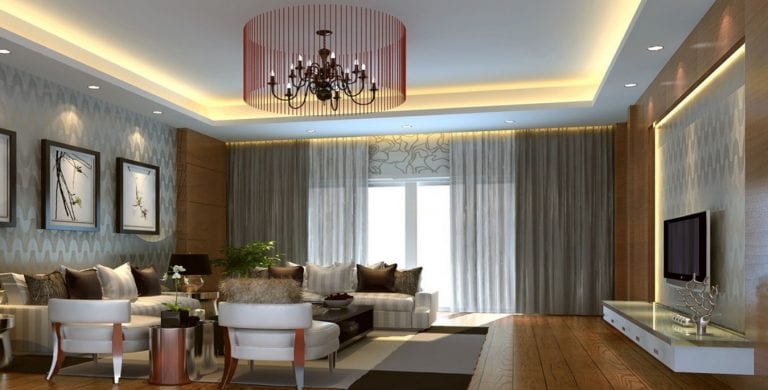 Here's a more formal living room example but one that's still functional and family friendly. There's enough seats for everyone in the house to have a cozy place to rest but the overall theme is very fashion-forward and sophisticated. We are loving the light fixture used as the artistic centerpiece of the space as well.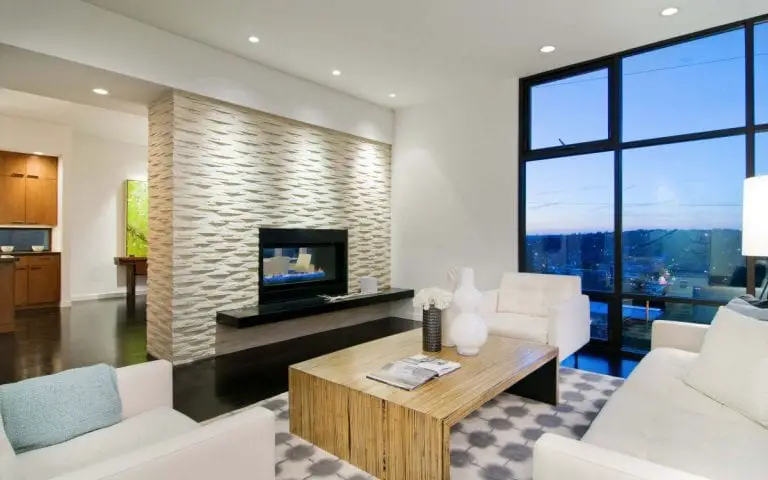 This idea is smaller than most of our other examples but it doesn't lack in style. Because of its size, the white focus of the room brightens and widens, which is also a benefit to your home. And we love the easy and clean eclectic touches pointed around the area, from the rug to the textured room partition, it's full of fun style!
Open spaces should always be utilized. And this planner knew how to use the space without overcrowded or becoming too fussy. The furniture is slender but it also fills the space. We love the youthful vibe of this interior idea and how eclectic the energy is. We especially love the mixed materials used throughout giving it an even more interesting vibe.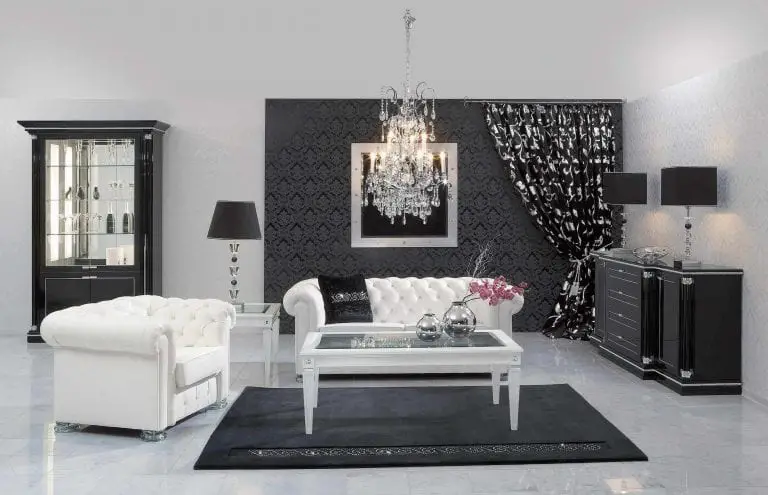 If you have older kids in the house and the family is inspired by a more sophisticated, vintage air, these pieces may be just the right fit. It's too formal for if you have little ones running around but this plush sofa and loveseat work for those that are old enough not to mess with. The rest of the room is filled with timeless, black and white pieces, hints of femininity and a dash of Parisian flair.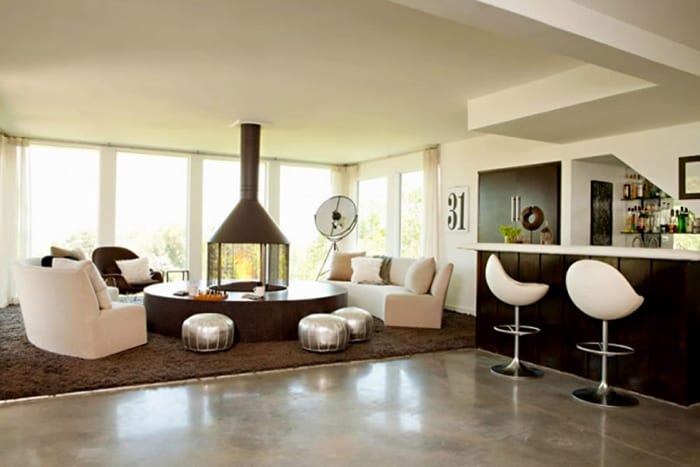 Not only are we loving the chunky sofas but the centerpiece of this idea couldn't get any cozier. The electric fireplace provides the perfect focal point to this bright and welcoming escape in the house. The silver tufts give a pop of personality and the bare windows add gorgeous, natural lighting for afternoon gatherings.  The theme of this floor plan is warmth and conversation with the way all pieces are centered closely together.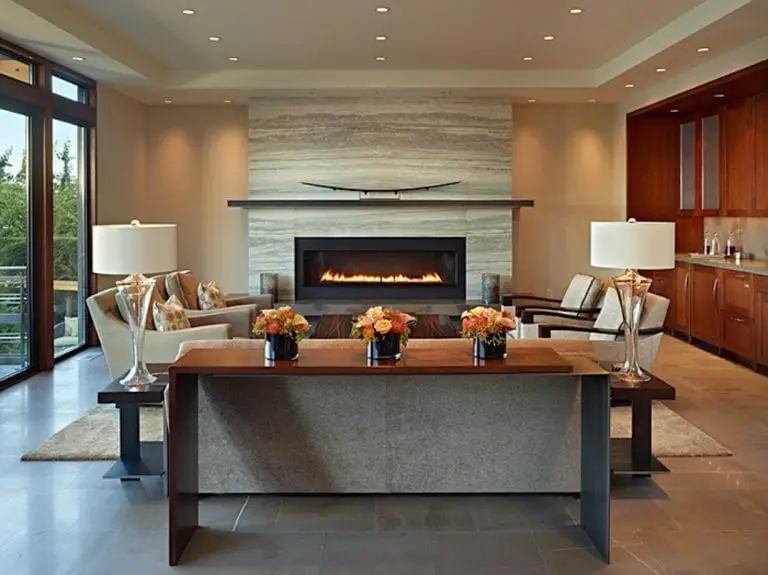 The symmetry in the example is perfection and that type of balance provides a welcoming, warm vibe that's perfect and needed for a highly used living space. The fireplace gives a comfy ambiance and the cushy chairs and sofa give a traditional style theme by matching and remaining in the neutral zone. Of course, the fresh flowers help to create even more friendly essence.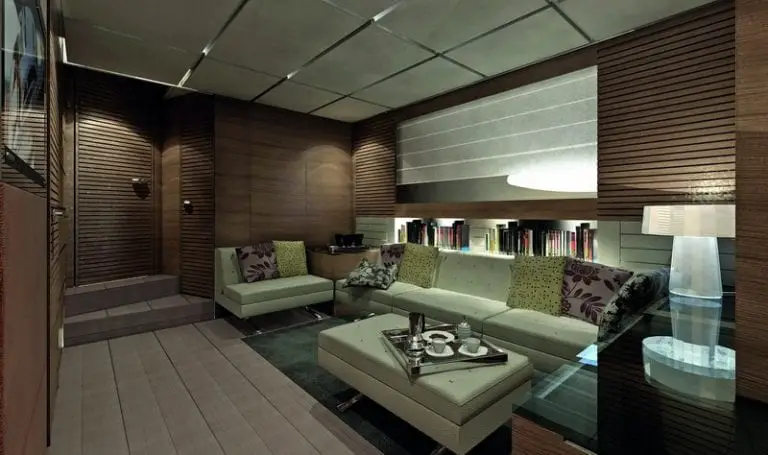 This room example is more like a family nook. The enclosed, dark space is perfect for a bit of rest and relaxation. What's perfect is the minty furniture placed in this chocolate corner which lightens and brightens up the dullness. But it certainly doesn't take away from the covered, safe sense of the darker wood walls.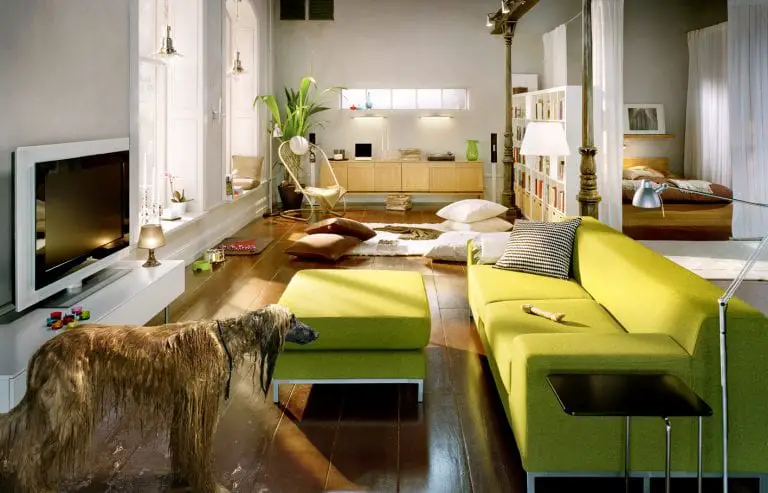 Make your room pop with this chartreuse sofa set! Minus the wet  pet, this space looks like it was designed and made with a family in mind. From the floor cushions to the eclectic mix of textures and neutral tones, it's a vibrant space to rest, relax and have fun in!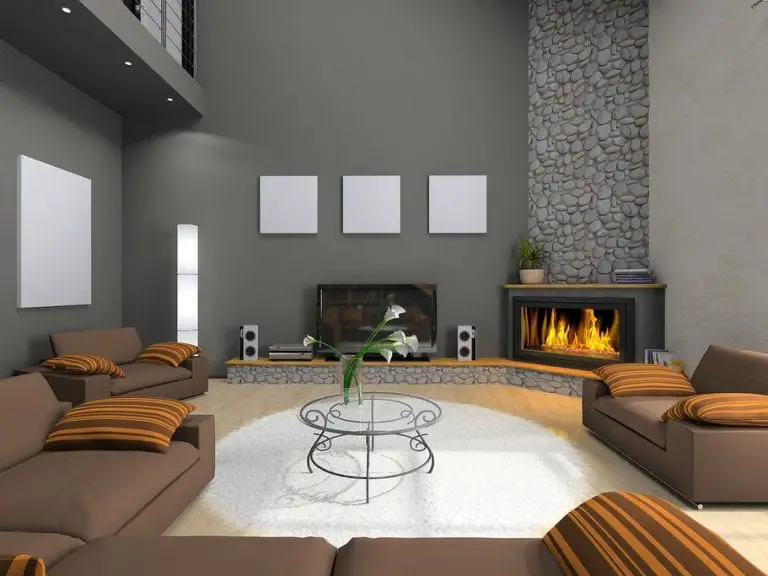 Chocolate browns can, in fact, offset charcoals and grays quite nicely. For a unique mix give your hazey room a pop of neutrality with interest by pairing contrasting subdued tones. But, even if you're going for an ultra modern look, make sure you're going for a set that gives the family the right kind of comfort.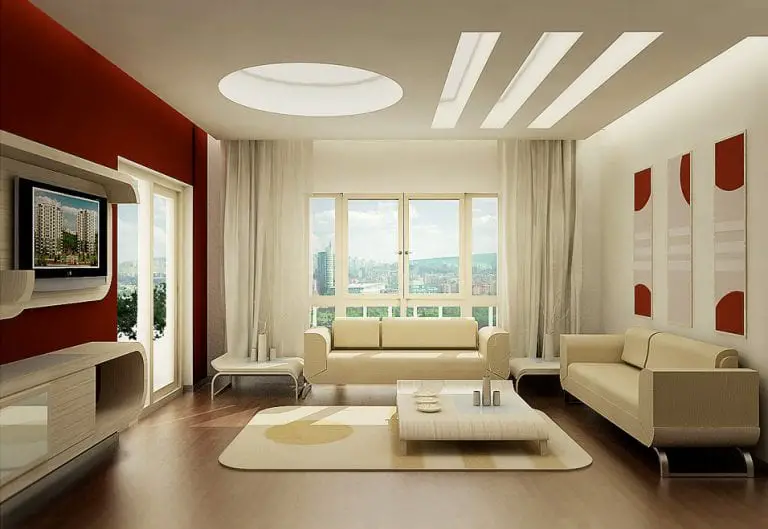 Cranberry is such a unique color to paint walls. Because of its boldness it's usually left for the bedrooms, home offices and sometimes the dining rooms too. But with this gorgeous cream furniture, this design has a light and fashionable essence that's so easy to enjoy.
Again, smaller spaces can make a big splash. This contemporary area if full of posh style and modern appeal but it's still warm and welcoming to any passerby. The fireplace acts as the focus which will always provide the right kind of cozy spirit. And this faux leather furniture blends well with the textured, animal print rug and even the popping color of Andy Warhol's artwork on the wall.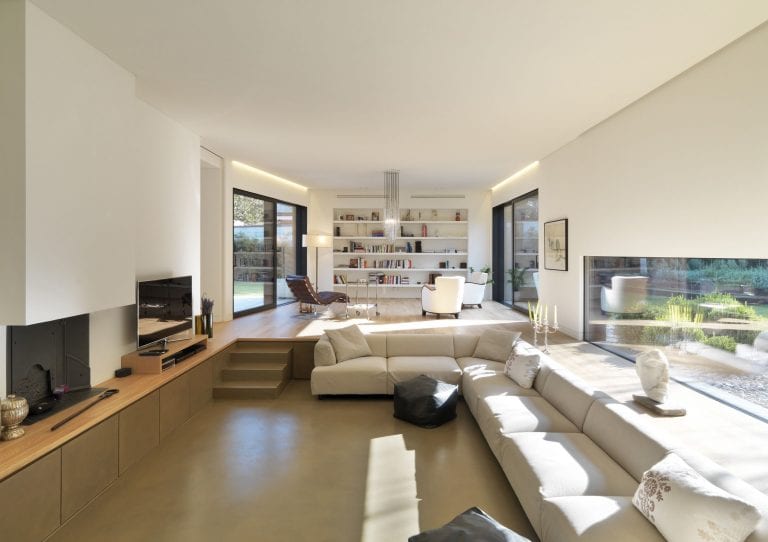 Here's another gorgeous, open and refreshing space. This may be the longest couch that we've ever encountered but it also looks like one of the most comfortable and the perfect furnishing pieces for a movie night. We're loving the monochromatic undertone of the room and the built in bookshelf even more.