In most traditional homes, there are certain spaces and accents around the house that are catered to the most in terms of style. And that usually does not include light fixtures. Sure, we may see a gorgeous chandelier in the dining room, but it's rare that we see special attention paid to lamps used all around the home. And that's why we've decided to take a special look at an essential piece of the way a room can function. Check out our list of 12 designer floor lamps that can jazz up and light up any nook or cranny throughout your home while making a statement about your design acumen.
Funky and ultra eclectic, this design, disguised as a piece of wood, doesn't seem rustic enough to  be placed inside a log cabin. Instead, it's ready to find a home inside a youthful apartment or trendy dorm room. It's got a bit of a masculine vibe but also a very artistic appeal with its innovation and surprising style. An unconventional living room, bedroom or even a creative home office could use a fun piece like this to help your vision come to life.
Slick and ultra modern, this example could easily be placed inside any room of your home, especially inside a bedroom or home office. It's a bit colder in style but can add to a modern room with ease and simplicity. A piece like this really has the perfect blend of contemporary lines and vision with the functionality you need throughout the corners of your home.
[postadv]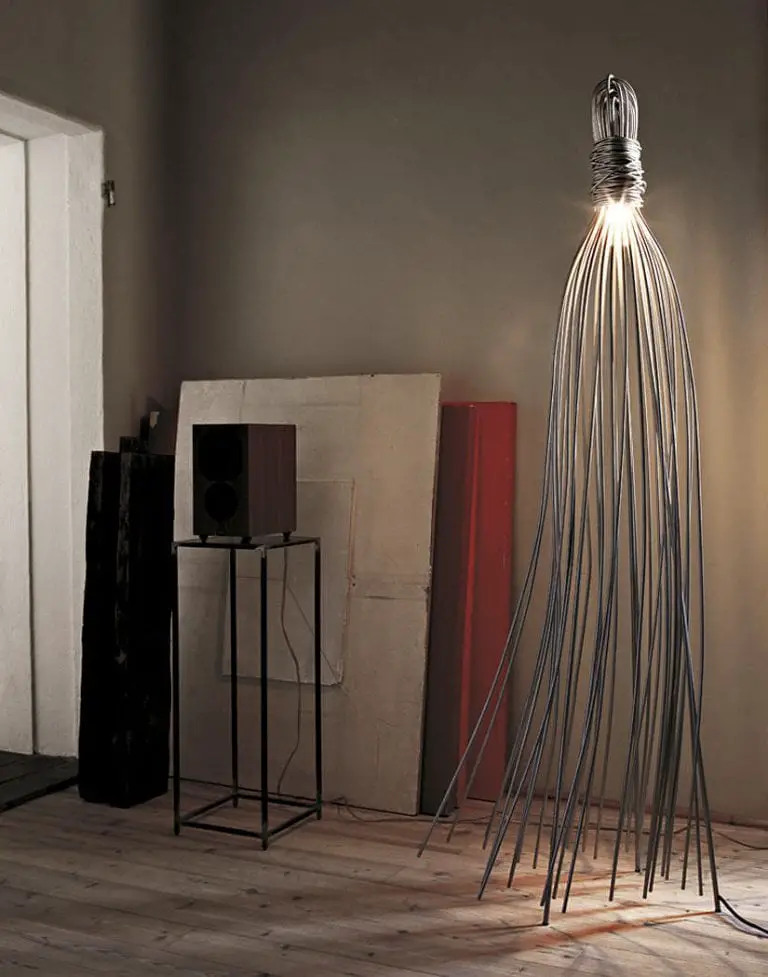 Incredibly creative, this model is all about the designer's vision. It's ultra artistic and not only provides gorgeous, comforting lighting but also a funky, bold focal point for any room you decide to use it inside. And it can truly be used in anything from the living room, a formal space or welcoming guests in a larger and spacious foyer.
Probably one of the most futuristic designs on our list, this curved light strays completely away from traditional. There's no lamp shade or bowl finish, instead there's a beautiful, curved line and it glows! Create a bit of magic inside the bonus room or living area with this eclectic piece as an extra light source.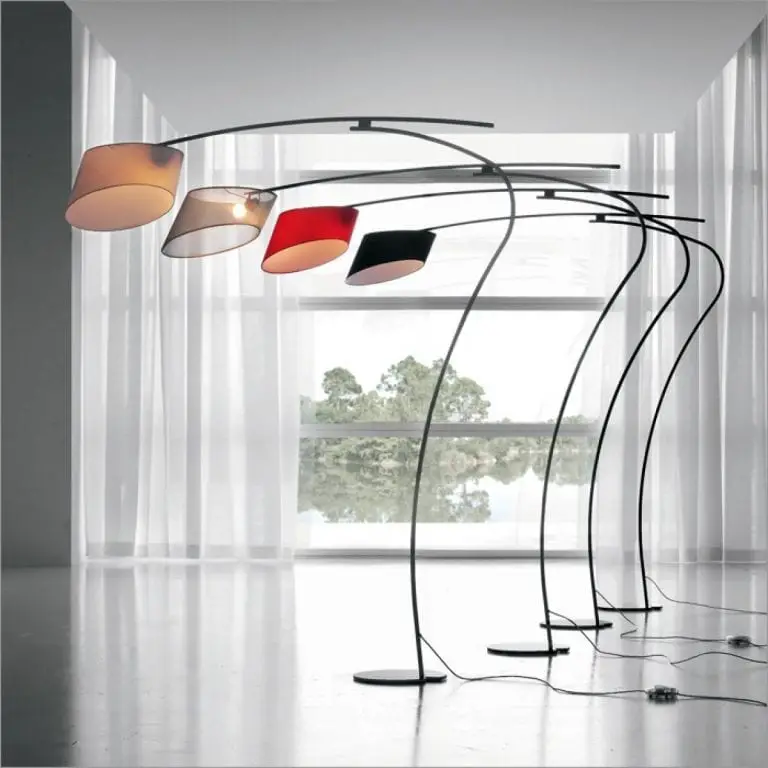 Coming in a variety of shades, this is a bit more contemporary than some of the studio lights we're used to seeing. Uneven shades and larger in stature, this floor lamp has so much versatility. It may be tall but it's not bulky, making it a great choice for any room of the house, including your smaller spaces and fuller rooms.
Here's a beautiful example of what we're used to seeing in the home when there's a modern vision intact. It creates a spotlight wherever you decide to shine and the arc of its body creates a subtle and soft focal point no mater where you decide to place it, even if it's as easy as shining a light on the loveseat or sofa in the living room.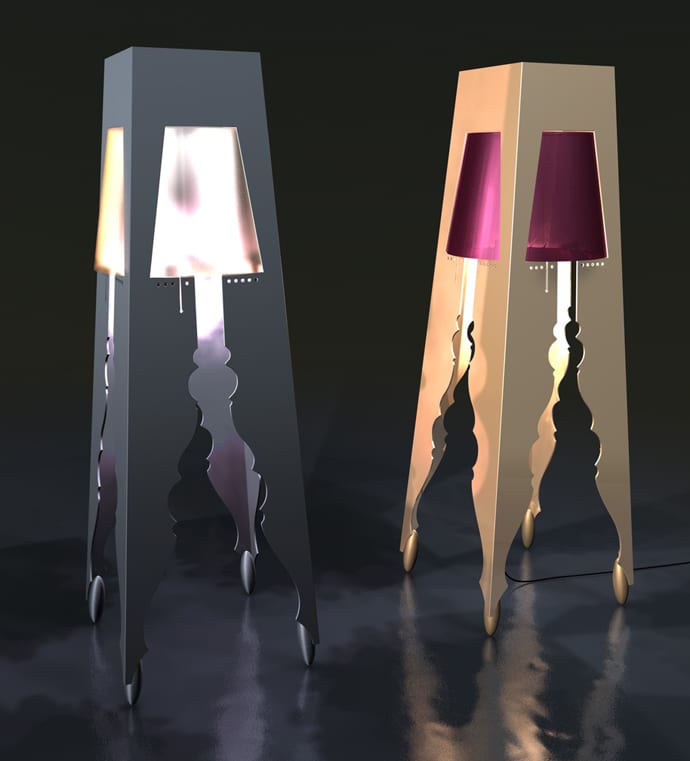 There's so much to love about this design. It's artistic and innovative and takes a traditional feel to a whole new level of style. It's essentially an outline of the usual look but amplified more with the tone, structure and color choice of these particular styles. The light it gives off also has a uniqueness with its warmth and slight coloring.
This gorgeous design acts as both light source and artistic sculpture. It sparkles, it shines and it adds a delicate, feminine quality that most ultra contemporary pieces cannot handle. We love the girlish touch this can add to the most clean-edged and modern of spaces, especially when it has a bit sharpers of finishes.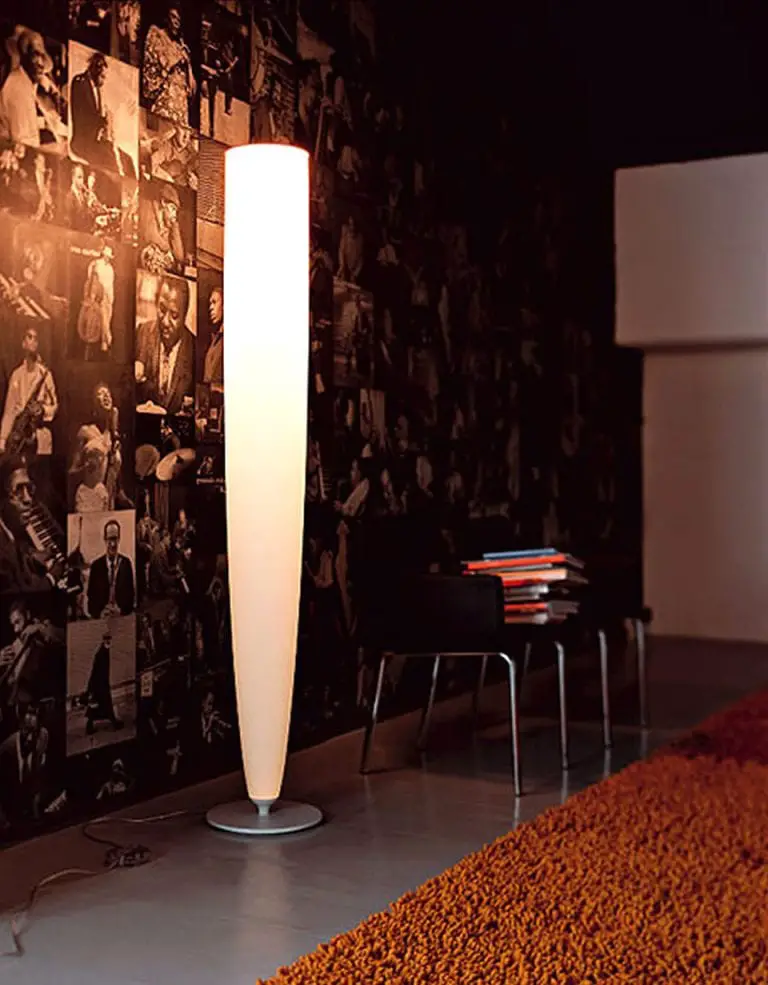 We've seen this similar design on table models, but how beautiful and unique is it when placed in a larger frame!? It's more delicate and and slender as well, making it the right choice for more cluttered spaces or smaller rooms that need the extra light source but still want that sleek, modern vision the rest of the home is dipped in.
Here's another example of how functionality, innovation and style can all combine and create something truly magical. Part art and part traditional in its design, this floor piece will turn heads no matter where you decide to use and display it.