Chandelier Ideas and Pictures
Modern chandeliers can add a wow factor in a home and make a statement piece in a hallway, high ceiling or over a dining room. My favorite thing about them is the artistic inspiration and vision that the designer must have had to come up with such unique and awe inspiring pieces.  When I browse online looking at pictures I can sometimes see where the idea came from. 
The most common thoughts that come to mind are inspiration from nature, space or geometrical shapes. Artistry aside, providing illumination in a home is so important.  A lovely house can be drab if it cannot be seen properly by the human eye. 
The ten examples in article are very different, cool and unique. When you see them in the room setting you can picture what the rest of the place must look like. Have fun and get some ideas while you are enjoying these suggestions from our editors.
A selection of popular Chandeliers
Product prices and availability are accurate as of the date/time indicated and are subject to change. Any price and availability information displayed on [relevant Amazon Site(s), as applicable] at the time of purchase will apply to the purchase of this product.
Prices pulled from the Amazon Product Advertising API on:
1. Large Modern Chandelier Hanging from Vaulted Ceiling
Can you say coral reef or perhaps the roots of a tree?  Nature takes the cake on this one.  I do think this model is wonderful.  It is so very long, but you can imagine that in this vaulted ceiling it is breathtaking when illuminated.
2. Stunning Curly Glass Chandelier
The lady here is posed next to a wonderful example in black with some white striping.  This piece works well over many dining tables.  It's soft touch allows it to not be the central piece in the room, but a nice accent that blends nicely with other furniture, paint and carpet.
3. Hanging Bubble Lights from Very Tall Ceiling
4. Colored Glass Chandeliers
Placing larger lighting like this in a master bedroom is becoming more common.  Think about how much time is spent in this room whether it be sleeping, getting ready for work, watching television or reading a book.  It makes sense to indulge here, because of how important this space is in a house.
5. Origami Inspired Chandelier Over Kitchen Table
6. Alive Chandelier
7. Open Space Chandelier
8. Three Metal Hanging Lights in Different Colors
8. Circular Chandelier Metal Outside with Crystal Inside
9. Stunning Bedroom Chandelier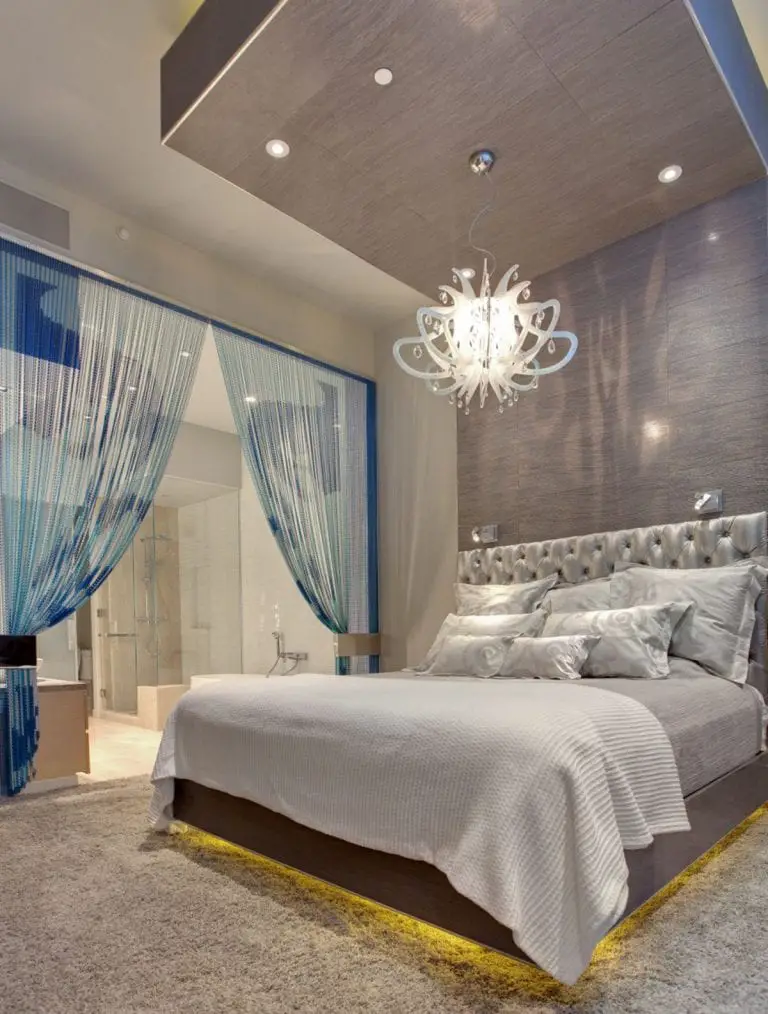 Related Articles: