Daybed Couch Designs and Ideas 2019
Every once in a while, a nap is in order.  Occasionally, we welcome house guests over for a few days.  From time to time, it's lovely to lounge around in a sunroom or on a back patio, enjoying an afternoon cocktail or otherwise taking a moment to relax.  Whatever its ultimate purpose might be, a daybed can be the perfect addition to a space just in case it's ever needed.
Calvin Klein Home Curator Daybed
True to form, the utterly urbane (and widely revered) American designer Calvin Klein wastes no time or energy with fussy details on his Curator daybed, which features the same clean, sleek lines and austere yet oddly luxurious element found across all of his design collections.
With a walnut finish, the 72" x 32" piece comes in left-facing and right-facing models, fitting perfectly into whatever space you choose and easily doubling as a chaise lounge in a more formal living room or communal space.
Not a fan of the excess in anything he creates, he keeps the cushions are simple and spa-like and the overall effect very Zen, leading a bit of a "namaste" feel to everything surrounding it.
$3100 at calvinklein.com. NOTE: This price was in 2011. It may have increased in value by now.
Daybed Folding Chair Lounge from Cerutti Baleri
Cerutti Baleri knows modern furniture designed for glamorous environments but they also know form and function as seen here in the "Drop" folding chair / daybed / lounge.
This versatile concept by designer Leonardo Perugi is one style you would see if you visited the Cerutti Baleri showroom at the Milan Furniture Show. Since most of us can't make it I thought I would bring you some pictures, hope you enjoy.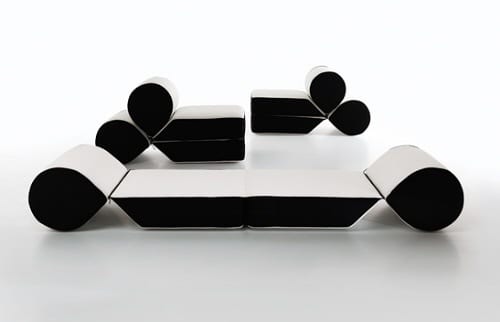 The 56 Daybed by Ron Gilad
Designer Ron Gilad has done far more than create a day bed.  We should not miss his contribution for what it truly is: a work of modern art. The 56 Day Bed has the shockingly unusual design of a sleek, single-button mattress cushion supported at each corner by the bistro-style Thonet Chair no. 14. 
The artist describes his concept. While creating pieces for Adele-C I allowed myself the freedom to play with extreme irony and scale while maintaining the balance between the useful and the abstract; going all the way to the edge of the cliff but not jumping off.
The "56" collection started with two functional objects; one for resting and the other for storage. My task was how to elevate these functions, both literally and conceptually. The past came to my rescue.
Appropriating Thonet chair no.14, shrinking it and reproducing it in steel, allowed the stability for it to function as a support.
We illustrate here the visual illusion of scale: the day bed seems far too large and heavy to rest on miniature chairs.  Not only is the juxtaposition unexpected, but it seems impossible.
Thanks to the careful engineering of the steel, however, Gilad can construct his creative vision with total stability.  The 56 Daybed by Ron Gilad will undoubtedly elicit surprise from all who see it.  It fully embraces the sense of irony of scale without losing its inherent functionality as a bed.
The Passantino Daybed
Art Deco Period Leather Settee
Jean-Marc Fray French Antiques Specialist
Atwood Daybed with Trundle
Barcelona Day Bed via Indochine Decor
Circular Daybed from Ballard Designs
Gong Daybed from Minolochi
Marais Daybed by Molteni
Maui Modern Daybed via Haus USA
One-Arm Case Study Day Bed
Stark White Gandia Blasco Day Bed
Phillipe Hurel Brompton Gate Daybed
Seeking the right furniture piece to sit on, lounge on, or take a nap? Try the Brompton Gate daybed by Phillipe Hurel. While daybeds come in all shapes and designs, it brilliantly stands out from the rest.
It offers a high level of comfort and has a striking look that fits in any space. They make the relaxing bare backrest with vertical wood pieces that create a comfortable seating area for you and your guests.
A white hue accents the structure and gives the daybed a pure and natural look.
Soft pillows and seat cushions make the Brompton Gate daybed by Phillipe Hurel the ultimate relaxation spot. The piece has 4 throw pillows, 2 seat cushions, and 1 bolster pillow for added comfort.
The cushions and pillows come upholstered with high quality materials for superior support. The Brompton Gate has a sturdy wood structure which forms the armrests and legs. The legs are short and thick and contrast beautifully with the backrest.
A daybed is a lovely piece of furniture ideal for any space. It is highly versatile and is both aesthetically pleasing and functional. It can help you shape your space and make it more comfortable and inviting.
It can also help you make the most out of a small space. When you want a daybed that will make a welcome addition to any room in your home, go for the Brompton Gate daybed. It will create a comfortable seating area that complements your home perfectly. Can't you see a relaxing evening ahead in the Brompton Gate?
Leif Joergensen The ONE Daybed
Funky, fun, and geometric describes the daybed by ONE. Incorporating shapes and organic themes is the focus of this collection of minimalist upholstered furniture. Manufactured by Hay and creatively designed by designer Leif Joergensen, the daybed by ONE is like nothing you've ever seen before.
Inspired by a burning ambition to create and design something different and to invent a brand new style of furniture, Leif Joergensen developed the concept of the daybed by ONE.
He created a new idiom. The daybed, and its sister pieces in the collection are hollow, monolithic and sculptural. Appearing like a piece you would see in a museum, the ONE daybed is simple, fluid, and contemporary.
Unlike traditional lounge furniture which is a solid platform that stands on a base, the ONE daybed goes against all features of traditionally crafted furniture. A monumental appearance of the daybed, like other pieces in the collection, is that the pieces look as if they are growing right out of the floor.
Long, flowing and continuous lines give the daybed feeling of calm and peace; yet the piece is dynamically contemporary.
Organic yet showcasing obvious geometric elements, the daybed by ONE is a masterpiece. Available in a wide range of bright and vibrant colors, the daybed will coordinate with any modern color scheme. Architecturally beautiful in its form and design, the daybed by ONE would hold its own in any museum of art.
Dekka Daybed Danish Modern Furniture By FurnID
The Dekka Daybed is not what you may envision when you think about a typical daybed, rather a modern interpretation that features minimal construction and the combining of Danish Modern design and the Arabic Culture.
Originally designed by FurnID for a design competition, the Dekka Daybed produced by Fredericia Furniture in which a solid aluminum frame hewn from a single piece in a 40 hour process and then upholstered by hand, the perfect combination of new and old world craftsmanship.
See more of the creative modern furniture from FurnID.
Height: 30 cm Width: 90 cm Length: 200 cm
Wood Frame Sofa Lounger Daybed from CB2
The Finn Sofa Lounger / Daybed from CB2 has a nice deep seat for some serious relaxing and a stylish wood frame that will hold a lot of throw pillows to surround yourself with.
Featuring solid Ash Wood frame with espresso finish accented by natural cotton jute covered cushion and removable cover.
Dry Clean Only $1,099.00 from CB2.com
DWR American Modern Daybed
The American Modern Daybed based on the George Nelson design from 1948 shows the "less is more" concept in action. Nelson's timeless straight forward daybed design has today's manufacturing techniques and FSC-certified solid maple wood.
The Modern American Daybed features open slat design for circulation, removable back cushions for added space, and removable covers by Maharam for easy cleaning.
Price $1785 in 2009. Find one now and you could bag yourself a bargain.
CB-41 Modern Daybed by Craig Bassam and Scott Fellows
The classic modern daybed offers flexible seating options and the CB-41 by designers Craig Bassam and Scott Fellows makes it look great. The CB-41 daybed features rich grained exotic oil finished woods including Teak, Rosewood, Walnut, and Ash, a low profile hand sewn leather cushion, and a solid brass backrest mechanism that adjusts to three positions.
You can change the light frame from daybed, bench, or lounge with ease and quickly accommodate your current seating needs in a flash.
76 3/8″W 33″D 11 3/4″H
Cot Daybed Patio Furniture for Serious Lounging by la-Fete
The Cot Daybed patio lounge system from la-Fete will add comfort and style to your back yard enjoyment this summer. They construct the fully upholstered construction made in California.
Patio furniture is a must of 95% recyclable materials including light-weight and durable, strong structural foam and all-weather premium yacht grade vinyl featuring a patented polymeric technology.
It places together movable lean bolsters as a headboard or on opposite ends of conversation lounging, and a lightweight structure allows you to move from the pool to a nighttime gathering on the beach.
Ships fully assembled from PlushPod.com
Cot Daybed: $1360 36″ W x 80″ L x 16″ H 39 lbs
Stand $740 (daybed corner/ottoman): 36″ W x 36″ D x 16″ H 20 lbs
L-Roll $480 (L-cushion): 34″ L x 34″ W x 8″ diameter 5 lbs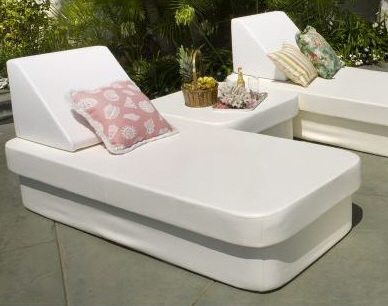 Daybed by Dune Furniture
If you are looking for bright colors with a modern look, the Flip Flap daybed may be just the piece for your living room. My favorite feature on Flip Flap is the super magnet that holds the cushion.
They can adjust the cushion into any position while the super magnet is strong enough to hold it in place. This is wonderful since you can see that the daybed can become a nice chair or a longer chaise type chair depending on which side you sit on.
Flip Flap designed by Ana Mir constructed of polyurethane foam over a wooden frame with stainless steel legs.
Daybed Sofa Chair in One Flexible Scroll
For a small space such as an apartment or loft a piece such as "Scroll" is a wonderful addition. For me, I like to enjoy sitting in many positions to include lying down, sitting up, and reclining.
When you have limited space, you may not furnish a room to allow for all forms of seating. This is a big reason I like Scroll from Cor. Scroll is a daybed allowing you to lie down to watch TV.
It is also a sofa that can be prominent in a living room. It can also be a chair when it is just you relaxing in the home. The color choices are very neutral allowing for many options to decorate your apartment or loft.
Scroll also comes in different sizes depending on how much width you can allow in your space.
Daybed by Manheim-Ruseau
With inspiration from the 19th and 20th century archetypes, designers Jamie Brown and Jeffrey M. Swiggart set out to develop a fine furniture collection for Manheim-Ruseau which borrows from the European movements and encompass styles of Art Deco and intricately carved interpretations of English, French and Italian antiques.
One of my favorite pieces from the Revisions collection is the Menville Daybed that features Mahogany with Gilt accents. This day bed looks like one of those pieces that may not get used a lot but it will definitely add a nice touch of class to any traditional interior decor.
The entire Revisions collection by Manheim-Ruseau includes arrangements in beautiful hardwoods, and comprises tables, seating, and accent pieces.
W 41.1/2″ x L 96″ x H 40″ COM 14 yards
DayBed Lounge Chair ANTIDIVA Italy
In addition to their super clean ultra modern sofas ANTIDIVA of Italy also takes lounging to the next level with the "Micama" that fits into their Relax/Various categories.
I can't say I have seen anything like it and it is certainly not for every one or every interior design scheme, but it sure looks comfortable. As you can see the Micama Modern Lounge Chair takes on radically different looks when displayed in the black alligator print and red vs. the much tamer monochromatic neutral.
Personally I like the diversity of the design which allows the user to get comfortable in a variety of positions. If you like modern furniture then the new collection from ANTIDIVA is a must see.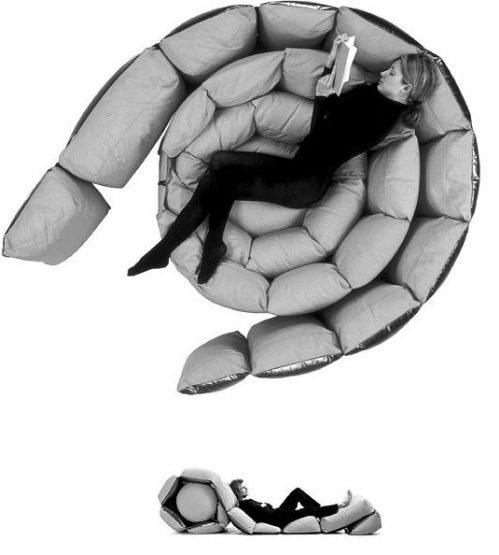 Nea Studio Modern Twisted Sofa and Daybed
Here is another outstanding original furniture design from Nina Edwards and her Nea Studio collection that is sure to be the focal point of any room it graces.
The Twisted Sofa appropriately named is perfect for a modern interior that focuses on great looks and versatility. The flexible fabric covered L shaped Twisted Sofa incorporates a daybed and a seat on the backside for a most versatile seating concept.
After much testing, they chose two types of foam, a firm foam for the seats and a softer foam for the back rests making a comfortable experience, uncommon for a sofa possessing such dramatic visual appeal.
Case Study Daybeds for Small Space Living
Take advantage of the Case Study Daybed Couch series. These light and good looking couches easily convert into a comfortable bed in seconds with removal of bolsters.
Case Studies 1.5 inch thick wood frame is available in blonde, walnut, or dark walnut with metal or matching bent wood feet and a large selection of fabrics.
Case Study Daybed Couch $1990
One Arm Daybed $1890
Optional Corner Table $450
Bed Dimensions: 27H x 77W x 33L
Available from Modernica
Bedding on Demand with Daybeds and Trundles
How can you argue with proven success, and a history that dates back to 1855? Charles P. Rogers & Co. has been making every kind of bed you can think of from a canopy, sleigh, brass and hand forged iron, and daybeds, just to name a few.
The Charles P. Rogers line encompasses beds in several categories from contemporary to traditional, with a platform or standard mattress and box spring arrangements. The stylish daybed shown here is the perfect solution for extra bedding that can double as a sofa in a room not reserved as a bedroom.
Besides the top sleeping surface, a pop up trundle bed stored underneath which rolls out and lifts to be level with the daybed surface, doubling the bed size.
Daybeds and trundles are available in a narrow 33″ or standard 39″ twin sizes.
Curl Daybed from Darin Designs
I know a lot of you think of daybeds as a more mainstream piece with a far less modern look, so here is a chance to expand the old thought process. The Curl daybed from Darin Designs is the beautiful creation of designer Aziz Sariyer who knows nothing about ordinary.
Using the finest Danish materials and solid wood frame the Curl is not only eye catching, but quality made. measures 84.25″ length x 27.5″ deep x 23″ height; seat height is 15″
Available from Retromodern for $2990.