We're an affiliate
We hope you like our recommendations! Just so you know, we may collect a share of sales or other compensation from the links on this page. Thank you for using our links, it is much appreciated.
The flooring of your bathroom isn't the only place that you may need to or would think of using tile. Whether it's the shower or a back splash detail that enhances the overall theme and vision of your space, you'd be surprised what this type of accessorizing can really do to the room. We've took it upon ourselves to compile an inspiring list of homes that used bathroom wall tile ideas to the absolute fullest. From mere accents to entire accent walls, you'll get a great grasp on all the ways you can use tile to create style and fashion-forward energy into the powder room. Let's take a peek at these amazing ideas and designs!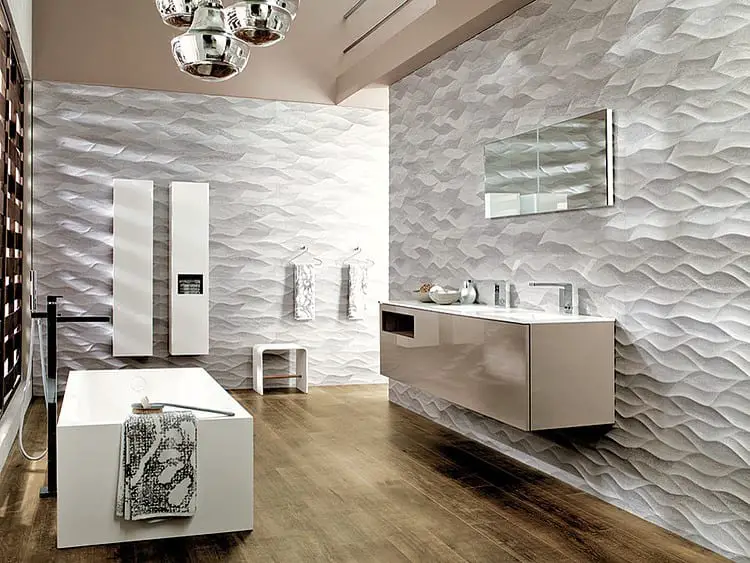 We love the muted look and relaxed feel of this master bath. Highlighted by simple creams and modern, clean-edged pieces, such as the stand-alone tub and floating sink, this room feels couture when in comes to the interior design world. It's a bit brave and bold, but fits the mold perfectly for a space that is meant for a bit of R&R.
A more traditional and homey feel, but still very chic and sophisticated, this golden-cream bathroom is a stunner. Notice how the design on the walls have made to be more of an artistic choice than even its functionality. We love the shining designs, rope accent and floor to ceiling blending that's happening throughout the whole room. It's a very clean and simple way of decorating with vision.
[the_ad id="83444″]
Blue and vibrant, this space is big enough to host a variety of people at once – even though that may not sound too thrilling, we love how spacious and open the room is. But, we really love the crackled tiling that's accenting the contemporary tub! It makes the more traditional tile on the floor and walls pop with a youthful pizzazz, don't you think?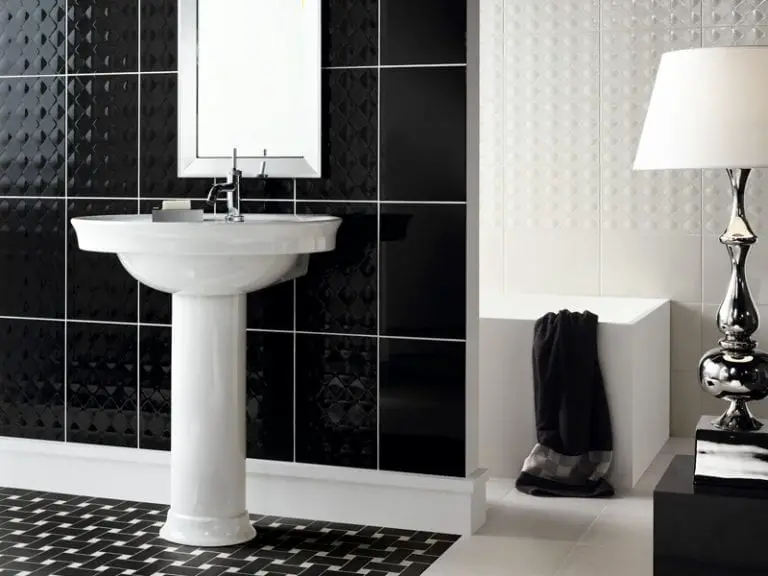 Black and white will always be a classic color combination and will always look good, no matter the room or the style you choose. And when it comes to this modern masterpiece, we can't help but swoon. The space looks great for a variety of reasons including: the contrast and complimentary features between the two main walls, the smooth shine and the textural finish that makes it a more interesting to the eye and in design.
If you're looking for a more zen style, check out this interesting idea. With an easy, Asian flair your bathroom could too have this simple yet elegant and organic look. The mix of small and large sections gives off an artistic vision, but the colors and simple shapes keep the overall ethos subdued with a no-fuss attitude. The colors speak of a more casual and natural look as well.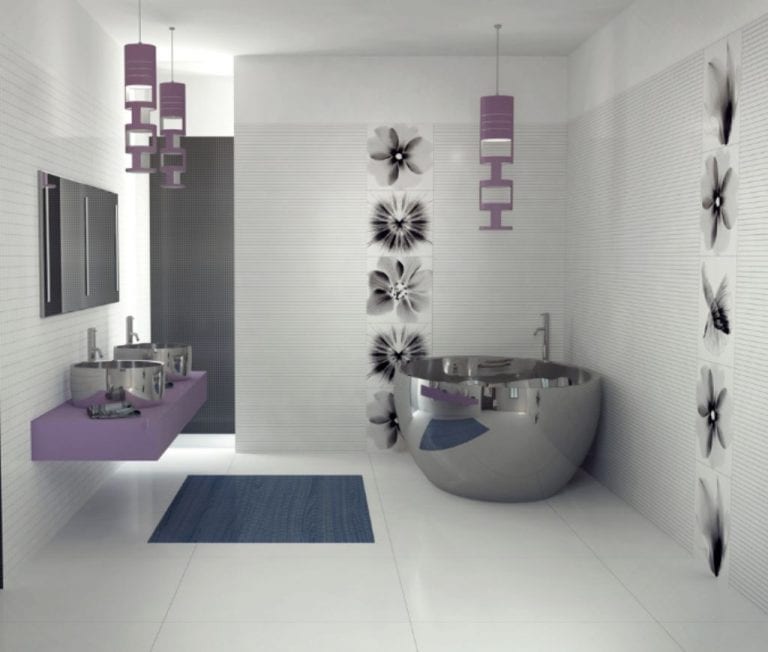 Here's another example of a super modern, almost futuristic, styled bathroom. Between the steel sinks and bathroom, there's no room for traditional placements, you have to go full speed ahead with a contemporary vision. The floral pieces give off a feminine, touchable appeal awhile the horizontal, chic shapes help give it a sleek, yet interesting flair.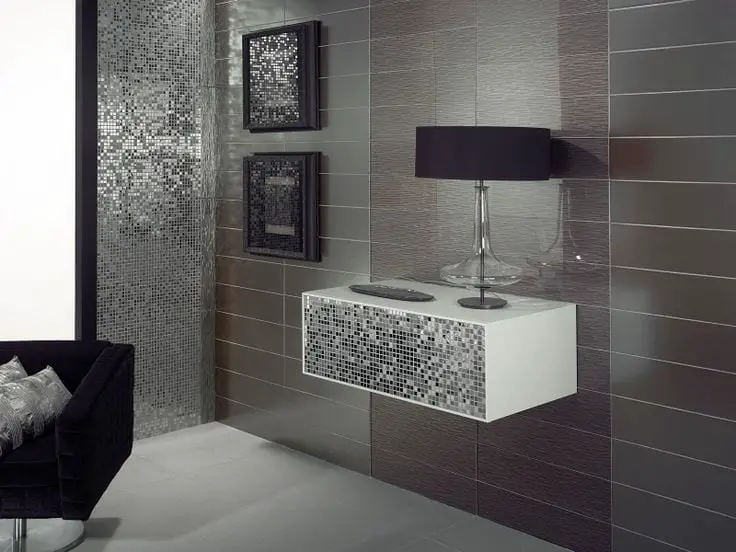 Add a bit of sparkle to your bathroom with this type of silver and shine! Of course, it again, takes the more modern route in terms of theme, but that's what we love! It's elegant, it's sophisticated and with a beautifully feminine appeal. We don't suggest covering an entire room with this kind of tiling, as it can overwhelm smaller spaces and the eyes, but we think using it as an accent piece would be a stunning option.
Regal with a slight Victorian inspiration, take a look at this plum and cream bathroom! This combination creates a smooth foundation for the delicate designs making their way around the room and the canopy over the bathtub, you or your guests will feel like they're being treated like queens and kings!
Like its predecessor, this design has a slight royal flavor rounding it out. One of our favorite combinations is gold and black, it's sophisticated and bold and holds a certain amount of confidence that's very intriguing – which works in bathrooms too! All three of these choices work well together, even more so than they would work on their own as they're all complimenting and enhancing the next.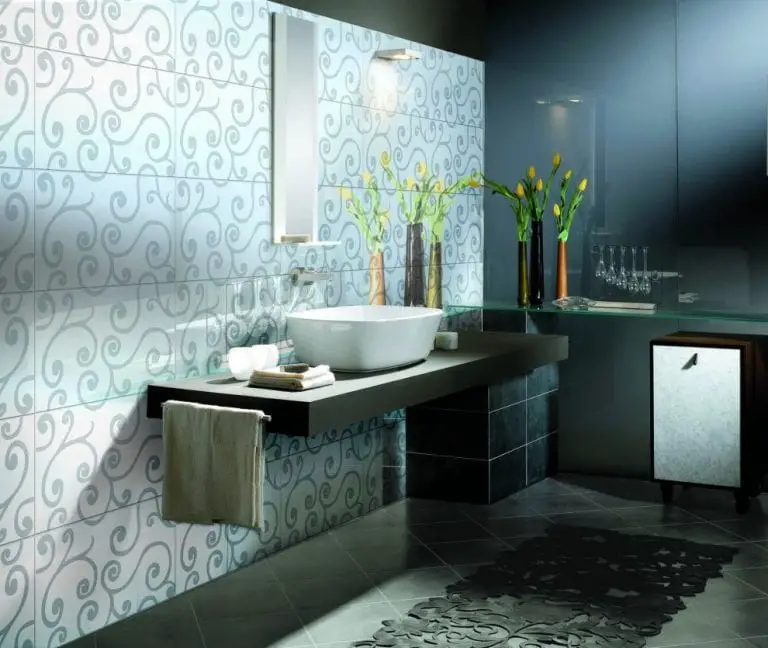 Probably our favorite of the entire list, this curly cue style is so charming and light. But its biggest benefit is that it's not kitschy or too juvenile to use in a master because of its coloring and pairing with the traditional, solid black. It creates a youthful and fun vibe without missing a certain amount of posh appeal.
You'd be surprised how many choices there are that come with designs and artistic enhancements. It's not always about texture, color or size, instead it can be about vision. This modern tub has a very mid-century feel with its mixing of old-age spirit and futuristic finishes. But the accent wall covered in a unique design choice is what we are swooning over.
Check out this space! There's so many ideas swirling around this room, we don't even know where to begin. From the shower to behind the tub all the way over to the vanity, there is a unique choice made for that space. The choice in this one acts as wall art to enhance each and every section of the room.
A mix of marble and mirrored tiles makes this contemporary room pop with style and texture! Although it's a smaller space than most of the bathrooms we've been looking at, it still works! And it works because it was done in a neutral shade, if these choices were made with color the area would no longer look interesting, and instead chaotic and tiny.
Sometimes chic and clean is truly the way to go and this masculine, contemporary bathroom is one of those examples. Large charcoal sections make a beautiful foundation in this simple space. If done in more traditional, smaller pieces the room would look less subdued and relaxing and more chaotic to the eyes, taking away from its mellow vibe.
Wow! This is a great idea and inspirational piece for those looking for a youthful and more fashion-forward style. This purple is beautiful, but we can easily imagine this design done in the same way in a variety of different tones from teal or lime! It's chic and clean but has a definite design-worthy, trendy appeal. It's all about the glossy shine!