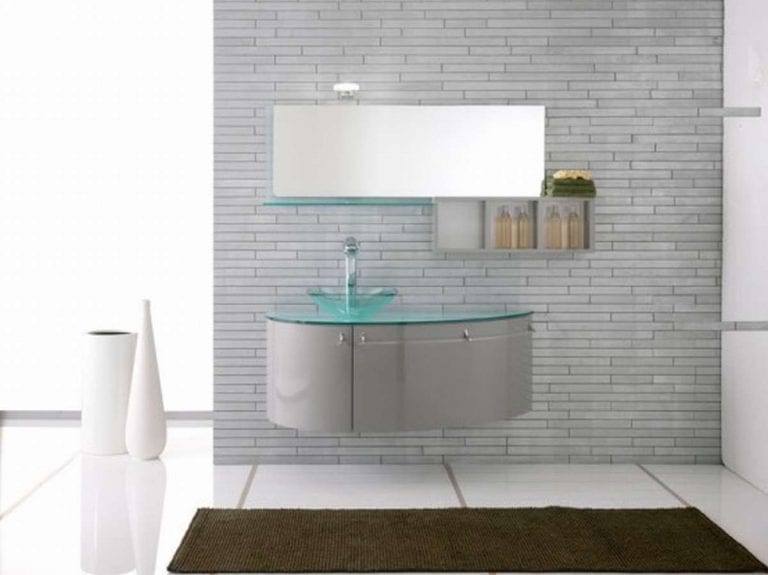 Updating Your Bathroom Furniture
Is your bathroom looking a little outdated and tired? With the right small updates to your bathroom's furniture and decor, you can give the space a complete makeover without a full renovation. Read on for simple ideas to update your bathroom furniture that will have it looking brand new.
Replace Medicine Cabinets for a Streamlined Look
One of the fastest ways to update your bathroom's look is by replacing an old, bulky medicine cabinet with a new streamlined version. Medicine cabinets with thick, visible frames instantly date a bathroom.
Opt for a frameless medicine cabinet with a thin trim or no trim at all. This gives a clean, minimalist look and makes the space appear larger. Glass shelves in the cabinet also contribute to the airy aesthetic. Make sure to choose adequate storage space for all your essentials.
A frameless medicine cabinet doubles as a mirror and opens up the vanity space. For more functionality, look for cabinets with charging stations, lighting, and slide-out magnifying mirrors.
Freshen Up Existing Cabinets with New Hardware
Replacing all the cabinets in your bathroom is a big project. For a budget-friendly refresh, upgrade your existing vanities and cabinets with new hardware instead.
Swapping out old knobs and pulls for new cabinet hardware can completely change the look of your cabinets. Sleek glass, brushed nickel, oil-rubbed bronze, and matte black hardware suit modern bathrooms.
Keep the aesthetic cohesive by choosing hardware in the same finish for all cabinets and drawers. Completing this easy swap lets you update the room's style without the hassle of installing brand new cabinets.
Give Vanities a Fresh Coat of Paint
Tired wooden vanities are prime candidates for a paint makeover. With just some sandpaper, primer, and a can of paint, you can refinish a bathroom vanity and give the whole space a lift.
Opt for a vanity paint color in a light, bright hue like cloud white, baby blue, or sage green to keep things fresh and airy. Neutral grays and blues make relaxed choices too.
Before painting, make sure to remove the existing hardware and thoroughly sand the cabinets to help the new paint adhere properly. Use painter's tape to mask off areas you don't want to paint. Apply 2-3 thin coats allowing proper drying time between coats for a smooth finish.
Install New Bathroom Vanities
If your current vanity is falling apart or you want to change the look entirely, installing a new vanity is one of the best ways to update your bathroom's furniture. When choosing a new vanity, keep the following tips in mind:
Seek out clean-lined vanities with drawers and cabinets to maximize storage space for towels, toiletries, and other essentials.
Look for a counter depth and width that fits your space's footprint and allows plenty of counter area on each side of the sink.
Select vanities made of water-resistant materials like engineered wood, laminate, or waterproof MDF. Stay away from real wood, which can warp.
Make sure it's the proper height. Standard vanity height is 31-34 inches tall. Measure yours to get the right fit.
Choose a sink with the right basin size, countertop material, and faucet holes for your needs.
Section Off Vanity Space with Trays and Organizers
A quick and easy upgrade for your existing bathroom vanities are trays and organizers. Clear acrylic or wire trays instantly neaten up clutter inside cabinets and drawers to make your morning routine more efficient.
For the countertop, try rectangular trays to corral smaller items like cosmetics, cotton rounds, and perfumes. An organizer with built-in compartments is great for neatly separating toiletries. Matching your trays and organizers creates a unified, polished look.
Over-the-door hanging racks or shelves provide additional storage next to your vanity. Use them for rolled washcloths, hair products, first aid supplies, and more.
Upgrade Lighting Fixtures for Style and Function
Better lighting can make a bathroom feel clean and airy. Check out these go-to upgrades:
Pendant lights – Hang a pendant light or mini-chandelier above your vanity for an instant style boost. Opt for clear globes to enhance brightness.
Sconces – Mounted on each side of the mirror, sconces provide ideal task lighting. Go for wall sconces with an uplight or downlight feature.
Under cabinet lighting – LED strip lighting installed under cabinets illuminates the sink and counterarea with a soft glow.
Lighted mirrors – Vanity mirrors with built-in LED lights make self grooming easy while adding ambiance.
Don't forget to swap out an old ceiling fixture for a new one that better fits your decor. Add a vent fan if your bathroom lacks proper ventilation. Proper lighting keeps bathrooms safer and more functional.
Re-Caulk and Regrout for a Refreshed Appearance
Replacing old, stained caulking and grout makes a big difference. Over time, the caulk around bathtubs and tile grout becomes grimy and discolored.
Use a grout saw or caulk removal tool to get rid of the old material completely. Make sure the area is clean and dry before applying new caulk and grout. White caulking and groutSuit best for a light, clean look.
Take care to apply new grout and caulking evenly and smoothly. Wipe away any excess for neat lines. This refreshing maintenance can make your tiles, tub, and fixtures look brand new.
Shop for Coordinating Bath Accessories
An easy way to tie a bathroom together is by shopping for a new set of matching accessories. This includes shower curtains, rugs, towels, and other accent pieces.
Buy multiple bath towels, hand towels, and washcloths in one color and pattern. Hang a shower curtain that pulls the look together. Make sure to get a matching fabric liner for the backside.
Bring in a soft bath rug that complements your new fabric accessories. Bins, soap dishes, and wastebaskets also come in matching sets for a pulled together aesthetic.
Paint Walls a Soothing Color
A new coat of paint alone can give your bathroom an instant transformation. When choosing a bathroom wall color, aim for hues that evoke tranquility and relaxation.
Light greens, airy blues, and muted grays work beautifully. Accent walls in darker, richer tones can add depth. Always opt for matte finishes, as glossy paint highlights flaws on uneven walls and ceilings.
Before painting, properly prep and prime the walls for best results. Painter's tape helps create clean edges and stripes. Display your favorite relaxing colors with a makeover paint job.
Install New Flooring Over Tired Tiles
Tiled bathroom floors eventually become stained and cracked with age. Covering over outdated tiles with new flooring overlay is a cost-effective makeover strategy.
Two of the best options are luxury vinyl plank (LVP) and sheet vinyl. These floors resist moisture, are easy to clean, and mimic natural materials like wood and stone.
Make sure to prep the subfloor properly before installation. Coordinating your new flooring with wall paint and accessories results in a cohesive upscale look. Updating the floors makes a huge impact for relatively low cost.
Q&A About Updating Bathroom Furniture
Still have questions about giving your bathroom an upgrade? Check out these common questions and answers:
Q: How much does it cost to update bathroom furniture?
A: Prices vary, but minor updates like new hardware or lighting start at $50-200. Full vanity replacements cost $200-1000.
Q: Should I update my bathroom floor or walls first?
A: Floors provide the foundation, so they are the optimal starting point. Then match walls, vanities, and decor to your new floors.
Q: Can I install a bathroom vanity myself?
A: With some DIY skills, you can handle a vanity installation, but plumbing work should be left to professionals.
Q: How do I make a small bathroom look bigger?
A: Use lighting, mirrors, and glass/metal materials to open up the space. Stick to light wall colors. Avoid clutter on counters and floors.
Q: What are trending bathroom colors and styles right now?
A: White and light gray schemes are popular. Black metal hardware and fixtures add flair. Natural wood vanities are on trend along with industrial and minimalist styles.
This covers the key ideas and strategies to refresh your bathroom by updating the furniture and decor. With these simple makeover tips, you can transform your bathroom into a soothing sanctuary without the hassle or cost of a full renovation.
Related Articles: