We're an affiliate
We hope you like our recommendations! Just so you know, we may collect a share of sales or other compensation from the links on this page. Thank you for using our links, it is much appreciated.
Are you renovating your kitchen or trying to figure out ways to jazz it up and add extra bits of style and pizzazz? Back splashes add so many wonderful benefits to this popular spot in the house. It's functional as it keeps walls from dripping with grease and food stains from behind the sink and stove, it's acts as an accent wall providing artistic inspiration in a surprising way and it also helps to transform the room into the vision and theme you're aiming for. So, let's take a look at 15 modern kitchen back splash ideas and designs that will inspire you and give you some great, fashion-forward ideas!
We like to think of this tile ideas as the perfect mix of both modern-masculine flavors and a bit of Asian zest. It's cool and comforting, compliments the light foundation while giving an interesting, textural purpose to the space, but is still very subtle and relaxing for a simple kitchen design. It'll also protect the wall from any spills and flying oils that come from the stove top.
Neutral, traditional tiling offset by  a bit of golden flair, we love this easy addition. It gives it an elegant, sophisticated sprucing without straying away from the family-friendly style. This monochromatic look makes for a very warm and welcoming space that all of your friends, family and dinner guests will be sure to enjoy.
[the_ad id="83444″]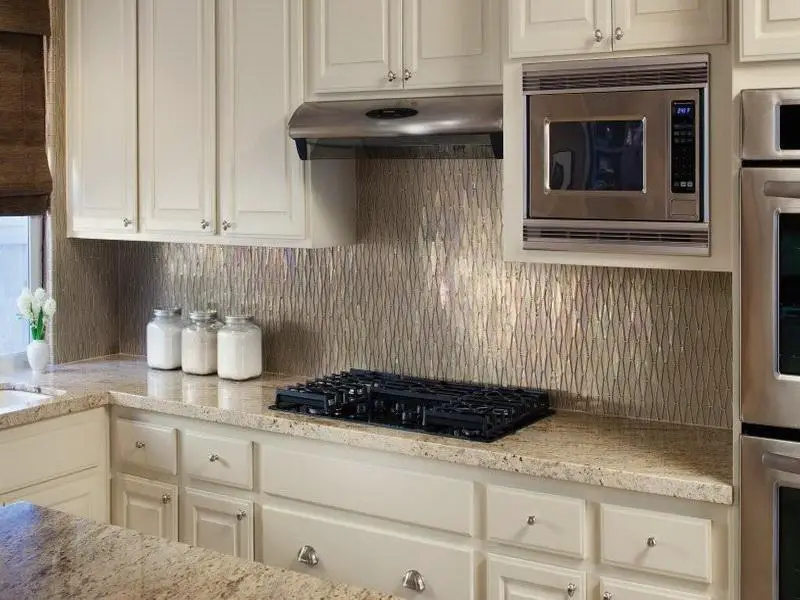 For a bit of sparkle and shine, try a tile such as this! It's got a distinct feminine touch but with a very contemporary style mixed right in. It takes this more traditional, cottage-esque design and transforms it into a more modern space. Of course, it doesn't take away from the overall quaint and delicate feel of the rooms foundation.
Masculine with a very loud, design-worthy flair, this one is contemporary in the most fluid of ways. The soft, gray tiling that covers the furthest wall helps to compliment and pop the smooth wooden cabinetry. It also enhances all of the counter tops and stainless steel appliances making for a very interesting and sleek overall style.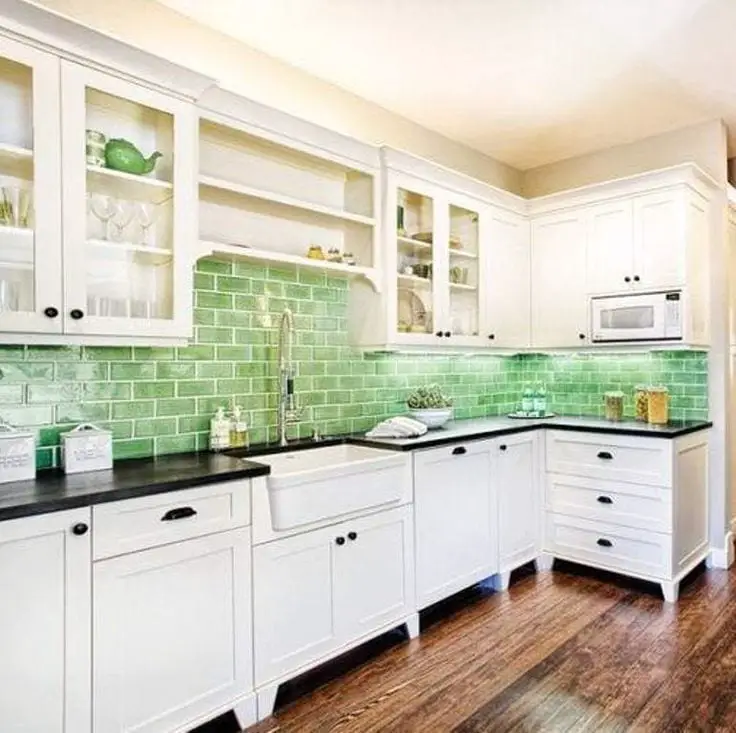 Wow! What a surprise this pistachio tiling makes throughout this clean design! First, the black and white cabinets set the stage for a simple and modern style. But, when the green, brick tiles are added to the background the entire room pops with wonder, whimsy and completely personalized touches.
We are loving this posh and smooth monochromatic decor. Dressed in hazy gray with enough texture and mixed elements to stay interesting, your apartment or small home would be enhanced in such a fashion-forward way with is addition. Check out the detailed, multi-shaded tiling in the background as well, which helps to create a more artistic finish to an otherwise too smooth room.
If you're looking for something a bit more eclectic or unique, you may want to check out this space in detail. From the organic, natural-finished cabinets and its stainless steel counterparts for the purple tiling that sets it all off in a trendy, hipster-esque way, this space is full of vibrancy and outside-the-box appeal. Remember, this type of tiling is quite easy to find, but what's important is finding a color that suits your home.
This is a more traditional back splash tile, and may be exactly what you need for your smaller spaces. Made with neutral shades that pop, these slender, horizontal pieces help to add just a bit of interest to a very cozy, welcoming feel that doesn't overwhelm the senses or seem to "untouchable" for a family to enjoy.
We are loving this Tuscan-inspired tile idea. Especially when paired with the emerald counter tops and cheery wood cabinets, it adds quite the contrast and compliment to the entire room. If the tile was darker, the area would look a lot smaller, but with the addition of this natural color and earthy tone, it opens up the walls and space that much more!
This room is all about wonderful texture and utilizing materials to create art. Although there isn't a lot of color, this style is so full of life because of the addition of this spectacular choice. Its 3-D finish makes for a unique, artistic and touchable look that adds surprise and interest to the room without straying away from the clean and sleek vision.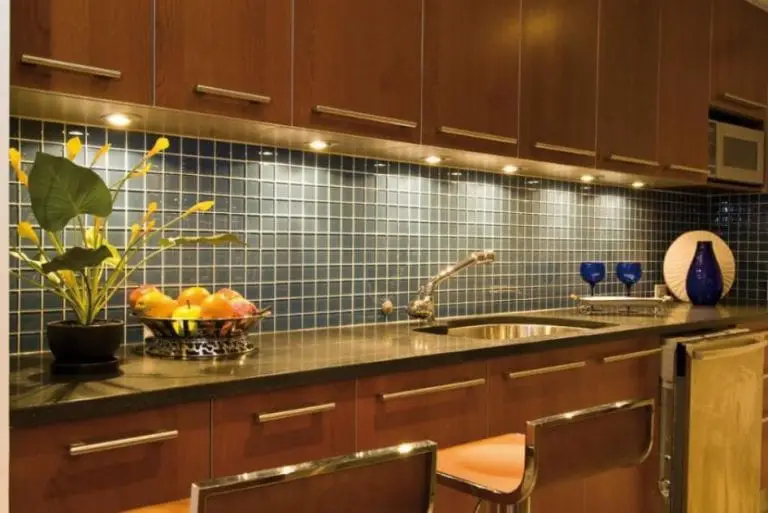 This space has a more masculine and business-friendly vibe infused. It's the perfect choice for a bachelor pad or an apartment that needs to create a more sophisticated air. The small, dark tiling help to enhance a more stylish mood in this bar area and also offsets the wooden cabinets with a freshness and fashion-forward sense.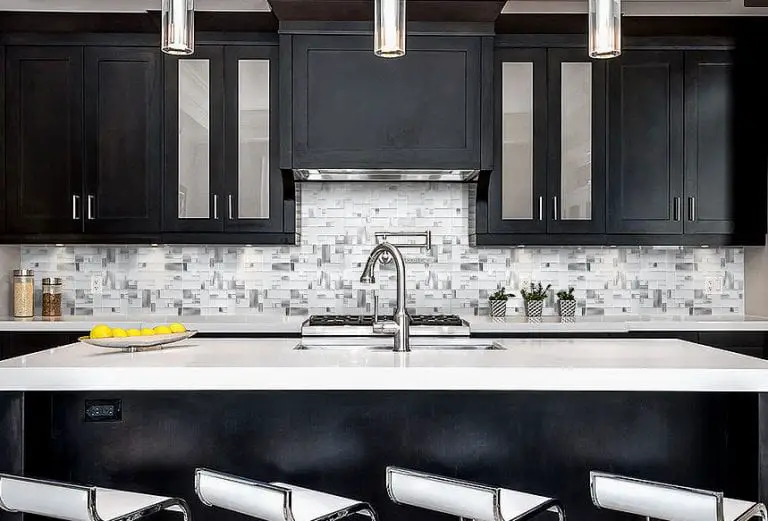 Isn't this space beautiful? Without the back splash this concept would still have a very classic and elegant style with its black and white, timeless color combination. But, with its addition it provides a more youthful and personal feel. We love how fun and vivacious this design gives to a very sleek and clean foundation.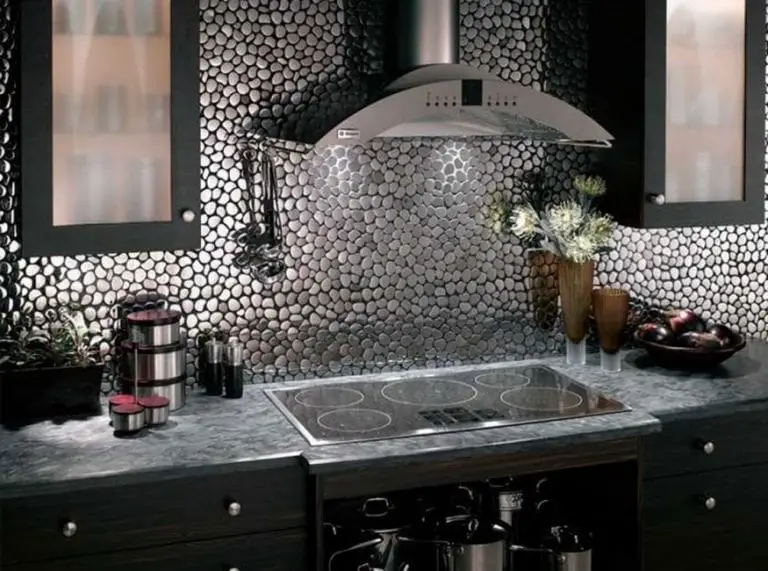 A personal favorite of the entire list, this mock-pebble version is so much fun! It's textural, it's lively and it doesn't seem too posh or elegant to feel comfortable in when you're fixing dinner later at night or have a couple of buddies over for a glass of wine or two. It's still very fashion-forward and trendy without overwhelming or looking a bit too untouchable.
A beautiful, elegant space with a very sophisticated and delicate ethos, tile we're looking at surely rounds out the room's style. Without its addition you wouldn't get the dessert-flair that we're feeling at first glance. Of course it adds an accent wall to an otherwise very clean-palette structure, but we love its infusion of creamy daintiness.
A bit more rustic but without being too casual, this look has a definitely "wood" inspiration behind its design. But it's light enough to still feel very fresh, up-to-date and clean in a space that could easily be transformed into a very country, southern-inspired vision. We love its washed-out hues and delicate charm.