In the spring and summer time, curb appeal is relatively straightforward in keeping your yard and surroundings looking green and manicured.  Once the cold weather comes, we tend to retreat back into our homes and forget about curb appeal.  Whether you are trying to sell your home or wanting your grounds to stay looking neat, curb appeal is important all year around.  You can still have a yard to be proud of by using these simple tips to create curb appeal throughout the cold season.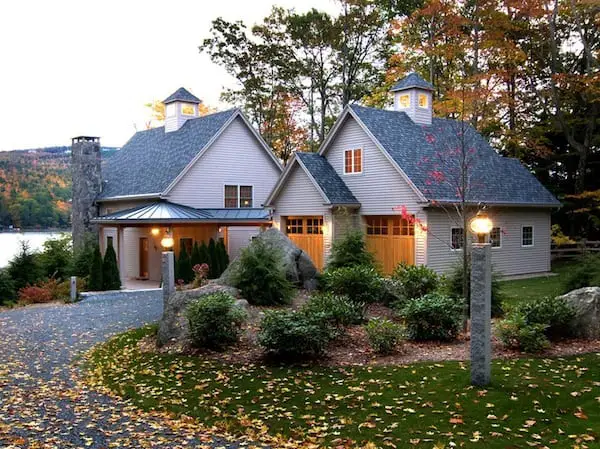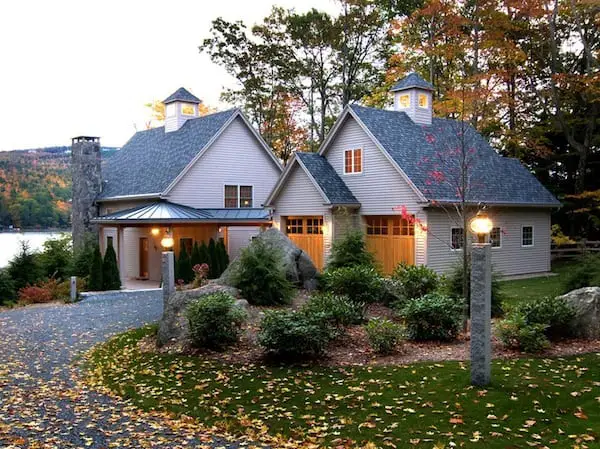 Image via: William N. Fish
Pay attention to your lawn and shrubs:
Once your lawn goes dormant in the fall season, the grass may not need to be cut, but it still needs attention.  For warmer climates, removing weeds and edging can be done monthly to keep the lawn looking neat.  In colder climates that snow, keep sidewalks and entryways free from snow, ice and debris for safety and curb appeal. Depending on the variety of shrubbery and trees you have it is important to cut them back before the dead cold winter sets in.  By cutting them they will look more manicured and will not drop as many dead branches, therefore causing debris in your yard and walkways.
 Image via: Westover Landscape Design
Brighten your exterior with color and lighting ideas:
Before the winter sets in deep, why not add a fresh coat of paint to the exterior of your home? Your home could use the seal of weather protection from the moisture and elements and a new or fresh color always helps a home look new. Even though the flowers are gone, there are still opportunities to bring color into your yard.  In warmer climates, flowers can be replaced with heartier shrubs in colors from deep purples to light greens.  In colder climates, decorate mailbox, and front entry areas with artificial greenery or hang a colorful wreath on your front door. Rubber mulch, pine bark or rocks are another way to add visual interest and color to your surroundings. How your home looks at night is important and can help guests get safely to your front door at night. Walkway lights and garage sconces will illuminate the walk and driveway, and cast a glow on your home. If you're trying to sell your home, many home buyers drive through neighborhoods at night to check safety and traffic patterns. Ensure your home won't be hidden in the shadows.
Image via: Stonewood
Fall maintenance preparation: 
Falling leaves, pine needles and miscellaneous debris will fall into your gutters throughout the season.  Check regularly if they need to be cleaned out. Overflowing debris is a sign to guests and potential home buyers that you aren't keeping up with maintenance on your home. While the holiday's means bringing out lawn décor and lighting, remember to keep it tasteful and limited.  If your lawn is covered with only holiday décor, your home will lose its curb appeal and purpose.
Image via: The Collins Group
Take cues from popular home magazines on festive holiday outdoor décor that will enhance, rather than detract from your home. Don't think that cooler weather means you don't have to pay attention to the outside of your home until spring! On the contrary, your home still has a beautiful presence and shouldn't be neglected because the weather changed seasons.  Use these helpful tips for bringing curb appeal to your home any day of the year!