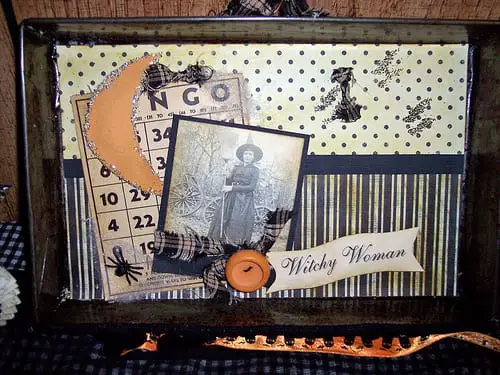 With the New Year almost here, people are making resolutions to get more organized, complete unfinished projects, get rid of things they no longer use, and possibly redo or update their decor. Well before you start throwing everything out, STOP, and thing about whether or not you could reuse, renew, or recycle the item!
To reuse an item means to leave it in it's current state, with exception of adding decor to the item, or decorating the item itself. There are so many items in your home that are undiscovered treasures, all they need is a little TLC.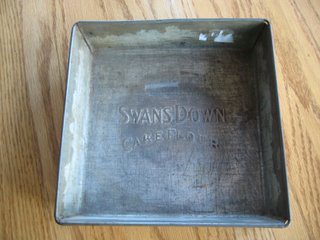 Take for example this old cake pan… No Teflon coating here. Just good old fashion metal and rust. That doesn't make it useless though.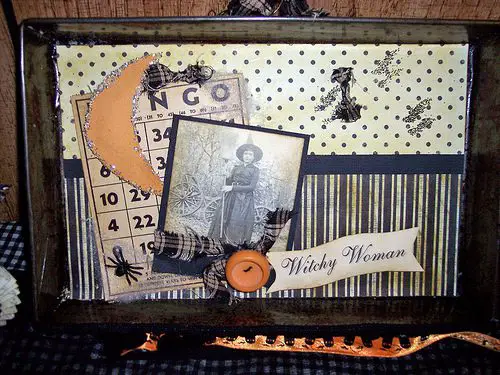 They can make charming shadow boxes that can be left unfinished or painted, and can go from contemporary to rustic country style. Use fabric, ribbon, wood, old pictures, artistic photos, knickknacks, and decorations of all kinds to create a work of art that is personal to you.
In addition to shadow boxes, older pans can also be creative accessories for a space. The above pan is photographed as a grouping with glass and flowers by Bente D.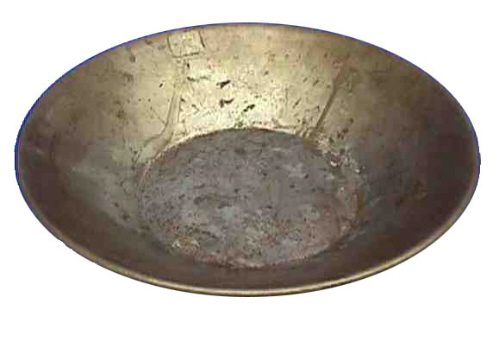 I love this old gold prospector's pan, it has so much character! I would use this in a contemporary or eclectic space in a heartbeat.
To renew an item means to either restore it, or to redo it to make it like new. This can be done with paint, refinishing the wood, or even just giving something a thorough cleaning.
The before shot of this poor headboard doesn't even begin to show the wear and tear it suffered. It had initials carved into it, and other damages that couldn't be hidden by re-staining it, but that didn't make it worthless.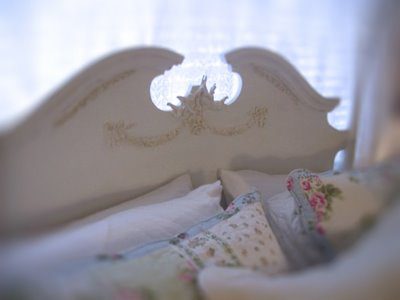 Here it is shown painted and with added decoration. Beautiful isn't it? The piece was restored by Cindy of My Romantic Home. She sanded the piece down and filled in the damaged and carved spots, then painted it a pretty, soft white. A little perseverance goes a long way.
Antiques that seem worthless because of damage can also be restored to new life by sanding and re-staining them, however if it is a real antique, you should seek professional help in restoring the item. The examples below are the work of Soule Furniture Restoration Inc.: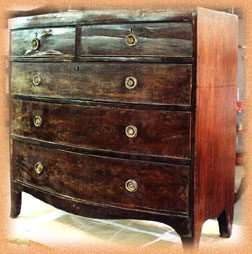 After years of neglect and improper care, even the most well built furnishings can start to deteriorate and look like the chest above.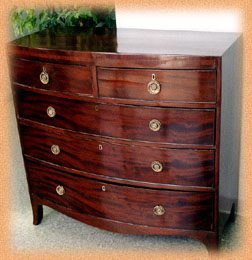 This is what the piece can look like after a professional restoration. It's a fantastic job of preserving and restoring a classic to its former glory.
Recycling has become popular as we are made aware of our planets growing needs, but it doesn't have to stop at glass, paper, and plastic. There are so many ways to recycle things in your home, you just have to stop and think about it.
Pique Assiette, otherwise known as "broken plate style", is a form of art where broken plates are used to create mosaic art. Any pattern or color can be used to create wonderful works of art, each one of them unique.
The pretty plate above is perfect for Pique Assiette, and shows how the process can begin. Such a simple thing can save a whole set of unwanted or unused plates from a dumpster.
This try is a very good example of what you can do with just a few broken plates. The plate was yellow, black, and white flower patterns on it, and the artist who created the piece used yellow grout to bring out even more yellow in the piece.
If you have a lot of broken plates, and the free time, you can create a gorgeous back splash or have an installer do it for you. This Pique Assiette artist even added in a horse to the back splash above the stove. Creating these works can be time consuming, and relaxing at the same time. When you're done with your project you get a beautiful reward of a unique piece that is very personal to you.
Start the New Year off with a new style or décor that you can feel good about! You don't have to spend a lot of money to update your home, but if you're willing to invest a bit of time, the results can be stunning. So before you toss something in the trash, think about how it could help you to redecorate your space. Your wallet and the environment will thank you. Reuse, renew, or recycle!