The perfect accent chair has never been easy to define.  As extra seating, it should be about form over function, design over daily use.  The perfect accent chair should be able to stand alone with enough visual appeal or bolster the design of an entire living room, bedroom, or study.  It must have bold, beautiful lines and expressive colors that are normally too much for a larger piece of furniture.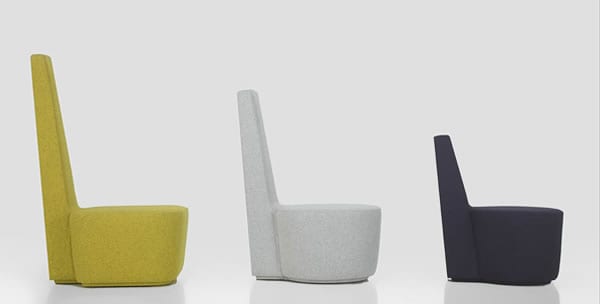 Its smaller size relative to the rest of the room means that it is the perfect place to break all the rules in one fun little part of your design.  Until now, finding that perfect accent chair with all the right elements could be nearly impossible.  For Francesc Rife, creating just one accent chair wasn't enough.  So, he designed all three chairs in the Elyella collection for Ziru in order to give you variations of his perfect accent chair.
First, the "El" chair leads the way in making a statement fit for an accent piece.  A slightly squared-off seat base anchors the soaring narrow backrest attached to look almost like a separate piece.  Then the "Ella," the more feminine counterpart to "El," features the same basic shape but with softer, rounder, and generally more graceful lines.  Finally, "La Otra" provides the same look as the "Ella," but on an overall smaller scale for better economy in less-spacious rooms.  Choose which shade of bright color to use for an exciting punch of upholstery, and don't be afraid to go bold.
Which size of the Elyella collection do you love the most?