If you're ready to relax in comfort this season then the Palmer Rope Sofa by Pottery Barn is calling your name. A classic ensemble rendered in teak, that is perfect for adorning your decks and patios with grace and finesse, is perfect for entertaining or just taking a break. Inspired by the mid-century European furniture design and created for an urbane, stylish entertaining and outdoor experience the entire Outdoor Collection has been put together keeping function and style in mind.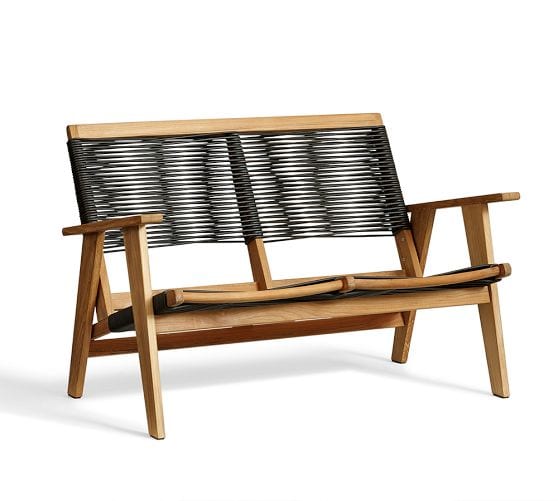 Sculpted out of Grade A premium teak wood, with the seat and backrest woven out of contrasting all weather wicker and the exposed hardware finished in stainless steel, the Palmer Rope Sofa by Pottery Barn, offers beautiful aesthetics and comfort. Teak, with its innate qualities of strength, durability and standing tough against the elements of nature, enhances the appeal of this ensemble and guarantees longevity for years to come. The Palmer Rope from Pottery Barn measuring 49″ wide x 30.5″ deep x 32″ tall, boasts of well proportioned aesthetics, combined with user friendly ergonomics, ideal for outdoor relaxation.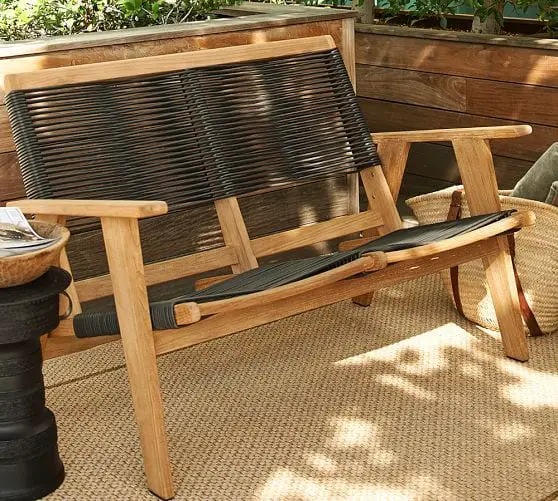 The Palmer Rope Sofa spells out sophistication loud and clear and apart from being superbly designed, this gorgeous teak and wicker rendition lays out a new definition of comfort and luxury, enough to leave you spell bound. So its about time that you loosen up a bit and unwind on this elegant outdoor piece.