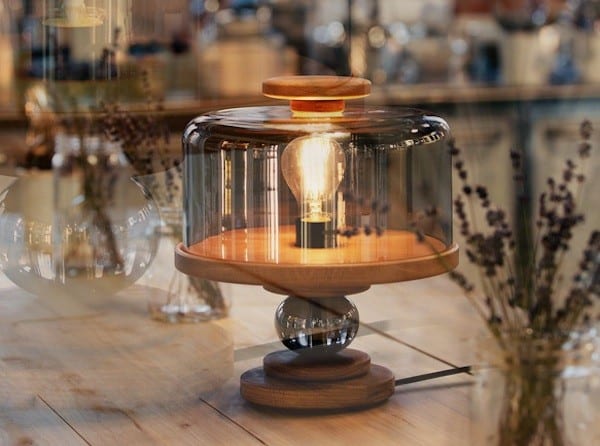 Oak Furniture Ideas For You New Home Project
Bake Me A Cake Table Lamp Made Of Sustainable Oak Wood
We all want our cake and eat it too, but alas with Murphy and his sense of humor, that usually isn't the case. Luckily, with the Northern Lighting Bake Me A Cake Table Lamp, you can get your cake, and while we cannot eat it we can show it off.
Epitomizing the typical Norwegian sensibility, this lamp was at the Milan Design Week and has charmed the critics and masses alike. Designed by Jonas and Marten for Northern Lighting, they manufactured the charming light fixture in the most unexpected of the places, i.e. Kriminalomsorgen region vest (the Norwegian correctional services).
In fact, it is hard to believe that something of this quality and design came from the prison inmates of certain Norwegian correctional services.
To further focus on the prison angle, they named the lamp after "the cake with the file", a classic slapstick tale, where a mother hides a file into a cake that she baked for her imprisoned son to let him escape from prison.
Made of sustainable oak wood base with smoked tinted glass shade, the lamp measures 30.5cm x Diameter: 25cm and can be purchased from the Nest website.
Bake Me A Cake Lamp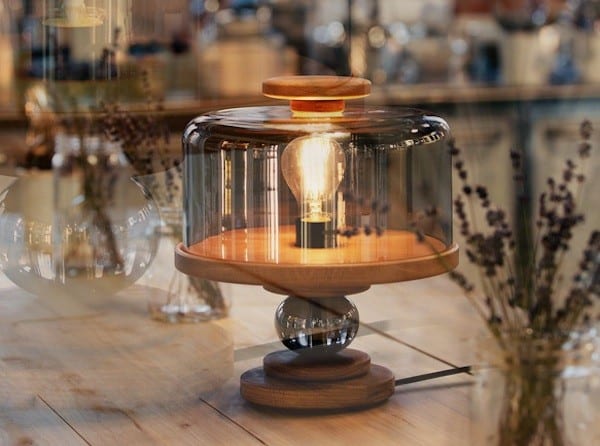 Bent Wooden Basket Made Of English Oak
If you have a traditional fireplace at home or your mountain cabin, then you would be familiar with the problem of storing wooden logs. Those who like to do everything in style can purchase the exquisite Log Loop and Kindling Basket.
Made using locally sourced English Oak, the steam bent wooden basket is hand crafted and is a practical and stylish way to carry and store logs. The Log Loop's little brother, the Kindling Loop Wood Basket is designed to carry and hold the smaller pieces of kindling that are needed to get the fire started.
You can purchase the Log Loop and Kindling Basket from Bright On Pod.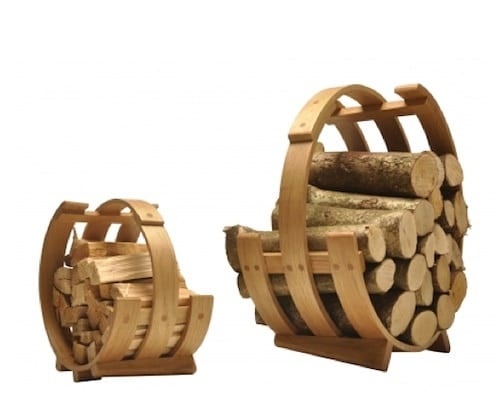 Riva 1920s Oak Table by Pierluigi Cerri
What happens when ordinary meets innovation?  When creativity overtakes convention?  Riva 1920's new Oak Table by Pierluigi Cerri is a rustic re-examination of conventional materials.  It challenges your per-conceived ideas of what dining room furniture can look like.  The Oak Table takes wood and metal, completely typical of dining room materials, and deconstructs a traditional design down to its bare elements, leaving a minimalist, sculptural form that re-defines what is necessary in dining furniture.
With the sturdy essence of solid architecture, four twisted wooden columns make the legs.  Like a prehistoric tree, the dense and organic form adds the gravitas of age.
Cerri's inspiration comes from Venice, where, like the heavily distressed table legs, thick wooden piles called 'briccole' mark winding paths of the ancient canals. It seamlessly integrates this little piece of Italy into this classic design that will surely stand the test of time.
Atop your very own 'briccole,' narrow spacers give lift and grace to the rust-colored iron tabletop.  Another element that has both weight and vintage patina, the iron symbolizes strength just like the wooden legs.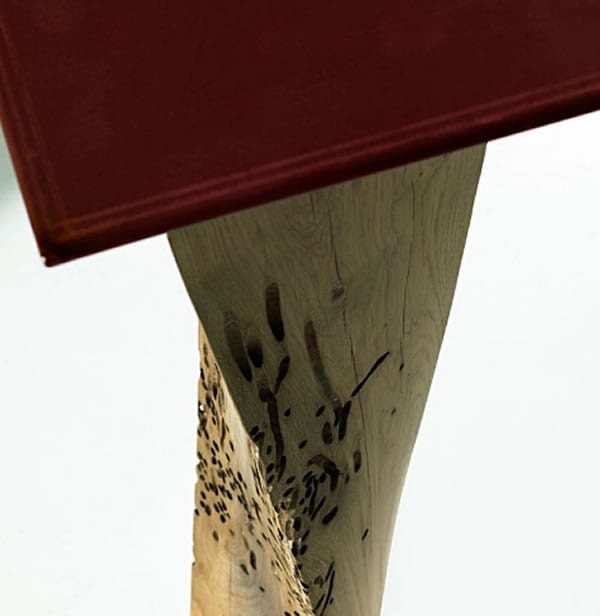 The result of the combination is a dining table with a commanding presence and quiet power. Though the metal and wood materials are common in dining room furniture, the aged and organic forms used in the construction give dining room design a new perspective on how to be both modern and historical.
Bring some rustic elegance into your home with the Oak Table, and see how Cerri challenges you to rethink modern table design.
Oak Kitchen Furniture Cabinets and Table
Looking at the stunning oak kitchen cabinets reminds me that design is not dead and wonderful ideas are still being created such as these and the island fashioned by Smallbone of Devizes. Look at the grain of the wood on the island counter.
This is the Brasserie line whose inspiration was deliberate in using slats of oak and fashioning them together.  It's not a bowling alley by any shape of the imagination, but you get the idea.
They chose this unique grain because of its expression of knots and other imperfections which are character as if the wood is telling its own story to a crowd. I thoroughly enjoy visiting Brasseries in Paris and you can see how that inspired the use of wood and then pots and utensils hanging up.
To me the most intriguing element is the amount of seating and how the whole space fits together. A person could almost be "tending bar" if you look at the configuration.  Seating is spaced out and very comfortable and yet remains in the center of the action.
The experience and mood is just like you might imagine sitting down for a cup of coffee in the morning at a bar and watching people come in and out to get their beverages.
There was so much thought in the entire layout of space as you can see in the picture above.  It's a great functional space that can be for many things.  Notice how great the grain is on the island.  The oak kitchen cabinets are stunning decorative items.
I found that this angle really shows just how large the seating and kitchen island are.  This setup could easily replace a dining area if that were the choice of a homeowner.  I too love how the family could gather around and perform any activity such as conversation, homework, computing or cooking and remain together as one unit.
You can see the copper pots and pans which draws back to the amazing coffee machines found in Brasseries.   It requires some polishing to keep the metal this bright, but you can see how great the results are if you do.
The grain on the cabinetry is just spectacular! There are so many swirls and striations that make nearly every drawer unique.  Smallbone of Devizes can also paint these in any color if you would like them painted.
Custom paint design is also available if you really want to make a different statement.
The black counter top goes very well and adds a bit of darker hue to the overall feel of the product.
I enjoy being able to see the storage since I want to know how useful that may or may not be to me.  Think about your own cooking style and where you like to have things handy so you can know if this is a good solution for your needs.
Some people many not like the color here and metal tops, but I think it adds a lot to the overall design. Mixing metal together with wood seems so unusual, but look how great it works here.
I can say that if the whole room were wood, it may appear too muted out and not have enough contrast. Also, the colors you can add here can go from neutral to contemporary creating an effect that fits your personal decorating tastes.
Whyrhymer Wood Chairs Hand Made in California
Many woodworkers know the challenge in constructing chairs by hand and the difficulty in maintaining consistency in look and quality. In today's mass production market, "made by hand" is often a rare thing.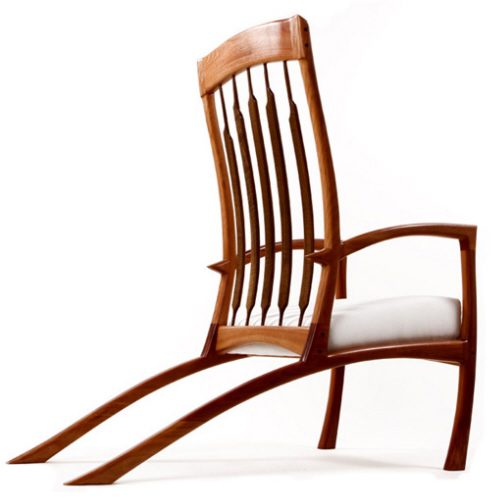 These pictures highlight wonderful examples of hand-made wood chairs from Whyrhymer Furniture. Whyrhymer has a studio in California. Each chair is handmade. Only FSC certified renewable or reclaimed hardwoods used in the construction helping support today's environmental efforts.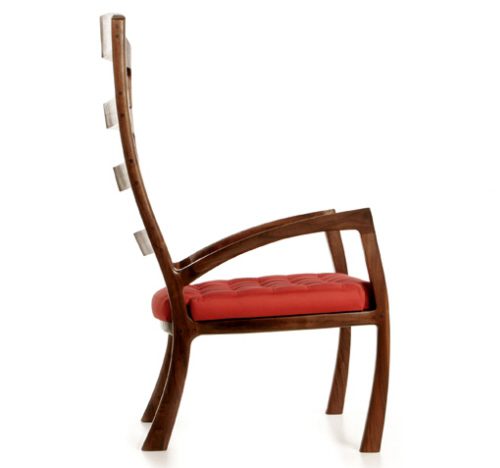 Coban Dining Room Buffet Made From Oak Hardwood And Recycled Materials
Architect Scott Friedman re-imagines and reinvents the archetypal dining room buffet and his creation hits all the sweet spots. The beautiful Coban Buffet boasts of exquisite craftsmanship, made from a plethora of materials and features bent laminated corners, oak hardwood, sliding glass doors and custom fabricated metal drawer pulls.
However, it is the base that deserves utmost attention and appreciation, since it is solely made of materials found on a farm. Another noteworthy design decision is the use of rusted plow heads as they contrast beautifully with the smooth top half.
Oak Veneer Work Desk With Storage
Spruce up your home office by investing in an exquisite work desk. The Hoyt Desk with its deep oak veneer and solid hardwood construction makes quite a sculptural statement.
In fact, it won't be exaggeration on my part to call it a piece of functional art, as it flawlessly juxtaposes modern aesthetics with functionality.
Measuring 56L x 28W x 30H " and equipped with a hidden  keyboard tray with storage, the Hoyt Desk is classy with an avant-garde sensibility.
You can purchase the elegant wooden desk from Pure Modern for $737.00.