Are you looking to revamp your home's decorative style? Or, are you looking for replace a piece here or there to transform your personal space into something a bit more fashion forward and fresh? For a more modern and chic take on the traditional bedroom, start with your furniture. It will set the scene for your overall vision and make creating a contemporary room so much easier. Let's have a look at 15 Cool and Must See Modern Bedroom Furnishing Ideas and see if there's a set or a piece that could help you in your own renovation or re-style!
The colors of this space may be on the more traditional side with its brown-shaded neutrals, but the shapes of the furniture pieces are ultra modern. The foot stool, the chaise, the bed and the entertainment center all have very clean, sleek lines with no fuss. The printed foot stool adds just enough girlishness and personal touches. And the platform bed is contemporary, but still welcoming and cozy.
Our first impression of this floor plan is the amount of openness, which sets the scene for any type of decorating style. Of course, in this instance, a contemporary, classic vision was pursued and accomplished with ease. The black and white combination of the accents and furniture make this a timeless creation.
This slim and smooth designer bed takes center stage to this crisp and clean master. We are in love with the stud detailing and the chandelier making this modern room a bit more feminine in style and essence. Usually contemporary visions have a colder feel but when you add some girly touches you'll get a more welcoming vibe.
This picture combines modern style with traditional tendencies making it the perfect match up of fashion forward energy and comfort. The utilization of the space in the room is done so well, between the accent chairs around the window and the desk, everything has its place in a neat and tidy way, which enforces the chicness and posh vision.
Here's a minimalist's dream space. It has a more natural, zen infusion but with the sleekness of every corner and piece of furniture, it's more modern than anything. Again, you'll see a sharp, minimal bed with nightstand to match, making this scene the center of the show.
We are completely swooning over this modern, yet youthful idea. The plush bed has an inviting look but still very fashionable design. The industrial lighting helps catapult the trendy, hipster style and just the punch of aqua and mustard in the neutrally-dressed space helps with that contemporary vision as well. Of course, the accent wall adds more texture, interest and makes the design fun.
[the_ad id="83444″]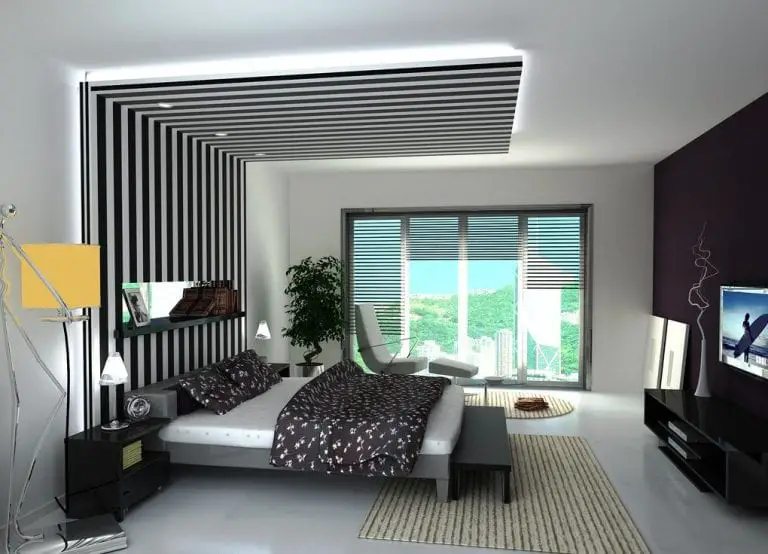 There is so much to love about this room's style. The simply stated bed, footstool and nightstand all go together with ease and chic shaping. The light fixtures are subtle but modernly designed. And the stripes on the wall highlight the bed making it the focal point to this smaller room. Every corner is utilized and the furnishings are matched perfectly for the space.
This example is another great showcase of combining modern shapes with traditional, homey vibes. The brown tones and zen touches (the light fixtures and woven chairs) act as a more casual version of contemporary interior design. You want a design to be welcoming and not too stuffy in nature, so this may be the space that gets you inspired!
Firstly, black, red and white is the ultimate trio of colors. It's sharp and bold, making it a great choice for a powerful theme. And this platform bed with sheen, shine and a sloped headboard, paired with its chic nightstand, make a beautiful pair for a modernly visioned scene.
The crisp whiteness of the furnishings make it quite a gorgeous and striking scene, especially since it's paired with the accent of wood floors and lengthy headboards. This mixed material combination is a fashion-forward look but also very youthful and clean. And don't you love how this headboard extends into the side tables, because we're head-over-heels for this funky design!
The bed in this gorgeous space is similar to the ones seen above as it's also a platform, but there's one bit that needs to be highlighted which is the pedestal. Step up to your bed for a beautiful focal point and more artistic feel to the entire room. Because there is enough space, there's a lot to play with which is why the pedestal works as well as the table and chair set in the corner.
More than modern, this layout has a very sensual and womanly feel with it's leather upholstered and tufted headboard. The silvery and gray tones also make it quite a romantic and friendly space to enjoy. The monochromatic theme create a more contemporary style as well.
This vision is chic, sleek and crisp. Again, the black and white combination is a timeless, classic choice for any style theme, especially for modern visions. And this entire room as clean lines and a no fuss design in every corner, we're in love!
And lastly, this idea too has a perfect combination of modern lines and traditional, welcoming vibes. The plus bed and minimal accessorizing come together to make an easy and warm overall look. The creamy white is a beautiful, welcoming color to use when you want a bit of comfort, even when you're wanting a fashion-forward space.