Minotti Furniture Designs
DuBuffet Sofa Sectional by Minotti
Here is a versatile modern sofa sectional from Minotti, one of my favorite Italian furniture makers. We see the DuBuffet modern sofa sectional in a variety of configurations that take on completely different looks like a chameleon. Beautiful unique chis furniture.
The DuBuffet seating series is new to the Minotti line for 2008 and received its good looks from famed designer Rodolfo Dordoni who gave the DuBuffet curved or straight lines with armless or armed options.
This beauty is available in fabric or leather upholstery, and all of the covers are fully removable for cleaning which is important for long term ownership. Minotti has an extensive line of sofas and sectionals with a classic non-trendy appeal that you have to see.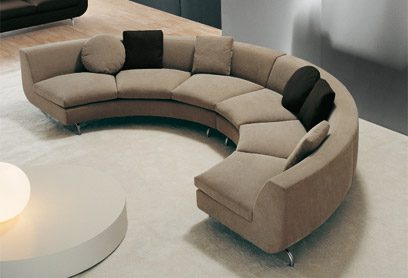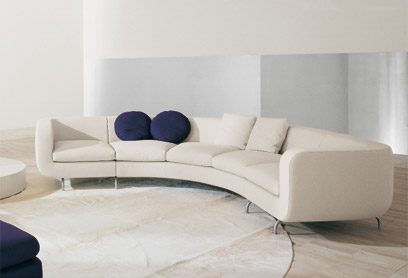 Classic Armchairs of Minotti Furniture
The classic armchair, an institution in home furnishings for as long as the need to sit down has been important. Minotti furniture of Italy has paid some attention to the needs of the weary by producing some classic styles that are sure to be around a while.
The Richards has a retro style with a minimal steel frame and no frills leather cushion which lends its self to a variety of interior schemes. The Richard armchair also sports an interwoven rope back and slightly pitched back seat.
Speaking of interwoven, the Pasmore armchair also by Minotti has a classic look as well with a cascading arm that transition into the leg for an interesting yet timeless look. Pasmore's complimentary ottoman makes this lounge chair as functional as it is attractive.
Minotti has a great collection of mature modern furniture that pays attention to longevity and shrugs trends.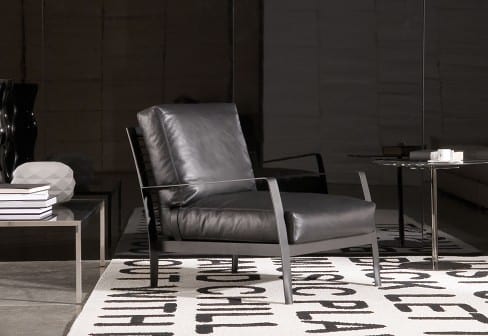 Unique Chic Furniture Cubica Collection from Minotti
The Chic Cubica Furniture Collection from Minotti is for homeowners who want something out of the ordinary. Comprised of a wall unit, sideboard, and dining table, it will elevate your style and provide plenty of storage.
The wall unit is unlike the conventional pieces that adorn most homes. It has a curved shape and striking features that draw the eye. It is made from wood and is ideal for residential environments. The Chic Cubica Sideboard has 3 drawers and 2 doors. It is made from wood and boasts a smooth, horizontal look all through. It has ample space and is the perfect place to store your tableware or media equipment.
The Chic Cubica Dining Table is a great option for your dining room. It is round in shape and has a strong wood structure. It creates a cozy environment during breakfast, lunch, or dinner and transforms ordinary mealtimes into wonderful experiences.
You will enjoy gathering around it with your family or entertaining your friends and colleagues. The table gives you a reason to stay around after meals.
The right furniture pieces can change the way your space looks in an instant. They can make your rooms more livable and comfy. When looking for pieces that blend function and fashion, look no further than the Chic Cubica Furniture Collection from Minotti.
You will love the pieces and will be sure to impress all of your guests. Would you choose one or all of the pieces in the Chic Cubica Furniture Collection?
Dolce Vita Living Furniture by Minotti
The contemporary-styled Dolce Vita Living Furniture from Minotti is aesthetically pleasing. It makes a major style statement and can update any modern, elegant living space. It is a unique presentation of attractive sophistication which embraces elegance while forming a timeless presence for modern living. The furniture collection is comprised of an armchair, pouf, bed, bench, showcase, and dining table.
The armchair in the Dolce Vita collection by Minotti has a stuffed seat and back and looks good in classic living rooms. The pouf has a wood base and a stuffed seat covered in leather. The bed is large and can comfortably accommodate 2 people. It features a stunning headboard upholstered in velvet.
Its frame is made from rosewood and upholstered in velvet. You can use the bed in your master bedroom or your guest room. The Dolce Vita Bench has a similar pattern to the bed. You can place it at the foot of the bed to create a cohesive look.
It has a tufted pattern and is upholstered in velvet. The dining table will look good in your dining room. It has a marble top and an upholstered base with leather covering. The showcase is made from rosewood and can be assembled in many ways. It has wood door units, glass door units, open units, and drawers.
Dolce Vita Living Furniture is all you need to revamp your home. The pieces exude class, elegance, and sophistication. They enable you to go about your daily activities in total comfort. Where would you have the Dolce Vita Living Furniture grace your interiors?
Related Articles: