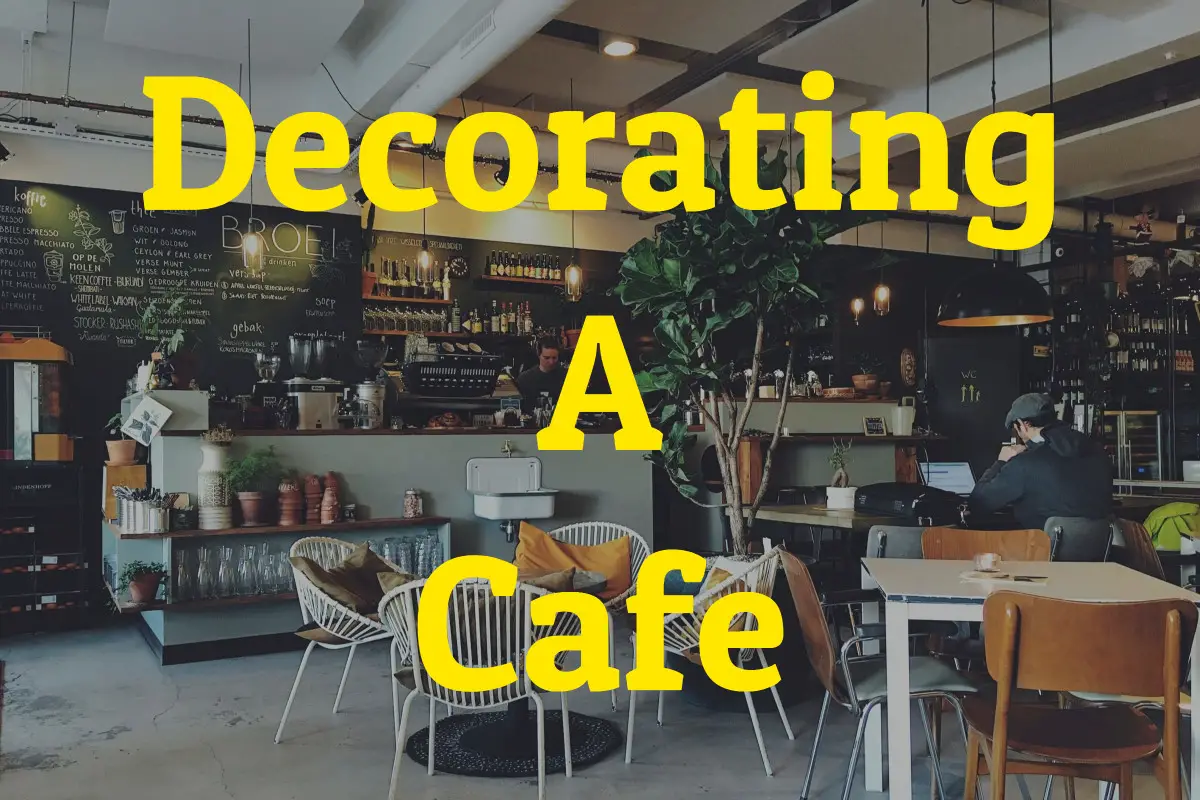 Decorating and furnishing a Café to create a cozy vibe
Creating a cozy atmosphere at your cafe is vital to making customers feel welcome. The color scheme, decor, and lighting are key to creating a positive and relaxing environment. As does provide comfortable seating.
Pick out the right colors
You can make your coffee shop feel like a cozy place to hang out with friends by choosing warm colors. The furniture must blend with your chosen walls, flooring, and other decorative features. So, planning this out before shopping for furniture and crockery is best.
Getting the lighting right
Natural light is your friend. It lets you minimize artificial lighting, but too much light can be problematic. So, ensure that you install blinds that operate in a way that makes it easy for customers sitting next to the window to use them.
Of course, you will need to install some lighting. You do not want your cafe to feel dark and unwelcoming on winter days. With the right lighting, you will also be able to stay open in the evenings.
Choose lighting fixtures that are fitted with dimmer switches. That way, you can create the right ambiance. In some areas of the cafe, for example, in the romantic booth areas, soft lighting will be best.
But brighter lighting should be provided in places where people sit to read. Installing tall floor lamps behind your easy chairs and sofas with a button customers can reach is one way you could do this.
Use mirrors in the right place
You can make certain areas of your cafe feel brighter by using mirrors. They will reflect the light and make the space feel bigger. They are also a great way to enable customers to enjoy a decorative focal point, for instance, a floral display or work of art, even though they are not sitting next to it.
Use signage to enhance the cozy vibe
It is easier than ever to create cozy signage for cafes. All that is needed is a decent display screen with the right software. They can be used to share details of offers, as digital menus, for entertainment, or to display an image that enhances the ambiance.
The style of the graphics and images displayed on these digital screens is up to the café owner. So, it is easy for them to choose something that fits the décor and the cozy vibe they are trying to create.
Add some homely touches
Aiming for a home-from-home look is the best way to achieve the right level of coziness. Displaying photographs, knickknacks, and books on shelves is one way. You can also make your coffee shop feel more special by adding small accent pieces, such as a slightly unusual wall or ceiling hanging.
Use plants in strategic places
Using plants in your cafe can also help create the right ambiance. Being close to nature is relaxing. People tend to find the colors that are found in nature to be very comforting. 
It is wise to choose plants that do not require a lot of care. Nobody wants to sit beside a drooping plant or have petals in their coffee.
Don't forget the welcome and little extras
You also need to employ patient, welcoming staff who are attentive and work at a relaxed pace when taking orders and serving customers. Providing a few homely extras is also a good idea.
Parents and grandparents will appreciate sitting on a corner sofa while the kids play on a rug with the toys you provide. Lone diners would like to have the option to grab a magazine or newspaper to distract them while they wait for their order.
Don´t be afraid to employ a designer
If you're thinking of opening a cafe, you should take the time to research the options available. This includes using professional designers. They can help you to choose the best designs and even draw up a blueprint for you to follow. You can also use websites that feature sample photos to help you decide.
Creating a cozy atmosphere on a budget
If you're on a budget, you can also try recycling materials such as old furniture or construction materials. Most charity shops have a good selection of soft furnishings, homeware, crockery, and other items that add a touch of homeliness. This will help to reduce your environmental impact.
Designing the perfect Café layout
For furniture, choose pieces that are comfortable and inviting. Sofas and armchairs are always good choices, as people will want to relax and stay awhile in a cozy café. Ensure plenty of seating, so people don't have to wait for a table. Tables should be the right height for people to eat or work comfortably and be spaced far enough apart so people don't feel cramped.
As for wall décor, try not to go too overboard. A few paintings or photos that fit with the overall theme of the café can add some personality without being overwhelming. And finally, lighting is key in creating a cozy vibe. Soft, diffused light is always more inviting than harsh fluorescent lights. Candles can also add a nice touch, especially if they're scented.
So there are a few things to remember when furnishing and decorating a café to create a cozy vibe. Just remember: comfort is key!
The first step is to determine the size and shape of your café. Once you have a general idea of the space you have to work with, you can begin planning the layout. Creating a floor plan that efficiently uses the space and allows for plenty of customer traffic flow is important.
When designing your café layout, remember that customers need easy access to the counter, restrooms, and exit. You'll also want to consider where you'll sit inside and outside the café. If you plan on offering table service, leave enough room for waitstaff to move around easily.
Regarding décor, it's important to create a warm and inviting atmosphere. To achieve this, consider using cozy furniture, soft lighting, and plenty of greenery. Remember that you aim to make customers feel comfortable spending time in your café so they'll want to return repeatedly.
What type of furniture to use in a Café
When furnishing a café, creating a cozy vibe is all about choosing the right pieces. You want furniture that is both comfortable and stylish, and that will encourage your customers to stay awhile. Here are some tips for choosing the best furniture for your café:
1. Opt for comfortable seating
This is one of the most important elements in creating a cozy atmosphere. Choose chairs or sofas that are plush and inviting, and make sure there is plenty of space for guests to relax.
2. Incorporate different seating options
Various seating options will make your café more inviting and accommodating for all guests. Include chairs, stools, benches, or even couches, depending on the size and layout of your space.
3. Consider unique furniture pieces
Adding some personality to your café with unique furniture pieces. Look for vintage finds or quirky items that fit your overall décor style.
4. Stick to a warm color palette
Use warm and inviting colors, such as earth tones or jewel tones. This will help create an inviting atmosphere in your café.
5. Add plenty of pillows and throws
Cushions and throws add comfort and style to any space, so include plenty in your café design!
How to choose the right colors for a Café
Color plays an important role in setting the tone and atmosphere of a space, so it is important to choose the right colors when decorating and furnishing a Café. There are a few things to consider when choosing colors for a Café, such as the intended atmosphere, the color scheme of the rest of the space, and personal preference.
The intended atmosphere is the first consideration when choosing colors for a Café. Do you want your Café to be cozy and inviting? Bright and cheerful? Relaxing and peaceful? The colors you choose should reflect the desired atmosphere.
For example, if you want your Café to be cozy and inviting, you might choose warm colors like yellow or red. If you want your Café to be bright and cheerful, you might choose brighter colors like orange or pink.
If you want your Café to be relaxing and peaceful, you might choose softer colors like blue or green.
The second thing to consider when choosing colors for a Café is the color scheme of the rest of the space. You'll want to make sure that the colors you choose for your Café complement the overall color scheme of the space.
For example, if your business is decorated in mostly earth tones, you'll want to avoid using bright colors that will clash with the rest of the space. Instead, stick with muted colors or shades that compliment the earth tones.
Personal preference is the last consideration when choosing colors for a Café. What colors do you feel most comfortable with?
Accessories and finishing touches for a Café
Assuming you want tips for accessories and finishing touches:
Regarding accessories, think about what will make your space unique. Do you want to display local artwork? Are there any particular themes or colors you want to incorporate? Once you envision your space, shop for pieces that fit.
Remember that less is often more when it comes to café décor, so don't go overboard with the accessories. A few well-chosen pieces will give your space personality without making it feel cluttered.
As for the finishing touches, consider adding some greenery. Plants can brighten up a space and make it feel more inviting. If you don't have much natural light, choose plants that don't require direct sunlight to thrive. And if you're worried about keeping them alive, succulents are always a safe bet. 
Once you have your plants in place, step back and see if there is anything else your café needs. Maybe it's a few more pillows for the couch or some new wall art. Whatever it is, finish furnishing your space until it feels like home.
The Importance of Decor in a Café
A cozy vibe is essential to a successful café. The right decor can make your customers feel at home and encourage them to stay awhile. Here are some tips for choosing the perfect furnishings and décor for your café:
First, consider the overall style you want to achieve. A rustic cafe may have different needs than a modern one. Once you've decided on the general feel of your cafe, start picking out specific pieces that will fit your vision.
Table choice is important in a café – you want something functional and stylish. Round tables encourage conversation, while long communal tables are perfect for large groups or laptop users needing extra space.
Choose comfortable chairs without being too relaxed – you don't want your customers falling asleep! And make sure there's a good mix of seating options, including individual chairs and sofas or benches.
Don't forget the little details that make a big difference, like lamps, rugs, and plants. These finishing touches can help bring your space to life and create the perfect atmosphere for coffee and conversation.