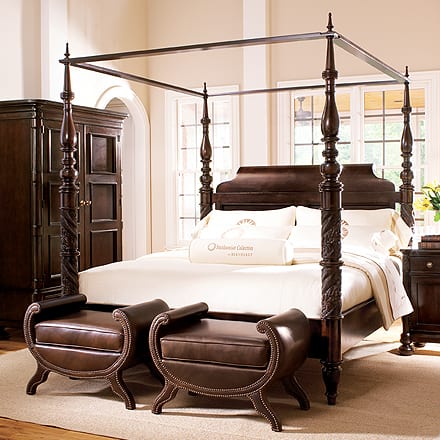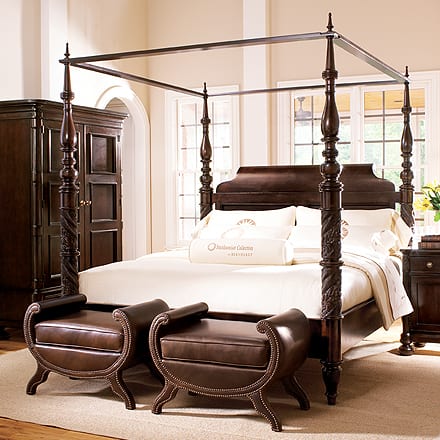 Bernhardt Smithsonian Collection
The Bernhardt Smithsonian Collection, named after renowned furniture manufacturer Bernhardt, is a remarkable assortment of furniture pieces housed in the Smithsonian Institution in Washington, D.C.
This collection predominantly features an array of impeccably crafted and exquisitely designed furniture items created by the esteemed Bernhardt company. The collection showcases the company's commitment to superior craftsmanship, innovative design, and attention to detail.
With pieces ranging from elegant dining tables and chairs to luxurious sofas and bedroom sets, the Bernhardt Smithsonian Collection represents timeless and elegant furniture design. It is a testament to Bernhardt's rich heritage and contribution to the world of interior design and home furnishings.
The Smithsonian bedroom collection is inspired by 18th and 19th-century design with a touch of the West Indies and features pin-knotted cherry veneers, acanthus leaf carving, solid brass hardware, and Nero Blanc marble.
The Bernhardt 4-poster bed is a classic piece of furniture known for its elegant design and craftsmanship. This exquisite bed, manufactured by the renowned Bernhardt, features four tall posts at each corner, creating a grand and regal appearance. Made with high-quality materials, such as solid wood and intricately carved details, the Bernhardt 4-poster bed exudes both luxury and durability.
The bed's English-inspired design adds a touch of sophistication to any bedroom, making it a popular choice among homeowners and interior designers alike. With its timeless beauty and meticulous construction, the Bernhardt 4-poster bed offers a statement piece that will elevate the aesthetics of any living space.
I really like the simplistic lines of the armoire and night stands and their stark contrast to the intricate carvings of the posts of the canopy bed. Bernhardt also offers the Plantation poster bed in an equally attractive low post style.