Lighting does not have to be some boring design. Instead it can be both fashionable and functional, especially when it's used to spruce up a table. We know it can be challenging finding contemporary table lamps that have both usability and the right kind of style, and that's why we decided to do some research and create a compilation of incredibly designs. Scroll through some of our favorite findings, ideas and designs all which have contemporary style and innovative vision for any room you decide to place it in.
This may be the most futuristic design of the bunch. For your home office your teen's bedroom, this product has all the right moves for modern style but it also gives a off a very unique, personalized feel as well. Mix with super sleek furniture and accents making this the standout piece in the area and a fun focal point for everyone to enjoy – and use if need be!
Simple and clean with an industrial innovation, this idea could blend well within a variety of modern spaces. It's definitely functional and provides the right amount of light for whatever your needs may be. It strays from traditional but doesn't make a fuss or become overwhelming from whatever the style you have in mind is.
Here's another contemporary construction that we've fallen in love with. It's a bit of a larger design so it would work well in more open spaces or on larger desks. There's a bit of a softness surrounding the piece even though it falls in line with ultra modern interior design styles. We could see this in the home office, master bedroom or even jazzing up the craft room!
This design represents a great mix of traditionalism and innovation. There's a very fashionable presence to this piece, but since it's got a wooden texture it provides a more homey feeling. This could do well in a living room or even in a foyer by greeting your guests with a special, unique nod on their way in and on their way out.
Check out these incredibly unique and funky designs! Dress up the dorm room with a couple of these eclectic pieces. They give off light, yes, but they also add a certain charm and surprising pop where without it may never have been before. If these lamps came in colors, the possibilities are endless with accenting and accessorizing a room in an innovative way.
We're guessing you may have never seen a lamp quite like this one. Again, ultra modern and incredibly creative in design aspects. This is a great pick for a masculine, yet sophisticated, home office or slick bedroom. We could even see this piece being used as a set in a dining room or living room as well. The benefit of such a style is although ultra chic it also has a soft side that's perfect for mixing and meshing.
A contemporary spin on the classic table lamp, this filler design has a slick finish but you can create your own style by stuffing it with your own creative preferences. From rope pieces as seen above to seashells for the summertime, it's all in what your envisioning for your home. But the overall foundation and tone of this piece is still very modern and cool.
Here's another architectural piece that we're loving to highlight a home office desk or side table in the bedroom. It provides a warm, soft glow bringing on an inviting spirit but also a beautiful, unique and artistic vibe that isn't found in most traditional homes, at least when it comes to table lamps. The details will always be an important part of any decorative feat, and this type of detail could and would do wonders.
A traditional foundation with a modern coat, this design is truly the best of both worlds in every facet and form. The bones of the piece are what we're all used to seeing; a stem, a neck and a shade. But the clear top and vibrancy of the light makes this a fun choice to decorate any nook or cranny of the home in. And it truly could be used in any room that has a contemporary tone.
The farthest from a traditional lamp, this piece is all about innovation, creativity and art. It's functional, of course, but it's made for the wow factor and made to made a statement wherever it may be. Just imagine the transformation a design like this could help make inside the more dull spaces of your home.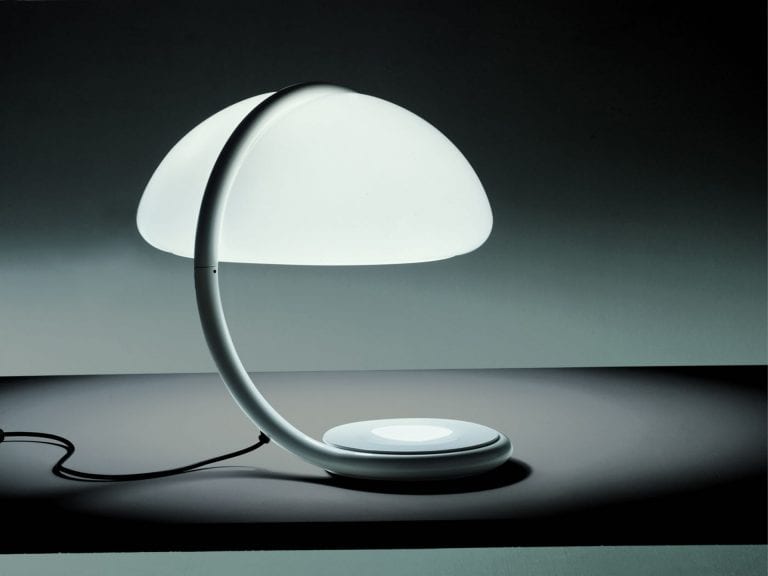 We've seen similar styles to this lamp on office desks or even in craft rooms. But the slight slant and more bubbled top makes this a softer, more feminine and also more contemporary take on this usual design. Again, this is a very functional but also very fashion-forward choice that we're in love with, especially because of its versatility.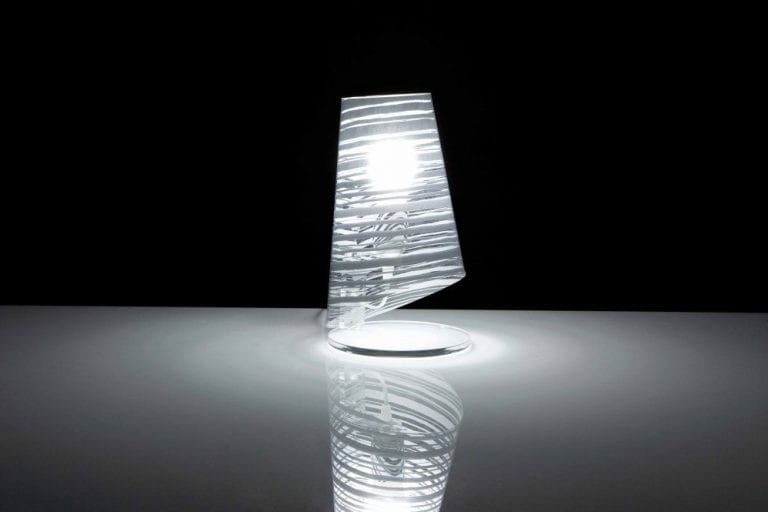 Striking and full of energy, this sparkling table lamp can do so much for even the smallest of spaces inside your home. If you've got your eye on an ultra modern home but you still want a light, prettiness surrounding certain spaces, than this is a piece you need to be taking a second look at.